How do you save for a deposit on a house while you're renting?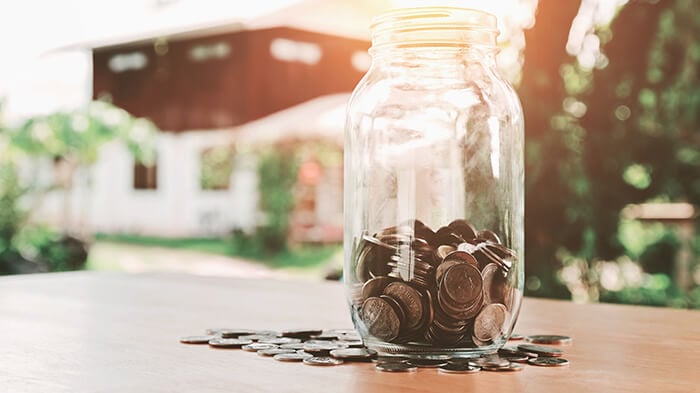 We look at the different ways you can make a mortgage more affordable
You've probably heard all the usual money saving tips like "Don't go out as often" or "Stop buying takeaway coffees".
But the cost of living is hard, and renting costs often works out the same as mortgage payments. So how are you supposed to save?
The good news is there are ways to make owning a home achievable. Let's look at what's out there.
What are your top saving tips? Let us know in the comments box below.
Jump to:
Budgeting and savings
A popular way to save is the 50:30:20. The rule was coined by an American senator and bankruptcy expert, Elizabeth Warren.
The numbers refer to a percentage of your monthly wage, divided into different categories. Here's how you break it down:
The 50% is your bills. That's rent, energy, broadband and phone costs. According to the rule, this shouldn't exceed 50%. If it does, look at ways you can reduce your bills. Either through switching energy, broadband or phone provider.
30% of your income is your 'wants'. Things like meals out, drinks, concerts and cinema tickets.
The remaining 20% is what you can then afford to put into your savings.
The hardest part is portioning up your income. But once you've done this you should be on your way to healthy looking savings account. Remember, as good as the rule is, it'll only work if you stick to it.
Most online banking apps come with a spending tracker. You can get a good overview of what you're spending money on, and what you could rein in.
If you don't have an app with this included, try writing down all your outgoings. When it's written out you can see exactly what you're spending your money on.
Read more: Why don't renters switch energy provider?
Speak to your bank or a financial advisor
A financial advisor can help you get your funds in a good shape for saving. Some banks even offer a less formal money advice service if you want a lighter touch.
Your bank may also have products that can help you save. For example, ISAs or savings accounts with decent interest rates.
Read more: How to improve your credit score
Liftetime ISAs
The lifetime ISA is designed to help people save for later life. But it can also be used to purchase your first home.
You can pay up to £4,000 a year into your lifetime ISA. The main benefit is that the government will add an extra 25% of what you save into your account each year. This works out at £1,000 if you manage to save the full £4,000.
You can withdraw money from your lifetime ISA for buying a house and you won't be charged.
The only catch is that you must have had the account for 12 months before you withdraw from it. The property you're buying must be 450K or less too. You can find more information on lifetime ISAs by visiting the government website.
Downsize your rented accomodation
One way to reduce your outgoing bills is to downsize your rented accommodation.
You could either rent a room in a house share or change from a house to a studio flat.
If you're in a house and you have a spare room, see if your landlord will let you get a lodger. Mention that you and the new lodger would pay a slightly higher combined rent.This should still work out cheaper than renting solo.
You could see if your area runs a property guardian scheme. Here you pay minimal rent to look after an empty property for a while.
Schemes to help you buy a home
Equity loan: Help to Buy scheme
The government is offering a Help to Buy scheme on some new-build properties.
You put down a 5% deposit, the government puts in 20% - or 40% in London. You borrow the rest from the bank.
This opens up the possibility for a wider range of mortgages because the loan-to-value rate is lower.
The loan-to-value rate is the ratio between the amount you borrow and the value of the property. This is represented by a percentage.
For example, take a property that's worth £200,000. If you pay a deposit of 10%, ie £20,000, then you'll have to take out a mortgage for a further £180,000. That's 90% of the property value.
In short, the smaller the amount lenders have to put in the better. But there are options if you can't get enough together for a hefty deposit. Find out more here.
You don't have to be a first-time buyer to be eligible for the scheme, but you must have sold your previous property before you apply.
If you own a property and you apply for the scheme you won't be eligible.
In England the scheme is only available for properties worth £600,000 or less. In Wales the scheme is only available for homes up to £300,000.
For more information on this scheme visit the HomeOwners Alliance website.
Read more: Buying your first home
Rent to buy scheme
This is sometimes referred to as rent to save, rent to own or intermediate rent. Again, it's only available on new builds.
You rent the house at 20% below the market value for up to five years. The idea is that the rent is low enough that you can afford to save for a deposit.
After five years you can buy the property outright or buy it under a shared ownership scheme.If you can't get the deposit together you can move out.
In Wales, you wait for two years instead of five. You'll get 25% of the rent you've already paid, and 50% of any increase in the property's value.This forms the deposit.
Each buildings association runs different schemes, so take a look at their individual policies.
5% mortgages
Unfortunately, 5% mortgages are on hold due to the coronavirus. But it's worth keeping an eye out in case they resume.
With this scheme, you only need to get together 5% of a property's value for a deposit. Your lender pays the other 95%.
For example, if you buy a house that's worth £240,000, you'd only have to get together £12,000.
The only downside to the 5% deposit scheme is that you'll see higher monthly payments. Your mortgage options are more limited too as the loan-to-value ratio is bigger.
Shared ownership
This is a long-term solution to owning a home.
You have the option to put down a deposit between 5% and 15%.
You then secure a mortgage to buy a share of the property from the housing association. The share is usually between 25% and 50%, and can occasionally be up to 75%.
You pay off the mortgage and a subsidised rent on the remaining share of the property. It's normally 15% to 25% below the usual rental costs.
You can purchase higher shares in the property until you eventually own 100% of it. Your rent payments will reduce as you purchase more shares.
Check with your housing association for more details on shared ownership schemes.