A campervan lets you have the fun bits of camping such as being out in the countryside but without the not-so-fun bits. So you don't have to put up with no soundproofing, airbeds that deflate overnight and having to pack a wet tent back into your car.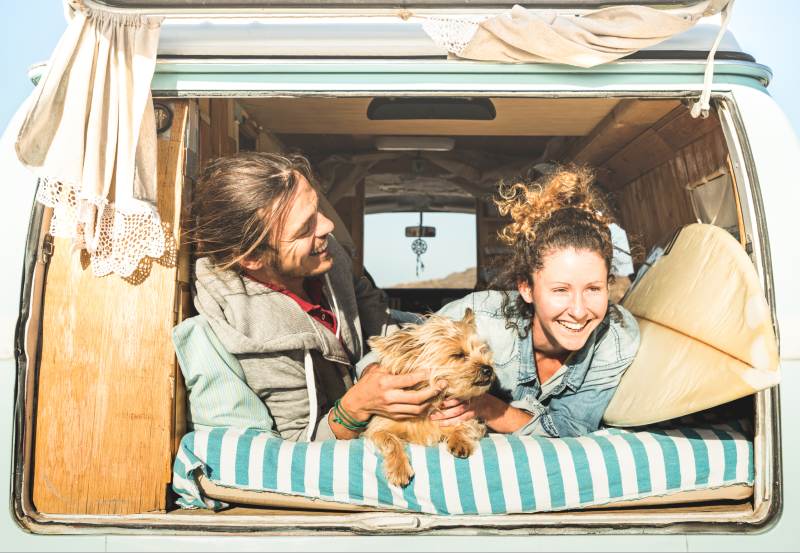 And with opportunities for foreign travel somewhat limited recently, it's not surprising that the popularity of campervans has soared.
Ones that come already converted can cost a lot. To get a new VW California you're looking at around £60,000. And while classic VW campervans are undoubtedly stylish, they're slow and not really that much fun to drive.
So what about getting a van and converting it yourself?
Van to camper conversion ideas
Doing your own campervan conversion will save you money and let you get exactly what you want. You can decide what is a must-have and what would be a nice-to-have.
You'll definitely need seats with three-point seat belts for when you're driving along. And if you have small children you'll need to factor in how car seats will work as well.
Then the basics. You'll need somewhere to sleep, somewhere to eat and something to do your cooking on. A fridge is always handy too, so have to look at 12-volt ones. You can find this kind of fridge on Amazon.
Check prices for portable fridges on Amazon
Then you'll need somewhere to store water, both clean and waste water. And plenty of storage for all the stuff you'll need on your trips.
And with the UK weather being what it is, you'll want to insulate the van. Sound insulation will also make it feel far better than being in a tent.
And so you're not left sitting in a steamed up van in the rain, ventilation is essential and extra windows will help turn your van into a campervan.
You'll need a battery for all your appliances and solar panels are always a good idea.
Check prices for solar panels on Amazon
Then, having your own toilet and shower might fall into the nice-to-have category.
What tools will I need for a van to camper conversion?
You'll need something to do your planning on - a pen and paper if you're old school or a programme like Adobe Illustrator if you're not.
Once you've got your plans finalised in 2D, it can be useful to check them in 3D in a CAD package such as SketchUp. This'll let you make sure that that everything fits in properly and works the way you need it to.
If you're converting a popular van, there are plans online to give you ideas to work from, if you like.
Then you can get to the bit you've probably been looking forward to most – the tools. Things that will be useful include:
A sliding mitre saw to cut batons of wood accurately
Quick grip clamps to give you another pair of hands
A jigsaw to cut through steel panels, wood and plastics
A hole saw
A screwdriver bit set to save having lots of screwdrivers
A good drill and spare drill bits
A good straight edge
A tape measure
If you're looking to rack up serious mileage in your vehicle, converting your van to run on LPG could be a good way to save on fuel.
Best vans to convert to campers
Unless you've already bought an old ambulance or something else quirky to convert, certain vans tend to get converted much more than others.
And the more popular a van is to convert, the more advice there will be out there. So you can learn from how it's been done before and what people would do differently next time.
You'll also find it easier to get ready-made furniture and other bits for popular vans.
Vans that regularly crop up as being the best vans to convert to campervans are:
Volkswagen Transporter
Ford Transit
Mercedes-Benz Sprinter
Fiat Ducato
Renault Trafic
Peugeot Expert
Vauxhall Vivaro
Toyoto Proace
Iveco Daily
Think about how you are going to use the van before you part with your money.
Are you tall? Then being able to stand up in the van would be useful. So you'd probably be looking at a higher-sided van.
Do you want to be able to leave the van in normal parking spaces? Will you spend a lot of time driving round the sort of lanes that only your satnav could know about? Then a smaller, narrower van such as a Transporter would be better.
If you're not sure, try renting a campervan for a weekend. Then you can see how you get on with the size of it, the space it offers and what it's like to drive.
See our guide to what to look for when buying a second-hand van and get peace of mind by doing a vehicle check on a prospective purchase.
How much does it cost to convert a van into a campervan?
If you're good at DIY and happy to rough it a bit, you could convert your van for less than £1,000.
At the other end of the scale, you could pay a specialist van conversion company £40,000 to do a high-end job.
Most van conversions will obviously fall somewhere in between. You'd be able to get a high level of finish for under £10,000 if you did most of the work yourself.
Unless you already have the skills, some jobs are better done by experts and you should look to hire a tradesperson, such as the electrics and the gas. You'll probably have to allow around £2,500 to £3,000 for these to be done professionally.
Will the DVLA reclassify my van as a campervan?
Getting your van reclassified as a "motor caravan" – what the DVLA calls campervans – used to be reasonably straightforward. It was worth doing as it meant you could get cheaper van insurance and better deals on things like ferry crossings.
It also meant that if you had a small van with an unladen weight of less than 3.05 tonnes you could go as fast as a car on all roads.
But in 2019 the DVLA's requirements got much stricter and most applications are now rejected. But the DVLA says you can use your van as a motor caravan if you think it is one.
To be considered for reclassification, the DVLA expects certain work to have been done to your van both externally and internally.
The DVLA also specifies the body types of vans it'll consider as suitable for conversion to a camper.
The DVLA's requirements for external work include:
Two or more windows on at least one side of the main body of the van, in addition to the windows in the driver and passenger doors
A separate door to provide access to the living accommodation
Motor caravan-style graphics on both sides of the vehicle
An awning bar attached to either side of the vehicle
A high-top roof (this does not include a pop-top elevating roof)
And for internal work, the DVLA wants to see:
Seats and a table
Sleeping accommodation which may be converted from the seats
Cooking facilities
Storage facilities
Each of these categories also has specific requirements that must be fulfilled.