How to convert a van into a camper van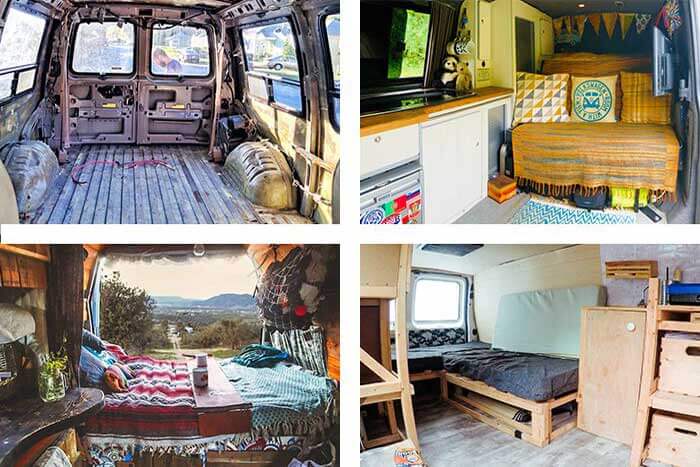 Thinking about joining the vanlife community, but confused about where to start? We've got you covered.
This article contains affiliate links. If you buy any products via these links, we may earn a small commission at no cost to you.
People all over Britain are coming down with a serious case of wanderlust, and if you're here then chances are you've been gripped by it too.
Here you'll find tips and tricks on how carry out your very own DIY camper conversion. You'll be able to get your conversion process underway and hopefully get out into the big wide world!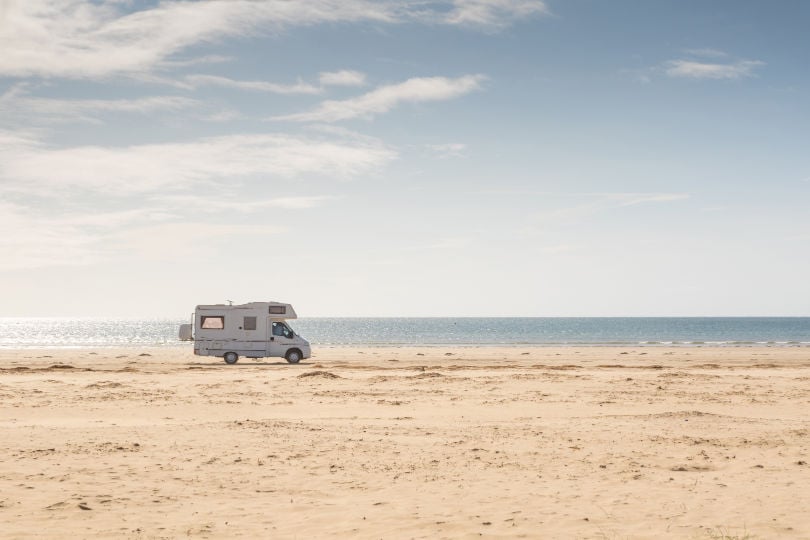 Your van to camper conversion kit
Before you start cutting boards and thinking about what style of bed you want, you're going to need the right tools to get you started. Here's a checklist of the things to use to convert your own van.
Jigsaw - Save time and energy and get yourself a good quality Jigsaw. They're great for cutting through your cladding or pallet wood and especially handy when making intricate curves and joins in your woodwork. Get a good pack of blades so that can cut through a variety of materials.
Drill - A good drill and spare drill bits are essential for any self build. You're going to be drilling into metal frames as well as building cupboards and drawers, so get something powerful like a Bosch Combi Drill. Make sure that you have a pocketful of bits and a spare battery on charge before you set to work.
Stationery - You're constantly going to be making notes and diagrams, and you will most definitely lose pencils and rubbers in the lost universe behind your false wall. Keep a tape measure, masking tape and a spirit level close by (or in a tool belt if you're a pro).
FastGlas Fibre Glass Kit - Cover over any pre existing holes and repair any cracks before you start. Follow the instructions carefully and wear a mask (this stuff is strong!).
Cladding and insulation - Thin cladding, pre-made boards or palette wood are the usual choices for cladding the walls of your van. Whatever you choose you'll need a lot of it, along with some softwood pine pieces to make a ribcage and wall in your living area.
Then you can decide how you want to insulate your new home. Take a look at silver bubble foil and EkoRoll, this combo should keep you toasty in the winter, and cool in the summer.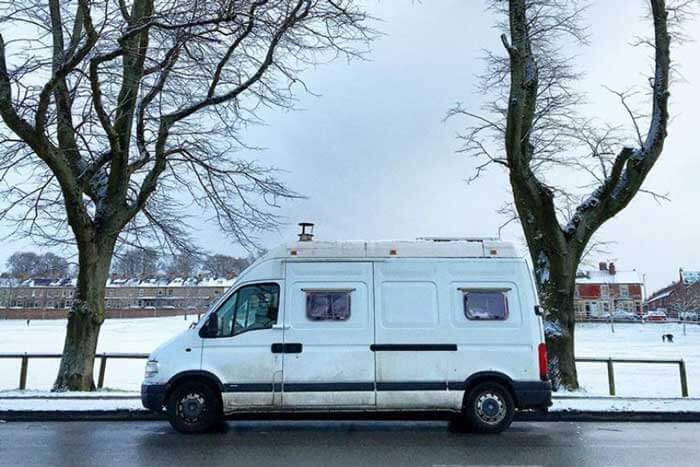 Batteries - 12V batteries come in lots of different sizes. 2x 100aH batteries might be enough, but you'll need to do some calculations to see how much electricity you'll be using in your own build. You'll need to see what wattage your appliances are to help you work out what battery size you'll need.
Solar panels - Two 100W solar panels from Photonic Universe hook directly up to a neat little regulator in the electrics box. These feed into your batteries and keep them charged up from the suns golden rays!
Check prices for solar panels on Amazon
Split charge relay - For when the sun decides to call in sick. This bit of kit charges up your batteries whenever your engine is running, meaning that you can still watch Game of Thrones on a cloudy day!
Fuse box, fuses, lights and wires - All of your electrical components will lead into a fuse box. Get a large box that has enough fuse holders for all of your appliances. Fuses and lights can be found from your local hardware store or eBay, and you should make sure that you get way more wire than you think you'll need - you're definitely going to need it!
Inverter - Converting 12V to 240V electric, this device means that I can charge my laptop and camera batteries on the go. Bigger items will need a bigger power rating, so have a look at the item description before buying.
Fridge - Don't think that you can plug a normal tabletop fridge into your van through your inverter though; it will drain your batteries in the blink of an eye, leaving you with soggy vegetables and warm cream cheese (which no one wants).
<rel="noopener href="https://www.amazon.co.uk/Dometic-CoolFreeze-CDF-26-Compressor/dp/B00SATJLZI/ref=sr_1_3?crid=1V8Q5UG02QYPW&keywords=dometic+fridge&qid=1565020145&s=gateway&sprefix=dometic%2Caps%2C180&sr=8-3&_encoding=UTF8&tag=confusedcom-21&linkCode=ur2&linkId=dc91eb895584dc99446428c5e65fb88b&camp=1634&creative=6738" class="btn btn--blue btn---large" data-ga-click-category="affiliate" data-ga-click-action="click" data-ga-click-label="Amazon" target="_blank">Check prices for portable fridges on Amazon </rel="noopener>
12V fridges are expensive but totally worth it if you're going off-grid. Dometic do a great fridge with a little freezer in it which won't let you down.
Water and gas - Ideally you'll have two 25L jerry cans that you can use for fresh and waste water. You'll also need a bottle of gas for your cooker, a 15kg one should last you well.
Once you're ready to hit the road don't forget you need insurance to cover you and other drivers on your adventure. Comparing prices from different insurers can help you find cheap van insurance quotes.
READ MORE: How to save on your van insurance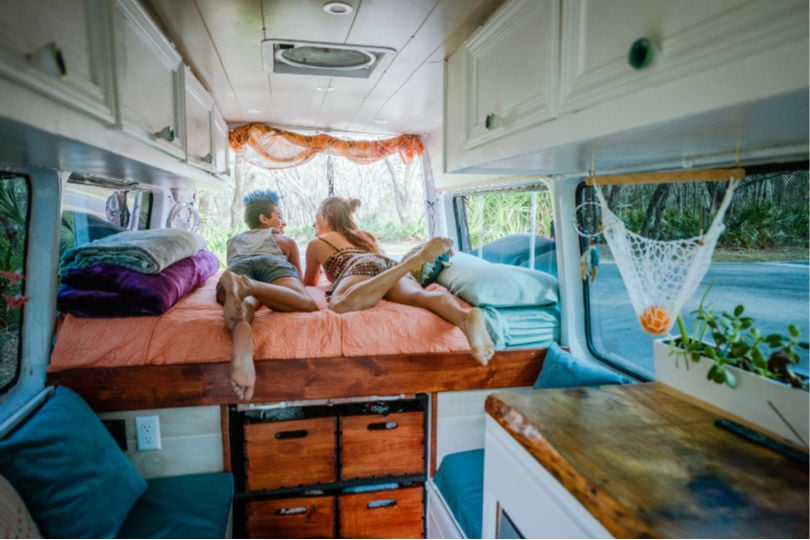 What's the best van for a conversion?
There's a lot that you need to think about when choosing your vehicle; length, height, weight, license category etc., and they will all have an impact on the design that you've been dreaming up while looking at those office spreadsheets every morning.
The classic self-build choice is definitely the Mercedes Sprinter - they are reliable, easy to buy parts for and long enough to fit multiple rooms inside.
The VW Crafter is also a sturdy starting point to consider too. Whatever van you choose make sure that you have a look around inside it first, and don't be afraid to pull out a tape measure to see if some of your design ideas will work inside the space.
Think about which way you would want to put your bed and if you will be able to sleep comfortably in it - once you've bought it there's no going back!
It doesn't matter how old the van is as long as you look for certain signs. Check the seat belt wear, drivers chair and mileage to see how much it's been used. Look for any rust spots that have been covered over, and check that the engine is cold before the van starts up. Take a good look at the engine to see if anything looks rusty or broken, and place a hand near the exhaust pipe to see if the fumes are clear and not too sooty.
You can also do a registration check to see the past history of a vehicle. Do your homework before you buy, and if you get stuck just remember - 'If you buy cheap you buy twice'.
READ MORE: The best electric vans for 2019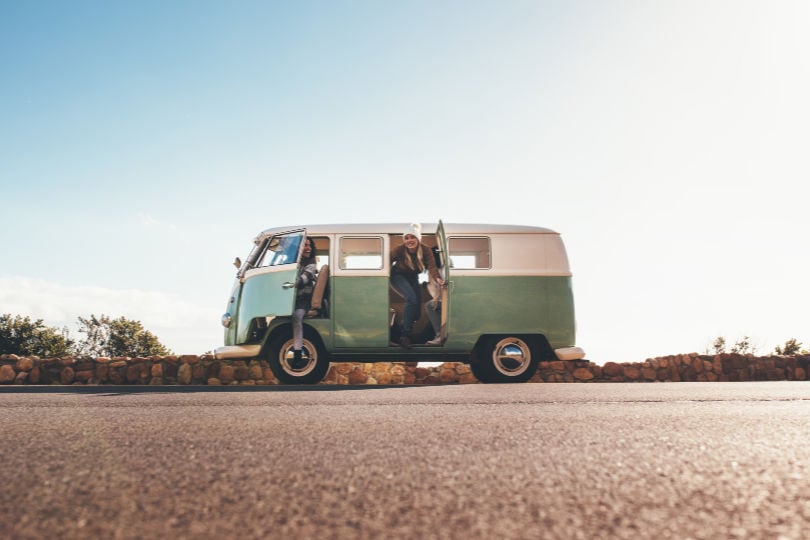 What's it like living the vanlife?
Van Life can give you a sense of freedom that you never thought was possible. It's a calming and relaxing way of life that moves with you wherever you want to go. You could eat your lunch to the sounds of the rain on the roof, and other times just sit and watch the sunset by the side of the river with a cup of tea in hand.
Some essentials you'll need to make space for in your van, like a chemical toilet. But when it comes to showering you can get creative and shower at places like the gym. You can also fill up with water in a range of different places, and don't be afraid to ask friends and family for help.
It might sound like a faff to some, but once you get used to a new routine it starts to become just as easy as your previous life. Moving from a house into an eighty square feet van can be a cleansing process that'll made you asses what things you really needed in your life. You won't miss any of the clutter that used to live in under the stairs.
Alternative living certainly ignites a creative spark inside of you; are you ready to embrace a new sense of off-grid freedom and find out what you can achieve?
Browse our collection of inspiring stories and pictures from van dwellers and learn what's it's really like living in a van.
READ MORE: How to convert your van to run on LPG

Written by Seb Santabarbara @vincentvanlife