You'd be surprised at the dangers your cat or dog faces in your home, local area and in other familiar surroundings.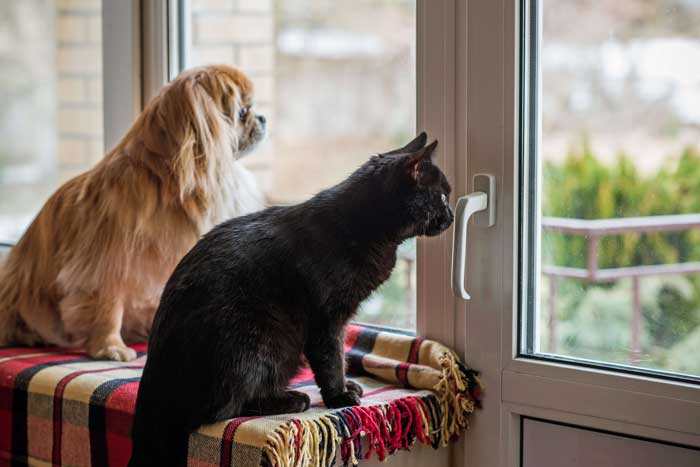 It's important to be aware of the risks to your pet - from the foods you keep to the dangers you face on your morning walk - and put safety measures in place.
Harmful foods for cats and dogs
A lot of foods that are harmful to cats are also harmful to dogs.
However, their diets vary depending on their own unique, nutritional needs.
Here's a look at some common foods that are harmful to cats and dogs.
| Cats | Dogs |
| --- | --- |
| Alcohol | Onions |
| Chocolate | Chocolate |
| Coffee | Garlic |
| Cheese or milk | Macadamia nuts |
| Xylitol (artificial sweetener) | Xylitol (artificial sweetener) |
| Fat trimmings | Avocado |
| Raw meat or raw eggs | Grapes and raisins |
Warning: This serves as a guide only, it's not an exhaustive list. And your pet may have other allergies and intolerances you'll need to be aware of too.
Other foods that can be harmful are those that could choke cats or dogs, such as cooked bones or rawhide.
If your pet has eaten one of these foods, or another food that's harmful to them, you should contact your vet immediately.
Your insurance policy may cover you for any resulting vet bills, but you should check your policy documents carefully.
Safety in the home
There are a few dangers to be aware of in your home.
It'd be impossible to keep an eye on your pets every minute of the day, but you can put precautions in place to minimise some foreseeable dangers.
Household chemicals should be kept in hard-to-reach places, such as the highest cupboards in your home. Examples include: insecticides, liquid air fresheners, bleach, toilet cleaner and washing powder.
Electrical cables and exposed wires, toys and other items pets find in their path will be at risk – tuck these away where they can't be reached.
Other objects that are a hazard to pets include batteries, coins, plastic bags and wrappers, and both animal and human medicines.
Houseplants are generally toxic to cats and dogs. Ensure you thoroughly research which plants in your home and garden could be helpful.
Open windows, washing machines and even toilets can be a risk to your pets. If you have an indoor cat, then ensure windows are closed enough to make sure they can't escape, and check hiding places before you use them – you could be accidentally putting your cat at risk.
Seasonal events and festivals
Easter, Christmas and birthday parties can mean a lot of new and interesting things your pet will take notice of.
For many pets, fireworks are one of the biggest stresses they face each year. It's important to keep all cats and dogs inside when fireworks are being let off, and you should close all windows and draw your curtains.
They'll also come in close contact with tinsel, baubles, hanging decorations, plastic toys, Styrofoam and more at these times of year. Aim to keep your decorations high and away from pet contact where possible.
Dogs especially work well within a routine, which is why when things change within the home it should not get in the way of their usual night time walk.
Similarly, for cats, retaining a certain sense of normal order will ensure they don't become too stressed in their usual environment.
Avoid taking your dog to loud events such as music festivals. Not only can the loud noises cause distress, but crowds of people, potentially hot or wet weather, and smells and sights they're unsure of, can all make them stressed and uncomfortable.
The good news is that dog-friendly festivals are appearing across the UK. Popular festivals designed with dogs in mind in the UK include Dogfest, Woofstock and Green Gathering.
Read more: Travelling with pets
Walking your dog
A lot of how you walk your dog and when will depend on their own personalities, requirements and if they're allergic to anything in the outside world.
If you have a nervous dog, you'll time your walks around when the least number of humans and dogs are around to disturb your walk. If your dog is allergic to grass then you'll aim to do your walking along pavements and away from open fields.
On an average walk you'll come across all array of foreign objects such as broken glass, thorns and trees or hedgerows. Within the long grass you'll also expect to come across bugs that could bite or sting your dog, and ticks or worms.
Where possible, take precautions when you're in an unfamiliar area. Ensure your dog is kept on a lead, and bring supplies if you're heading out on a long walk, such as water and a first aid kit.
Read more: How to keep your dog safe in your car
Using your pet insurance
Finally, when thinking of keeping your pet safe and sound, taking out pet insurance should be on your list of things to do.
In the unfortunate event that your pet needs medical treatment, pet insurance can cover potentially costly medical bills and boarding costs.
The last thing you want to be worrying about is vet fees when your pet is unwell. And having cover in place could give you peace of mind knowing that your cat or dog is well-protected.
Typically, a dog or cat insurance policy might include cover for:
Accidents and injuries

Treatment for unexpected illnesses

Boarding fees for kennels or catteries

Liability cover - if your pet causes accidental damage to a third party and they decide to take legal action against you

Advertising and reward - if your cat or dog goes missing or is stolen
Things that won't be included in an average pet policy include:
Preventive treatments such as vaccinations, worming or tick treatments

Routine check-ups

Pre-existing conditions

Dental treatment
To ensure the best safety for your cat or dog, check your policy for an exclusion list.
Should you need to claim for anything listed above, ensure you have the correct level of cover for your pet, and detail as much as possible to your vet beforehand.