If your pooch is approaching pension age, they need a little extra care and attention.
Making sure you have the right pet insurance for them should make things easier, but this can be confusing.
We look at the different types of pet insurance policies and what they mean for older dogs.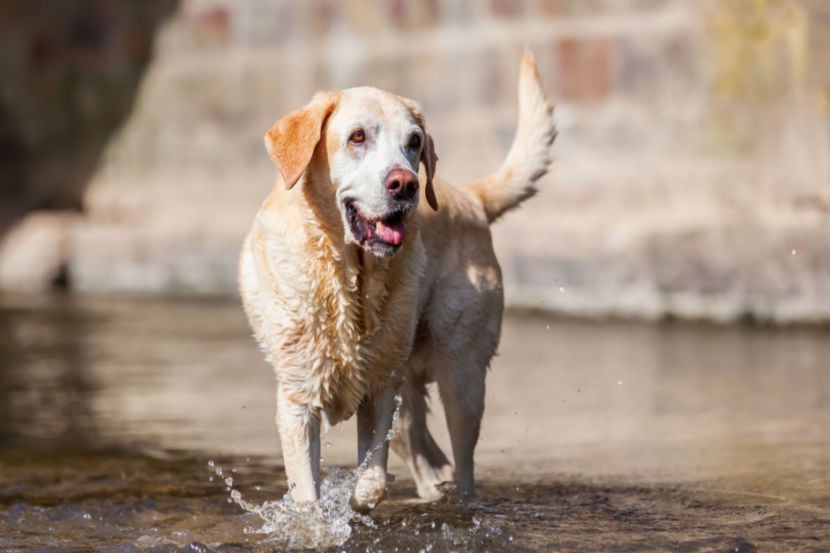 At what age is a dog considered old?
Individual dog breeds age at a different pace than others, the age a dog is considered a senior will vary depending on the size and breed.
In general, large dog breeds age more quickly than small dogs. Here's a guide based on breed size:
Small breeds are considered senior dogs around 10-12 years old.
Medium size breeds are considered senior dogs around 8-9 years old.
Large and giant breeds are considered senior dogs around 6-7 years old.
What will be covered by pet insurance?
Each policy will differ so be sure to check the fine print on the policy you've taken out. However, most pet insurance policies cover the following:
Veterinary fees
Third-party liability
Loss of the pet
Boarding / hospitalisation costs
Holiday cancellation
Overseas vet fees
Some of the most common conditions claimed for are skin problems, bone fractures and wounds.
What's not covered by pet insurance?
Pre-existing illness or injury
Exclusion or waiting period
Routine and preventative treatment
Pregnancy and giving birth
Administrative costs
Can I get pet insurance for an older dog?
Yes, you can get pet insurance for your dog, even if it's older. You should also be able to get specialist cover if your dog has a pre-existing medical condition.
Generally speaking, the older a dog is, the more likely they are to develop certain illnesses and conditions. This means that pet insurance for older dogs tends to be higher than for puppies. The specifics vary between insurers, so it's always worth shopping around and comparing pet insurance quotes.
What type of insurance should I get for my older dog?
There are 4 different types of pet insurance policy:
Lifetime
Maximum benefit
Time-limited
Accident only
Lifetime pet insurance is usually the most comprehensive policy. It's sometimes more expensive, but it should insure your dog for life if you renew your policy each year.
The policy should cover any new illnesses or injuries that might develop. It also covers long-term or recurring illnesses.
Time limited or 12-month policies cover different illnesses or injuries for a set amount of time, usually around 12 months.
Unlike the time limited policy, a maximum benefit policy sets aside a certain amount of money to cover any illness or injury – but there's no time limit.
But once the full amount is paid out, they don't pay out again.
Accident only provides a set amount of money to cover costs due to injury only. Illnesses aren't covered with this type of policy.
Your insurer should be able to advise you on the best cover for your pet.
Remember, when you speak to your insurer, make sure you fully disclose any recent injuries or conditions. If you don't, they may not pay out if you need to make a claim.
Is it worth insuring an older dog?
It's worth insuring your dog if you don't think that you'd be able to cover the cost of their medical care. It's worth bearing in mind that pet injury, illness or health conditions can be expensive for dogs of any age.
Treatment for dogs can reach thousands of pounds, so it's worth weighing up your options when considering cover.
The risk of illness or injury is more likely as dogs get older. Some common conditions include:
Gum disease
Joint problems
Cysts – or fatty lumps
Cancer
Eye conditions
Kidney disease
Diabetes
Eye site problems or blindness
Dementia
A good insurance policy should help you cover the cost of most medical treatments your dog might need.
Is there an age limit for pet insurance?
If your pet is insured and you're paying your premiums, you should find most policies will cover your dog's lifespan.
If you're starting a policy, you might find your insurer sets a minimum and maximum age limit. The minimum age is usually around 8 weeks, though some providers go as low as 6 weeks.
Some firms don't set a maximum age limit, others may not insure dogs that are older than 5 years old. If in doubt, check in with the insurer.
Why does it cost more to insure an older dog?
Insurance prices are all based on risk. The greater the risk of a claim, the higher the policy price is to reflect that.
Older dogs are more prone to health conditions, which means you're more likely to make a claim. This means insurers tend to bump up their prices to cover the cost.
By comparing policies, you can make sure your older dog gets the best cover for a competitive price.
Can I get specialist insurance for adopting or rescuing a senior dog?
No. Pet insurance for senior rescue or adopted dogs is exactly the same for pets from a breeder. This means your pet won't be any more expensive to insure.
How do I get a pet insurance quote for a rescue or adopted dog?
When you get a quote from us we'll ask:
Your dog's age
Their breed
If they're neutered
Whether you'd like cover for pre-existing conditions
How much you paid for them
It may be a good idea to have your dog's vaccination card on hand. This will contain details such as the vaccinations your dog has had, approximate date of birth and any previous medical issues,
As long as you can answer the questions as honestly as possible during the quote process, you should have no issues making a claim.
What should I make sure my pet insurance policy covers?
There are some key things to look out for in your insurance policy. For example, whether it covers pre-existing conditions.
Make sure you declare any pre-existing conditions
You might find that your insurance only partially covers the condition so you might need a specialist policy.
Check your excess
This is the amount you pay before you can claim on your insurance. For example, if your excess was £250, and you took your dog for dental work and it cost you £30, you might not be able to claim for it. If they had an operation that cost over £1,000 you could make a claim, because it's over the excess limit.
Consider features beyond medical treatment
There's not just injury or illness to think about -some policies offer bereavement counselling if your pet dies. Some policies even cover advertising costs if your pet goes missing. These thoughtful extras can make a big difference.
Check the policy wording
Make sure you know exactly what you're getting for your money so there are no surprises later on.
Compare pet insurance quotes