When can you park on single and double yellow lines?
There's often a lot of confusion over the law surrounding parking on yellow lines. So what are the rules and what should you check?
According to the Highway Code, you shouldn't wait or park on yellow lines 'during the times of operation.
But there's no 'one size fits all' rule when it comes to those times, which are usually set by local councils.
And when the rules change from one place to the next, it's easy to get confused as to what your rights actually are.
READ MORE: Parking rules and restrictions explained
When can you park on a single yellow line?
"Single yellow lines mean some form of parking or waiting restriction is in place during certain hours of the day," says motoring lawyer Alison Ashworth from Ashworth Motoring Law.
These parking restrictions should be displayed nearby and, outside of these hours, you'll be allowed to wait or park on them.
As single yellow lines tend to be on busy routes, you may find there's a complete ban on parking during the day. This restriction is then lifted in the evenings and weekends.
However, it's worth checking road signs carefully as each council sets its own rules, and time restrictions may vary across neighbouring areas.
What happens if you fall foul of the rules and park when a restriction is in place? "It can result in a penalty charge notice (fine) being issued to your vehicle," warns Ashworth.
READ MORE: How to fight a private parking fine
When can you park on double yellow lines?
As a rule of thumb, if you spot a double yellow, it means you can't park there at any time. However, there are some exceptions.
For example, you may be able to stop to load or unload heavy goods. But check for any restrictions preventing this - these are usually indicated by yellow 'kerb dashes' and signage.
If you're disabled and have a Blue Badge, you can usually park on both double and single yellow lines for up to three hours, providing your badge is clearly displayed.
However, the parked car must not be causing an obstruction. In all cases, check local signage for any exceptions.
Read more: How to react to emergency vehicles on the road
Can you park on yellow lines on Sundays bank holidays?
Many drivers mistakenly assume any 'usual' parking regulations don't apply on these days.
But restrictions are still enforceable on the days and times shown on the signs.
So if it simply says 'Monday to Saturday' along with times, then restrictions will still apply on bank holidays.
Can you park on red lines?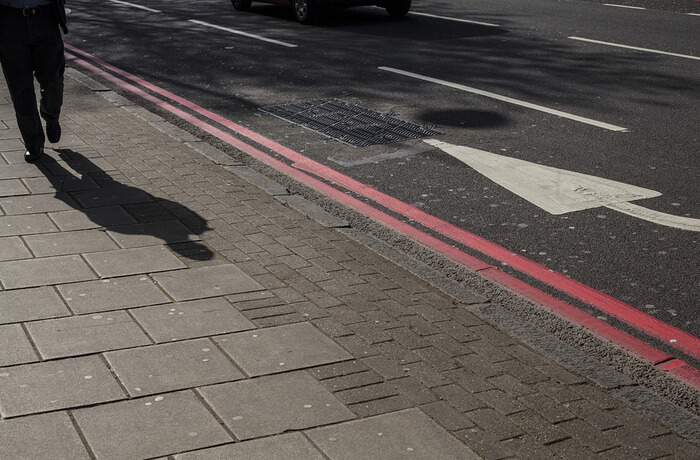 Red lines are used in London and indicate routes that Transport for London own and maintain.
A double red line means no stopping, parking or loading.
If you're disabled and have a Blue Badge, you can park in 'red route loading boxes' – so long as it's bounded by a white bay and your Blue Badge is displayed.
And single red lines mean you can't do any of these during specified time periods. So check the road signage, which may say – for example – 'No stopping Mon - Sat 7am – 7pm'.
Read more: Motorway driving: How to stay safe
Parent and child spaces
If you're parking at shops and supermarkets, many offer 'parent and child' spaces, but this too can create confusion.
"This is a controversial issue as people can be left wondering what age a person ceases to be a child, and whether the spaces can be used by pregnant women," says Alison Ashworth.
How these are monitored is up to the individual outlet. Many encourage shoppers to let them know the registration plate of anyone abusing these spaces.
In some cases you can get a fine too. Both Asda and Sainsbury's say they use independent companies to monitor parking, and fines can be issued if spaces are abused.
Wherever you park, if you're in any doubt about the restrictions on the use of certain spaces, Ashworth advises you to "check the terms and conditions carefully before leaving your vehicle".
First published 17 May, 2016