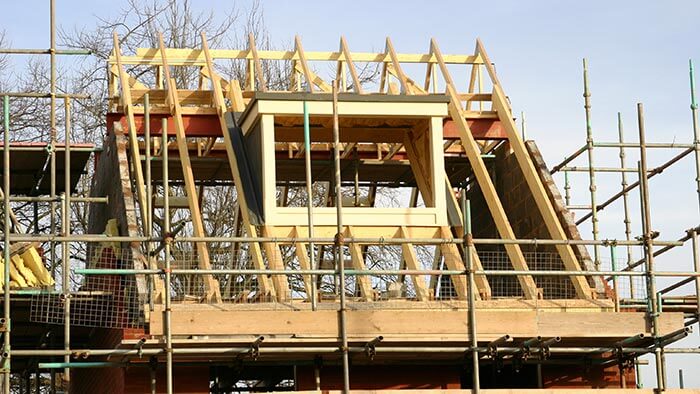 What are your options when building your own home?
We've all thought at one point how great it would be to build our own homes. Maybe you watched some Grand Designs or DIY SOS and thought 'I could do this'.
So where to start with financing something as big as building your very own home? Self-build mortgages are one way to fund this.
What is a self-build mortgage?
A self-build mortgage is for people that want to build their own home.
As with other mortgages, a self-build mortgage is a type of loan you apply for.
The main difference with a self-build mortgage is that you should get the loan in parts rather than as a single lump sum.
What types of self-build mortgages are there?
There are 2 types of self-build mortgages - arrears and advance:
Arrears
Arrears is the most common type. After each build stage, a professional valuer will inspect to approve your next payment.
This might be better suited to those who have enough cash on hand to pay for their projects.
For a lender, they may choose to give payments in stages like this so they're not giving more than the home is worth. It also takes away the risk of the build being abandoned after all the money is given.
Advance
Advance is the opposite of arrears as the lender releases payments at the beginning of each build stage.
The amount given is agreed in advance, based on what the projected cost of the build is.
This might be better for those who have less money readily available to fund their project. You could use these funds to buy your materials or hire labourers to complete that next part.
Stages of self-build mortgages
The stages of getting your self-build mortgage align with the stages of building your property. Normally lenders give 5 payments:
Funds to buy the land
When you lay the foundations
After the walls are built up to roof level or most of the shell of the building has been built
When the building is watertight, roofed and plastered
Final funds after the property is finished.
This may vary between lenders, and some may have a different plan.
How much can I borrow with a self-build mortgage?
If you already own the land, you can borrow up to 75% of the final value of the property. If you don't own the land, some self-build mortgages can give you a bigger loan for it. But others will only lend to those who already own the building plot.
The amount you can borrow from a lender largely depends on your affordability and personal circumstances. So it's worth speaking to a mortgage broker at Mojo Mortgages who can compare self-build mortgages across the whole of the market.
Pros and cons of self-build mortgages
Pros
Could be cheaper – if planned well, between the materials you choose, labour could be less than if you bought a home ready made.

You could avoid stamp duty – as you're buying land with nothing there.

Stamp duty

will only apply to the land itself where it costs over £250,000, so you may end up not paying for it.

Chance to build your dream home – or at least have things you know you want.

The value of your property once finished could be significantly higher than the total cost of building the home.
Cons
You need to be patient and willing to project manage every part of this – from finding architects to organising builders and sourcing materials.
Risk of losing financing if you don't stick to the agreed plan.
Finding the right spot of land might be time consuming.
You might need to give a larger deposit and pay higher interest rates. This is because of the risks associated with self-build mortgages, lenders require more for better security.
Can a self-build mortgage be used on other building works?
Yes, you can use a self-build mortgage if you're looking to convert a barn or build an annex or outhouse in your garden.
How to apply for a self-build mortgage?
Like with standard mortgages, you're assessed by risk. But with a self-build mortgage, it's a higher risk for a bank or lender to give you the money.
There isn't a house they can use as security if you can't make the repayments. That's part of the reason why you get the money in parts – to show you're moving through the self-build process.
When you apply for a self-build mortgage, you'll have to show your lender:
A detailed copy of your construction
Planning permission
Architect's professional indemnity cover
The total cost and if you can, showing any fixed-price contract prices
Building Regulations approval
Site insurance
Structural warranty
Your lender will also make standard checks, like credit history and other affordability checks.
Again, this is due to the risk of potentially ending up behind on your building schedule, or something unavoidable happening.
The interest rates tend to be higher on self-build mortgages than they are with standard mortgages.
Increasing your deposit could be a way to help lower your repayments. The self-build mortgages on offer range from 60% to 80% loan to value (LTV), so it's worth researching to see what you can get.
Alternatives to self-build mortgages
Self-build mortgages aren't the only way to fund your construction. Some other options that may suit your financial situation better could be: