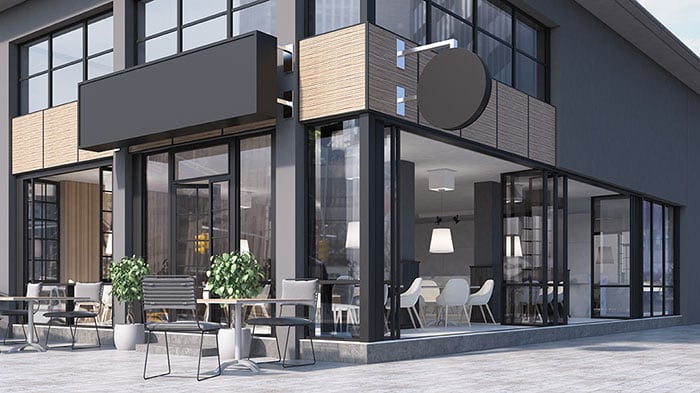 Can your business go for growth with a commercial mortgage?
Perhaps you're a budding entrepreneur and your start-up has outgrown the spare bedroom. Or your business is going from strength to strength and you want to take on more staff. Alternatively, you might just be looking at buying and renting out a business property as an investment.
If you tick any of those boxes, then you could be looking at a commercial mortgage. But what are they, and what do they let you do?
We don't compare this type of mortgage - this guide is for informational purposes only. But you can compare remortgages.

What is a commercial mortgage?
A commercial mortgage is a type of mortgage or loan that's secured on a property that isn't your place of residence. They're specifically for business owners and designed to help you buy a property for your business.
They're a step up from commercial loans, which aren't secured against property or assets. With a commercial mortgage, your property acts as security. So, remember that if you can't make the repayments for whatever reason, then the bank could repossess the building.
With a commercial mortgage, you might have to pay a higher rate of interest than with a mortgage for a residential property. That's because some lenders could see a business as more of a risk.
When would I use a commercial mortgage?
You can use a commercial mortgage to buy an existing property or a new build. Or you might want to buy an entire business, not just the property itself. You can also take out a mortgage to buy a property that you let out to another business.
How long do they last for?
Commercial mortgages normally last for between three and 25 years, although some lenders let you stretch the repayment term for longer.
What are the pros and cons?
Pros
If you want to borrow some money to invest in your business, commercial mortgages may come with lower interest rates than business loans. That's because you put a property down as an asset to secure the loan.

The interest on a commercial mortgage tends to be tax-deductible, so it could help with the tax returns!

Just like with your house, if your commercial property rises in value then you could be sitting on a nest egg.
Cons
They can be quite complex and you need to be sure you take out the right type of mortgage for you.

As the mortgage is secured against your property, you could be putting everything on the line if something goes wrong. You might be able to afford the repayments when business is booming, but make sure you can pay them during the lean times too.

Lenders can expect quite large deposits, so you could be taking quite a lot of money out of the business to get on the commercial property ladder.
How do I apply for one?
All the high street banks can provide commercial mortgages. But they will likely want to see a lot of paperwork and proof that you can make the repayments before they offer you one.
You might be asked to give them a business plan that shows that you can make the repayments, and they may also ask a valuer to give them an independent valuation on the property.
Some businesses use a broker to arrange the mortgage for them. They can advise on the deals available and they could approach the lender on your behalf too.
What are the different types of commercial mortgage?
There are two main types. If you want to buy a property as a trading premises for your business, then you'll be looking at an owner-occupier mortgage. And if you want to buy a property to let out to a business, then you'll be after a commercial investment mortgage.
How much can I borrow?
That depends on your own circumstances and your business. But lenders tend to offer lower loan to value (LTV) mortgages than for residential property. Loan to value is the percentage of the value of the property that you can borrow.
For owner-occupier mortgages, you may be able to borrow up to 75% of the property value.
And for commercial investment mortgages, the most you'll likely be able to borrow is 65% of the value.
Do I have to pay fees and charges?
Yes, there tend to be arrangement fees, valuation fees, legal fees and broker fees:
Arrangement fee: this is what you pay to the lender for arranging the mortgage. This can add up to 1% to 2% of the total loan.
Valuation fee: this is what you pay a valuer to come and assess the property. They'll quote for the work first, but you can expect to pay at least £500.
Legal fees: just like when you're buying a residential property, you'd pay a conveyancer to sort out all the legal paperwork.
Broker fees: if you use a broker for advice on your purchase then they will charge a fee too. This tends to be a percentage of the loan.
Are there any other options available to me?
If you're looking to borrow less than £25,000, then you might want to look at other types of borrowing that aren't secured against the property.
A personal loan could let you borrow anything from £1,000 to £25,000.
A commercial loan could help you with cash flow, purchase business equipment or even pay staff. Commercial loans tend to be up to £25,000.
How can I work out if a commercial mortgage is right for me?
Your lender may ask some serious questions before lending you a large sum of money to buy a commercial property. So it's worth asking yourself some similar questions before you apply:
You'll need a hefty deposit, of up to 40% of the property you're hoping to buy. Have you got that kind of money in the business, and can the business spare it?

Does your business's projected income suggest that you'll be able to make the repayments every month?

Do you have any existing debts or cash flow issues that could make repaying the loan difficult?