Interested in taking out a commercial mortgage? This guide explains how they work.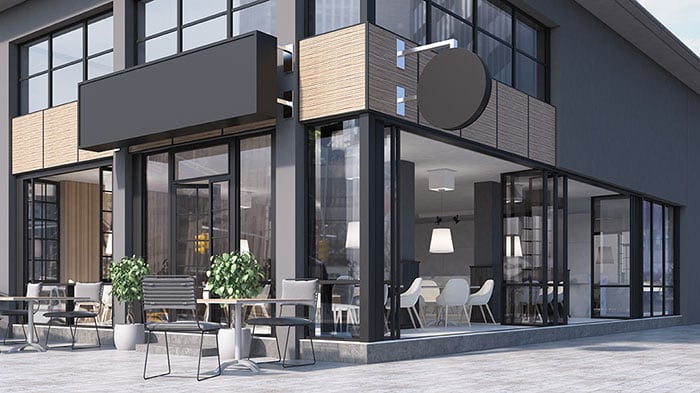 We don't compare this type of mortgage - this guide is for informational purposes only.
What is a commercial mortgage?
A commercial mortgage, also known as a business mortgage, is a loan that's secured on property that's used commercially.
This could be premises that your own business trades from or that you rent out to another business. Or it could be a residential investment property.
It's unusual to find fixed rate commercial mortgages – most tend to be variable rate products, and many are interest-only mortgages.
Interest rates for commercial mortgages are higher than for residential mortgages, as there's more risk to the lender.
When are commercial mortgages used?
Commercial mortgages are versatile products that can be used for a range of purposes:
To buy a business property to trade from, rather than renting one
To invest in either commercial or residential property to be used by others
To develop or refurbish commercial property that you already own
To buy a complete business
To buy machinery, vehicle, plant or stock for your business when a commercial loan is not enough - usually they only go up to £25,000
If you already have commercial mortgages, you may be able to remortgage to release equity for any of the above purposes. Different commercial lenders may have preferences or restrictions on loan use, but generally they're more flexible with property types than residential lenders.
Who is eligible for a commercial mortgage?
You need to meet commercial lending criteria, whatever you need the loan for. This varies from one lender to the next, but usually includes:
A large deposit – usually the maximum loan-to-value (LTV) is 75% for an owner occupier property and 65% for an investment property, so you need a 25-35% deposit
Business status – you need authority to borrow for your business, which usually means being a company director, and the loan must be for commercial purposes
Proof of business income – you need to provide evidence that your business is able to afford the loan, which may also include projected future income, especially for newer businesses
Credit status – as with all mortgages, credit checks are necessary to make sure you don't have debts or a poor credit history. Some lenders check both the business and the directors' personal credit (directors may also need to provide a personal guarantee)
Viability of business – most lenders ask to see a business plan with costings, but this is more likely the case for commercial investment mortgages
What documents do I need to get a commercial mortgage?
You need similar documents to get a commercial mortgage as you would for a residential mortgage, with a few additions:
Proof of ID and address
Personal and business bank statements covering at least the most recent 3 months
Trading figures and accounts covering around 3 years, and potentially projected income - this is more likely if the business is less than 3 years old
A copy of your assets and liabilities statement
Business plan
Pros and cons of commercial mortgages
As with any form of loan, there are benefits and drawbacks, which vary depending on your circumstances.
The pros of commercial mortgages are:
They have lower interest rates than business loans due to being a secured product
The interest is tax-deductible
You can save money by not renting commercial property, while potentially benefiting from an increased property value
The cons of commercial mortgages are:
The rates tend to be higher than on residential properties and there are rarely fixed options available, meaning your repayment amount may change
Commercial property mortgages are secured against the property, so your business premises or investment is at risk if you fail to make payments
The deposit requirement is usually at least 25%
What are the different types of commercial mortgages?
There are 2 main types of mortgage for business use, owner occupier and commercial investment. The type you need depends on the intended purpose of the property.
If you buy or want to remortgage a trading premises used for your own business needs, you need an owner-occupier mortgage. If you want to buy a property to let out to another business or residential tenants, you need a commercial investment mortgage.
What fees are involved in commercial mortgages?
Commercial property mortgages have arrangement fees, valuation fees and legal fees, just like residential mortgages. But usually with a commercial mortgage the borrower would pay the legal costs for both themselves and the seller.
How to apply for a commercial mortgage
Taking out a commercial mortgage can be a bit more complex than taking out a residential mortgage, so it's a good idea to get advice from an experienced commercial mortgage broker.
Commercial mortgage lenders usually ask for detailed information to support your application, which could include a full business plan. A broker can help you prepare your application to ensure that you meet the specifics of this type of criteria.
It's possible to go directly to a lender, such as a high street bank, but specialist lenders may have more competitive rates and more flexible criteria. Some specialist commercial lenders can only be accessed via a broker.
How do you pay interest on a commercial mortgage?
As commercial mortgages tend to be variable rate, they follow a financial indicator, much like a residential tracker mortgage. Although some commercial products may be based on the Bank of England base rate, SONIA (Sterling Overnight Index Average) is more commonly used.
The rates you're offered won't usually be a standard set rate for the product type, but a tailored rate that is based on the specific risk involved in lending to your business.
How much deposit do you need for a commercial mortgage?
You'll usually need at least 25%, but it can vary depending on the lender and the intended purpose of the property you buy.
Owner-occupier commercial mortgages are considered slightly less risky than investments, so you can usually borrow up to 75% LTV, depending on circumstances.
Commercial investment mortgages tend to be offered at a slightly lower LTV, so it's unusual to be able to borrow more than 65% LTV for this purpose. This means you normally need at least a 35% deposit.
How long do commercial mortgages last?
The length of commercial mortgage terms are similar to residential products, usually ranging from 10 to 25 years.
But it's possible to get longer or shorter terms depending on the lender and your circumstances. Commercial mortgages as short as 3 years and as long as 40 are available.
Can I use a commercial mortgage for buy to let?
A buy-to-let mortgage is a type of commercial mortgage as it's being used for a commercial purpose. Generally a traditional buy-to-let mortgage can be used if you have fewer than 10 residential investment properties.
Commercial investment mortgages may be more suitable if you own more than 10, want to buy house in multiple occupation (HMO), multi unit freehold blocks or large, high value commercial developments.