What to do if you get burgled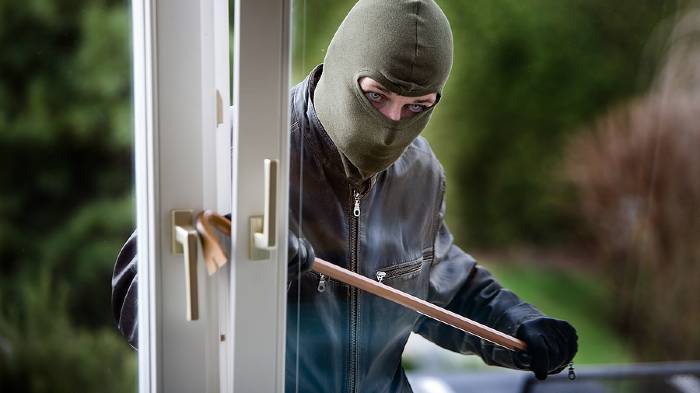 Being burgled is every home dweller's nightmare.
So lets cut to the chase so to speak, and look at the 10 things you'll need to do if you're unlucky enough to get burgled.
READ MORE: Saving money with a burglar alarm
1. Phone the police
Do this straight away – the sooner you report a crime, the greater chance the crime will be solved.
If you suspect that the burglar is still inside, don't enter! Instead, call the police from outside your property, preferably from the safety of your car or a neighbour's home.
2. Don't touch anything!
A burglar will have left forensic evidence at the scene of the crime.
So Scene of Crime Officers will need to look for fingerprints, footprints, tool marks etc.
For your best chance of catching the burglar or recovering your stolen goods, it's best not to disturb anything inside or outside of the property.
READ MORE: How to claim on your home insurance policy
3. Take note of any stolen or damaged property
Go through your property room by room and make a comprehensive list of everything that has been damaged or stolen.
This includes serial numbers and any identifying marks if possible.
Both the police and your home insurance provider will require these details.
4. Inform your bank
If any debit cards or credit cards are missing, inform your bank or credit card company straight away.
They will put an immediate block on your cards being used and then issue replacements.
You will also need to do this if any digital storage device (computer, USB, mobile phone etc.) has been stolen that contains your financial data.
If your passport or driving licence are missing, tell the relevant authority as soon as possible.
READ MORE: High value listed items
5. Get a crime reference number
The police give all reported crimes a unique reference number.
Remember to make a note of this as your home insurance provider will require it when you come to make a claim.
6. Contact your home insurance company
Assuming you have home cover, you should be able to claim for stolen or damaged items (contents insurance) or property damage (buildings insurance).
Contact your insurer as soon as possible and complete their claim form.
This is when you'll need the list of stolen/damaged property and the crime reference number.
Dig out any receipts for the stolen times you might have and damaged items as a loss adjuster might want to see them.
READ MORE: Home insurance policy types
7. Secure your home
Doors or windows damaged during the break-in will need to be fixed immediately.
Also, police attending your burglary should point out any obvious weaknesses in your home security.
Consider this as an opportunity to upgrade home fortifications to make it harder for a repeat visit from a burglar.
8. Re-insure
You might want to consider upgrading your home security measures.But this could come at a cost.
It will however, mean that your home insurance premium might be cheaper - as you could be considered lower risk to an insurer.
Also, your insurer may increase your premium on your renewal date after you've claimed.
So why not shop around to see if you can get a cheaper home insurance quote.
READ MORE: How to reduce your home insurance premiums
9. Get the support you need
As burglary can be a traumatic event, the police will refer your case to Victim Support, or you can contact them yourself.
Victim Support's volunteers offer free counselling, help and advice to victims of crime.
You can get in touch by visiting their website or calling 0808 1689111.
10. Victim compensation
The police will inform you if the burglar is caught.
If an arrest results in a conviction, the court can order the offender to pay victim compensation to cover loss or damage.
But you must tell the police in advance if you wish to claim for this.
READ MORE: New build home insurance