Just because your caravan stays in one place, doesn't mean it can't benefit from caravan insurance. Static caravan insurance keeps your investment covered even if you don't choose to take it on the road.
Similar to home insurance, coverage for caravans extends from accidental cosmetic damages to contents replacement. This can keep your static caravan in top shape even if it's damaged while you're away.
You can compare caravan insurance from various insurance providers with Confused.com to find the best policy for your needs.
Cover your caravan even when you're not there.
Full coverage options available for your caravan's contents.
Keep your caravan safe from damage resulting from natural causes
Confused.com makes it simple for caravan owners to find insurance. Simply input some details about you and your caravan and Confused.com will search for our best deals.
In addition to static caravan policies, we also help owners find coverage for touring caravans. And those with motorhomes can also find policies for their holiday adventures with Confused.com.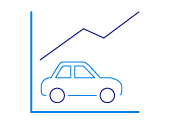 Car insurance price index
How much should you be paying for your insurance? Check the average price for your age and region
You might also be interested in
Confused.com is a trading name of Inspop.com Ltd. This site is administered by i-Wonder Aggregator Services Limited who are authorised and regulated by the Financial Conduct Authority under firm reference number 557746. Our service is free to use and compares quotes from a wide range of trusted insurers. Confused.com is an intermediary and receives a fee from i-Wonder Aggregator Services Limited which is a percentage of the total fee charged by i-Wonder to each of its insurer providers if you decide to buy through our website. We pride ourselves on impartiality and independence – therefore we don't promote any one insurance provider over another. This site uses cookies. Please be aware that parts of the site will not function correctly if you disable cookies. By using our sites, you consent to our use of cookies on this device in accordance with our cookie policy unless you have disable them. Copyright © 2020 i-Wonder. i-Wonder Aggregator Services Limited is registered in England and Wales, Company number 6742731, registered office 3 Warren Farm Barns, Micheldever, S021 3FL. We are an Appointed Representative of ITC Compliance Ltd who are authorised and regulated by the Financial Conduct Authority (FCA) FRN 557746. Our permitted business is general insurance mediation. You can check this on the FCAs register by visiting the FCA website - or by contacting the FCA on 0800 111 6768.