Only 16% would go on holiday abroad when rules allow, despite green travel list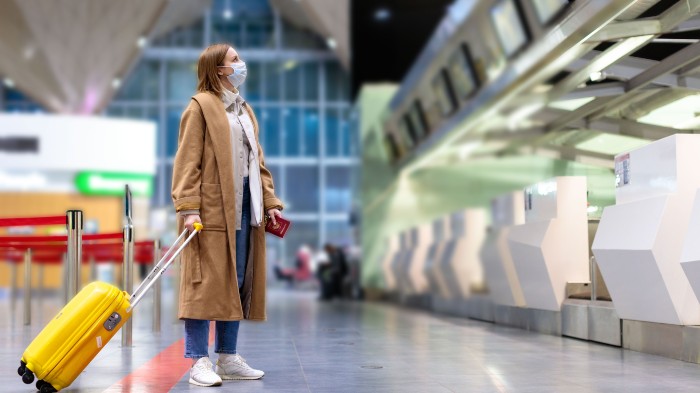 Even with easing restrictions, international travel is still full of uncertainties.
Since 17 May, people in some parts of the UK have been able to travel to countries on a 'green list' put together by the government.
Some of the countries on the list so far are Australia, Iceland and Singapore.
But according to our research, two in five don't feel safe enough to travel*. And of those that are considering travelling abroad, one in five would only go if they felt safe to do so.
Others have been eagerly awaiting this news. One in seven people have already booked a holiday abroad. At the time of the survey, Portugal was the most popular country on the green list to visit. Since then, Portugal has moved to the amber list.
But travel during a pandemic is still full of uncertainties, and some towns within these countries are still under restrictions.
Countries can move from the green list to the red or amber list too - if they're on the red or amber list, you shouldn't visit them. So how could this impact your insurance?
No mandatory quarantine from 19 July for some
From 19 July, holidaymakers in England who are fully vaccinated will no longer have to quarantine if they return to England from an amber-listed country.
You'll need to prove that you've had both vaccinations before you travel.
What is the green list and which countries are on it?
At the time of publishing, the green list is made of countries including:
Australia

Brunei

Falkland Islands

Faroe Islands

Gibraltar

Iceland

Israel and Jerusalem

Madeira

New Zealand

Singapore

South Georgia and South Sandwich Islands

St Helena, Ascension and Tristan da Cunha
You should be able to travel to these countries from most parts of the UK. For people travelling from Northern Ireland check the green list on nidirect.
Although travel from Wales to these countries is legal, First Minister Mark Drakeford is advising people to think carefully about whether they need to travel abroad.
You'll have to take a coronavirus test before you travel , then another coronavirus test no more than two-days after you get back.
You'll also have to fill out a passenger locator form before you arrive back in the UK.
What are the most popular countries to visit?
According to our research, the most popular holiday destinations are:
| | |
| --- | --- |
| Portugal | 60% |
| Gibraltar | 47% |
| Iceland | 46% |
| New Zealand | 44% |
| Australia | 42% |
What can I do when I get to a green list country?
Our research shows that more than one in five people are confused about the social distancing rules in each country.
These rules vary depending on the country you are visiting. Portugal's lockdown for example, is known as "a situation of calamity".
Their situation of calamity works in phases from one to four. It's similar to the road map that England is using.
This has been extended until at least 25 July.
Most of Portugal has re-imposed a curfew between 11pm and 5am, with restaurants and cafes closing at 10:30pm during the week.
Masks will have to be worn in enclosed spaces too.
Before you go, check the Foreign Commonwealth and Development Office (FCDO) and the country's tourist board to see what their restrictions are.
How are airlines protecting against coronavirus?
Over one in five people are confused about how airlines will adhere to social distancing rules.
From 19 July, mandatory mask wearing will end. After that, it's down to individual businesses to decide whether you have to wear a mask.
It seems that airports will continue to use measures designed to maintain a high level of safety for passengers including:
Social distancing

Mandatory face coverings

Two-metre distances when queueing

Contactless check-in where available.
Flight attendants will be disinfecting high-touch areas on a regular basis too.
It's likely that your airline will ask people to leave the plane in smaller groups to avoid crowding.
When you've booked your flights, check with your airline to see how they're keeping you safe.
What is the amber list and which countries are on it?
The amber list has over 60 countries on it currently, including popular holiday destinations like Greece, Spain and France.
You shouldn't travel to any amber listed country for a holiday.
You'll only be allowed to travel to these countries for essential reasons. The Foreign and Commonwealth Development Office says:
"Whether travel is essential or not is your own decision. You may have urgent family or business commitments which you need to attend to. Only you can make an informed decision based on your own individual circumstances and the risks."
What is the red list and which countries are on it?
You also shouldn't travel to red listed countries unless it's essential.
The list has over 40 countries on it currently.
Some of the countries on the red list are Brazil, South Africa and the Seychelles.
The restrictions are more severe if you visit one of these countries. When you return, you'll have to stay in a quarantine hotel for 11 nights, costing around £1,750.
Is my insurance valid for travel abroad during the pandemic?
As we all well know by now, the coronavirus situation constantly changes.
Countries can move from the green to the red or amber list, depending on infection rates.
If your holiday destination moves to the amber or red list, and it isn't deemed safe to travel there by the FCDO you won't be covered by your travel insurance.
This applies even if the country was on the green list when you booked your holiday.
You must not travel if you have coronavirus. To encourage people not to travel if they have the virus, some insurers are offering cover. But you must provide proof of a positive test result.
Our travel insurance expert, Jac Morris, adds:
"No doubt many of us are itching to book our first trip away. Travel to countries that are deemed 'safe' by the Foreign, Commonwealth and Development Office (FCDO) should be covered by our travel insurance.

"However, there could still be a number of countries that are banned for international travel throughout the rest of this year. And travel to any of these countries would mean that the journey wouldn't be covered by your insurance policy, even if it was deemed 'safe' at the time of booking.

"If your holiday can no longer go ahead due to a change in the restrictions, you should try to reclaim the cost from the holiday provider as your first option.

"The rules and guidance around international travel are changing frequently, and it can be confusing to keep up, especially as restrictions ease over the coming months.

"So we've compiled the latest travel information issued by the government, as well as how to get in touch with all of our insurance partners to check the latest advice."
*Figures taken from omnibus research carried out by OnePoll on behalf of Confused.com. This was a nationally representative poll of 2,000 UK adults. The research was conducted between 12 May 2021 and 14 May 2021.