Pre-winter checks for your home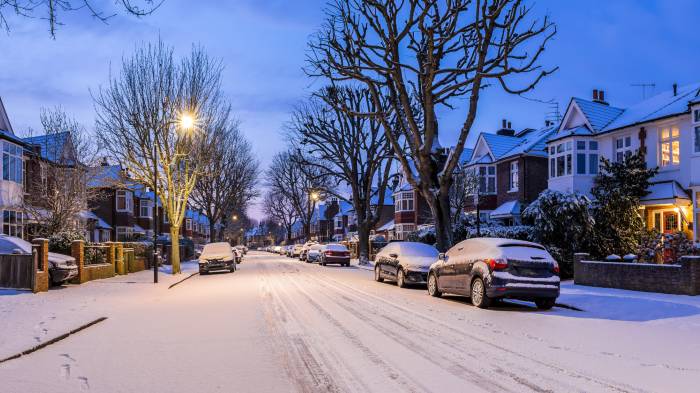 Whether your home is old or brand new, preparing your home for winter is crucial.
If you don't, you run the risk of burst pipes and the damage that causes, leaky roofs and fallen trees.
This article contains affiliate links. If you buy any products via these links, we may earn a small commission at no cost to you.
What could happen to my home in the winter?
When you think about homes in the winter you'll likely have one of two images pop into your head. Either a warm open fire with candles and hot chocolate, or frozen burst pipes and water everywhere.
We all want that first image, not the second.
Burst pipes – one of the easiest to prevent, but has the potential to cause a lot of damage if it happens

Fallen trees – often out of your control, but some preparation as the colder months set in could help

Slipped tiles – difficult to prepare for, easy to fix. Lots of potential for damage in many different ways

Boiler breaking down – no one wants this and it can be very expensive to fix

Damp – if you live in a house with damp, over the summer months it can be easy to forget. As the wet weather settles in, it soon creeps back.
READ MORE: Condensation in the home
What can I do to stop these things happening?
As autumn takes hold and before winter starts, take some time to prepare your home against whatever winter will throw at it.
Burst pipes – simplest way to prevent this is to wrap any exposed pipes in lag (insulation), whether inside or outside the house. If you have a water tank, insulate that too. Be careful to make sure any exposed corners are covered too.
Trees – as you come to the end of summer and the start of autumn, have a look at the trees on your property.
Do they need to be pollarded? Is the tree very lop-sided, with lots of branches on one side but not on the other? Give your local tree surgeon a call to come and assess any winter risk to mitigate possible storm damage.
Slipped tiles – take a look at your roof from the ground. If you can see any tiles that have slipped, call a local handyperson or builder to give you a quote to fix them back in place.
In high winds these could come loose and cause damage, hurt someone, and let water into your home.
Boiler – make sure its servicing is up to date. If you're having any issues with it, call a gas engineer out to check it over and make any necessary repairs. Much better this that finding yourself with no heating or hot water in the middle of winter.
Damp – the least costly to prepare for. Move any furniture or belongings away from troubled walls. Consider purchasing a dehumidifier to put in any damp rooms. They don't cost as much money to run as they used to, be sure to check out their reviews though.
Check prices for energy-efficient dehumidifiers on Amazon
What if something has already happened?
If one of the above has already happened, here's what to do:
If a pipe has burst, try and locate the stop-cock and turn it off. It's probably under the kitchen sink. Call a plumber to come and fix the pipe.
If a tree has fallen and caused damage to your home, you'll need to call your home insurance provider and start a claim.
If the tree has fallen from the road (and not within your property) it's recommended to call your local council or use the GOV.UK 'report an obstruction' tool.
If you've lost some tiles in a storm, try to get hold of a handyperson or builder to fix those tiles asap. Head up to the attic to see if you need to put a bucket down to catch any leaks and stop them going through the ceiling.
Depending on the amount of damage the fallen tiles have caused, this might be one for your home insurance too.
Boiler broken down? Give your gas engineer a call. There might be an extra charge for it being an emergency call out.
However, if you have boiler cover either through your gas supplier or with your home insurance, you might be able to use that too.
READ MORE: Home emergency cover
Does my home insurance cover me and how do I claim?
When it comes to home insurance, it's there to help with repairs to damage caused to your property (buildings insurance that is). Fallen trees and slipped tiles could well be covered.
Keep in mind you'll have to pay excess on any claim you make, typically around £250, but it could be less or more. You'll need to check your paperwork to be sure.
If you're not sure whether to make a claim, you could call around for some rough quotes. That way you can gauge if it'll be cheaper than the excess you'll have to pay.
If you need to claim, dig out your home insurance paperwork, whether that's physical paperwork or in your emails. Give the claims line a call and tell them what's happened.
It's a good idea, if it's safe to do so, to take photos of any damage caused too.
Spending a bit of time and a little bit of money in autumn preparing your home could save you a lot of money and hassle during the winter.
READ MORE: How to claim on your home insurance