Breakdown kit checklist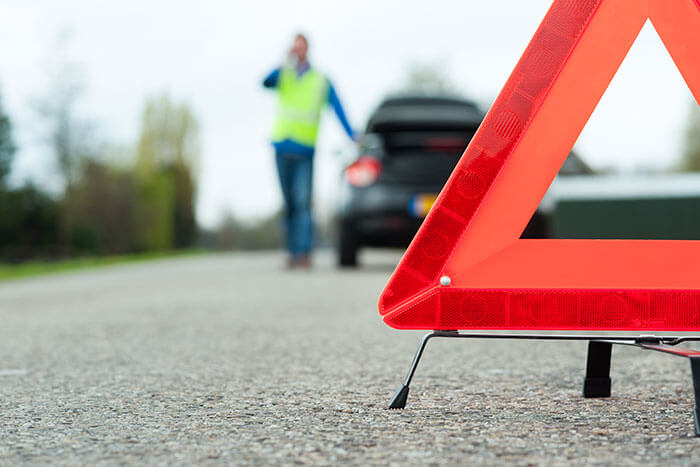 Make the best of a bad situation with this helpful breakdown kit.
Breaking down in the car is never fun. It's confusing and a little scary.
Having breakdown cover gives you peace of mind, but it might be a while before the recovery truck can get to you.
So here are some handy bits of kit to keep in your car so you're prepared for most eventualities.
Find cheap breakdown cover
Get a quote
Most important breakdown essentials
Mobile phone power bank

Being able to call for help is essential if you break down. But if you're too far away from the nearest SOS phone, you'll need a decent charge on your phone.

Having a fully-charged power bank in the car ensures you'll have enough juice at all times.

Juice Squash power bank at Halfords



Hi-viz vest or jacket

Making yourself visible to other drivers is essential when you break down. This is especially true at night or when there's rain or mist - it could literally be a life-saver.

Hi-viz or reflective clothing makes you more noticeable, and so makes you safer.

Unisex hi-viz jacket at Halfords

Red warning triangle

If it's safe to do so, you should put a red warning triangle on the road at least 45 metres (about 60 steps) away from the car.

Most triangles are compact so they fold out and don't take up much space in your boot.

Compact red warning triangle at Halfords

Puncture repair kit

Most modern cars don't come with a spare tyre, so a puncture repair kit will do at a pinch.

Something like Tyreweld could come in handy. It seals up any punctures and re-inflates the tyre at the same time. This gives you time to get back on the road and into a garage.

Be warned that some garages can't repair a tyre that has Tyreweld inside, as it can be difficult to remove.

500ml can of Tyreweld at Halfords

Torch

Inspecting your tyres in the dark isn't fun. So grab a powerful LED torch light your way. A wind-up torch is even better since you'll never need batteries.

There are lots of models to choose from, so you can take your pick.

Search for LED torches at Halfords

Warm, waterproof clothing

You may be standing outside your car waiting for the recovery truck for a good while, depending on where you are.

So if the elements are against you, it's going to add insult to injury if you're caught in a downpour.

Throw a spare waterproof raincoat in the boot along with a blanket or a thick jumper so you'll stay dry and toasty.

If you want to go even further, grab a foil blanket, which is best at keeping in body heat.

Water

Everyone needs water. So if you're stranded at the side of the road, it's best to stay hydrated.

Grab a metal or BPA-free plastic reusable bottle and keep it filled in the boot of your car.

It's worth refilling it every now and again so it's less likely to taste stale.

Nice to have

Tow rope and jump leads

If a good Samaritan wanders by and can give you a boost or a lift to the nearest garage, you can help them help you.

Empty fuel can

One of the common causes of breakdown is running out of fuel. If you're near enough to a petrol station, you can fill up a fuel can and top up your car at the roadside.

It's worth having a funnel packed in your kit too, so there's less mess.

Non-perishable food

Pack some non-perishable food like crisps and chocolate so you've got a snack while you wait.

First aid kit

It's always handy to have one of these in the car in case someone needs patching up.