How to become a tradesperson
Hoping to become a plumber or carpenter? We explain what you'll need to start your new career.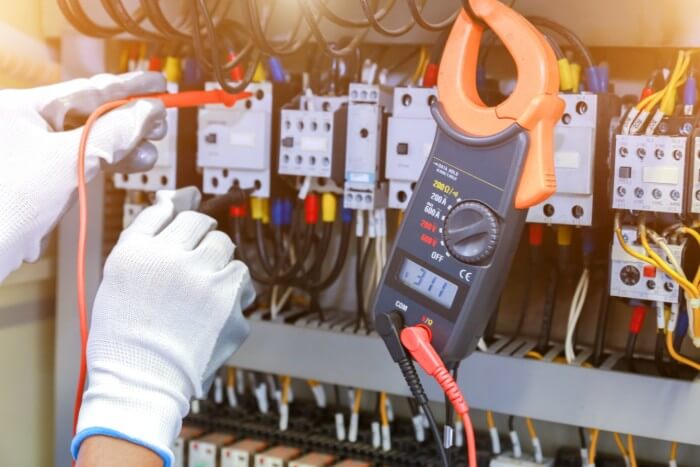 If you're looking for a new career, or you're keen to start your own business, learning a trade may be a good option for you.
But before you start investing in your new venture, there are some things you should think about.
We'll cover what qualifications you'll need, the costs to consider and daily tasks you may carry out in each trade.
How to become a:
What qualifications do I need to become a tradesperson?
There are some trades that don't have any formal requirements, but extra training can give you the edge over other candidates. According to the National Careers Service, to qualify for a trade job you can either:
Take part in an apprenticeship

Learn through a college course – specifically NVQ's at levels two and three, or SVQ's in Scotland

Train 'on the job'

Apply directly if you have relevant experience
To get intermediate or advanced qualifications in a certain trade, you'll need at least 5 GCSE's ranging from A* to D (or grade nine to three).
There's no quick route to becoming a qualified tradesperson, and you should be wary of any fast track or independent course providers.
Always enquire about a course before enrolling to see if it'll provide you with the full qualifications you need for your desired trade.
Once qualified it's advisable to get a Construction Skills Certificate Scheme card or equivalent.
Although it's not a legislative requirement, it'll prove you have the qualifications to work on a construction site.
How much does it cost to get started as a tradesperson?
If you're hoping to get up and running independently, you'll need to consider the cost of tools, a vehicle and insurance.
Some tools can be hired, but if you're using the same tools regularly it may be more cost effective to buy them outright.
It's worth doing an inventory of every tool you have already and work out your costs from there.
Many people hire a tradesperson because of local reputation - which can take a while to build - so you may find you have to subsidise your income to begin with.
Insurance wise, each trade varies but for most you could be looking at premiums ranging from £800 to £1,430 to insure your vehicle.
You'll also need to think about insuring your tools too, as the cost and time to replace them could effect your work.
If you're thinking of becoming self-employed, you'll also need public liability insurance to cover you or your business if damage is caused to someone's home. This ranges from £90 to £280.
Read more: Tool insurance
Plumber
Starting wage: £15,000
Potential wage: £40,000
You can train on the job by becoming a plumber's assistant or 'mate'. For more information on this you can visit the Chartered Institute of Plumbing and Heating Engineering website.
A typical day will involve:
Measuring, planning and giving costs and time scales for work

Cutting, bending and joining pipes and fittings

Installing water, drainage and heating systems

Finding faults and fixing them

Servicing oil-fired and gas central heating systems and radiator

Installing and fixing appliances like washing machines

Dealing with emergency call-outs, this could be leaks or broken boilers

Fitting weather-proof materials, joints and flashings to roofs, chimneys and walls.
To legally work on gas appliances or installations you'll need to be on the gas safe register. This costs £362 for an application, then any additional engineers will cost around £26.

Electrician
Starting wage: £18,000
Potential wage: £42,000
According to Electrical Careers the preferred way in to becoming an electrician is an apprenticeship, but if there are none running in your area, you can always take a college course.
Day to day tasks will depend on what type of electrician you are:
An installation electrician will install different power systems, lighting and fire protection.

Maintenance electricians check systems to make sure they're working efficiently and safely

An Electrotechnical panel builder will construct and install control panels to operate electrical systems inside buildings.

Machine repair and rewind electricians fix and maintain electrical motors.

Highways systems electricians install and maintain street lighting and traffic management systems.
Read more: Van licence categories
Roofer
Starting wage: £13,000
Potential wage: £32,000
There are a few types of roofer, so before you start studying it's worth researching what sort of roofing you want to do.
For example, some roofers specialise in restoring the roofs of heritage buildings.
A full list of the different types of roofer can be found on the Go construct website.
An average day might include:
Repairing or removing broken tiles or slates.

Measuring material and cutting it to measurement.

Checking timbers in the roof.

Fitting felt sheets, tiles or cladding.

Sealing roof joints with mortar.

Plasterer
Starting wage: £14,000
Potential wage: £30,000
The most common way into plastering is through apprenticeships with a plastering firm. But if there aren't any in your area, you can learn through a college course.
Working in a small team, a day as a plasterer would usually entail:
Solid plastering – applying a wet finish to surfaces or putting on a protective covering on exterior walls. Like pebble-dashing.

Fibrous plastering – This is more ornamental work, like ceiling roses, cornices and architraves.

Dry lining – Fixing everything inside the walls, like internal plasterboard or wallboard partitions.
Read more: How to save on van insurance
Carpenter
Starting wage: £16,000
Potential wage: £40,000
As a carpenter you'll usually make and install wooden fixtures and fittings as part of broader construction projects, for example on new-build houses.
Your day-to-day tasks could include:
Discussing plans and following instructions from other team members.

Cutting and shaping timber for various purposes, including floorboards, doors, skirting boards and window frames.

Making and fitting wooden structures, like stair cases, door frames, roof timbers and partition walls.

Assembling or creating fitted or free-standing furniture.

Installing kitchens, cupboards and shelving.

Building temporary wooden supports to hold concrete in place.

Making and fitting interiors in a variety of places.

Constructing sets or stages for theatre, TV and film productions.
Painter and decorator
Starting wage: £15,000
Potential wage: £30,000
As a painter and decorator it's more than likely you'll be working at height, usually up ladders.
An average day could include:
Measuring walls and ceilings to see how much paint or wall covering is required.

Preparing materials for the job.

Stripping away wall paper or layers of paint.

Preparing the surface: Filling in holes and cracks then covering it with a primer and undercoat.

Mixing paint to the right shade, sometimes using software that matches colours.

Applying coats of paint, including special finishes like glazes or marbling.

Cleaning up: this includes the area you're working in and your tools.

Landscape or general gardener
Starting wage: £16,000
Potential wage: £30,000
Unlike the other professions, there aren't any formal requirements to be a landscaper, however most employers will expect some level of knowledge and experience.
The Royal Horticultural Society has a good selection of courses that will help towards a qualification.
An average day as a landscape gardener could include:
Communication with clients and suppliers when ordering materials.

Carrying out plans made by garden designers or landscape architects.

Preparing the ground or space.

General gardening: Turfing and seeding lawns, planting, pruning trees and shrubs.

Installing paving paths, rock gardens or water features.

Advising the customer on how to look after the space and providing on-going maintenance.
Similar qualifications apply to general gardeners except there's less involvement with structural installments, like paving or water features.
Your work will mainly be raising plants from seeds, digging and using machinery like lawn mowers or hedge trimmers, to name a few.
You will need a Certificate of Competence if your carrying out hazardous tasks like using chainsaws or handling pesticides.
Read more: Top tips to enhance your van security
Double-glazing installer
Starting wage: £12,000
Potential wage: £27,000
For this role you can take part in an apprenticeship or start as a glazier's assistant.
As the name suggests, you could be working at a construction site or at someone's home installing double-glazing.
An average day could involve some of the following:
Removing old windows and doors.

Installing new windows and doors.

Fixing the units into place, ensuring they're level and secure.

Making fittings weathertight.

Clearing leftover materials.