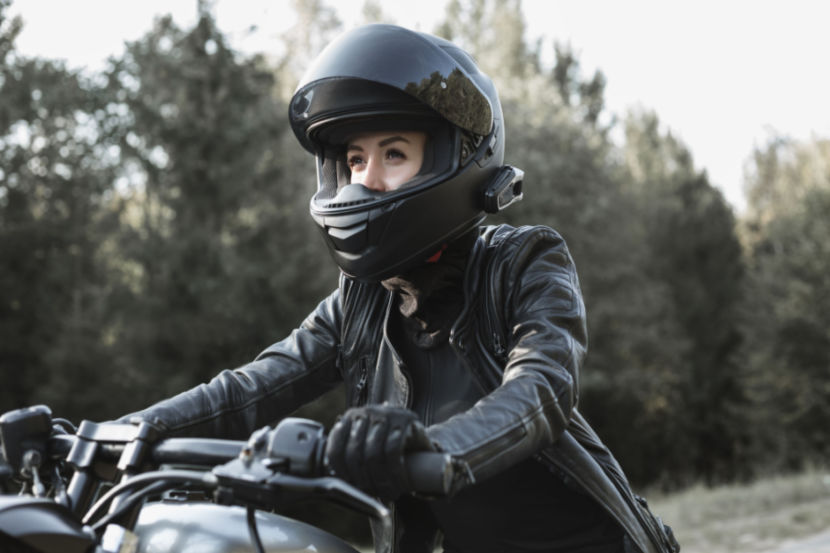 Tony Walters of RideTo shares his essential motorcycle gear list for any bike.
So you've decided to learn to ride and have booked your CBT training. The next step is to kit yourself out for life on two wheels, but what should you buy?
In the unfortunate event that you suffer a mishap, you'll need protection from the road.
But being kitted out properly with the right gear can also give you protection from the elements, noise and anything that might be flying through the air.
Motorcycle gear checklist
The decision on what to wear could be crucial. It's right up there with choosing the right motorcycle and taking out the right motorbike insurance. So, let's dive into your motorcycle gear checklist.
1. Motorcycle helmet
This should go without saying. It's the only piece of protective equipment that's required by law in the UK. And a motorcycle helmet could save your life.
You must follow the regulations and wear a helmet that conforms to the appropriate regulatory standard. Most helmets sold in reputable shops will comply with this.
Some helmets made in America will have only a US Department of Transportation (DOT) rating. Although that doesn't mean they're unsafe, they're not legal on British roads.
SHARP is a government-backed testing facility that independently puts helmets through rigorous tests.
They then give a star rating to each helmet, along with a full breakdown of the test results.
A very important part of buying and wearing a helmet is its fit. We recommend always buying from a reputable retailer where you can have the helmet professionally fitted.
Getting a good fit is vital because a poorly fitting helmet can prevent it from doing its intended job. If you need to cut back spending on any of your gear, the helmet is the last place to cut corners.
And remember that helmets have a shelf life. If you're in an accident, you should always replace your helmet before you get back on two wheels.
But even if you never have a mishap, you should get a new one every few years.
This is because they suffer a degree of natural degradation over the years. And as with many safety features in life, you'd only find that out once it was too late.
2. Motorcycle jacket
As a new rider, you'll have a lot of choice when it comes to protective clothing. So you can base your decisions around the style and look you want.
We would always recommend a jacket fitted with armour, which means shoulder and elbow protectors at the very least. A back protector is a good idea, too.
A new system of CE ratings for clothing has been recently introduced for manufacturers.
CE stands for Conformité Européenne or 'European Conformity'. This European testing process for safety equipment - including bike gear - lets you quickly see the rating a garment has.
It's not a legal requirement for your gear to be CE-rated to a certain level but it could give you more protection. AAA is the best rating, and the scale goes down to B.
The type of riding you do could also have an impact on the type of jacket you choose.
For example, if you're going to use your bike for commuting then a waterproof jacket will be high on the list of your needs.
For all-year-round use it's also worth considering a jacket with a removable thermal liner and some form of venting.
Compare motorbike insurance quotes
3. Motorcycle gloves
This is a very important piece of motorcycle gear kit.
What's the first thing you instinctively do when you fall? Yep, put your hands out. Again, where and when you do most of your riding will determine what kind of gloves to go for.
Having waterproof gloves is always useful, especially in our weather conditions. Look to get knuckle and scaphoid protection, too, if possible.
As with any clothing, fit is key to use and comfort. Find a glove that fits close without being overly tight. Floppy fingers that are too long can affect your use of the motorcycle controls.
4. Motorcycle boots
This is a key piece of motorcycle clothing that can often be overlooked by new riders. We would always recommend a boot that covers the ankle. Many motorcycle training schools will insist on these for use in lessons.
Normal boots will be fine, but dedicated motorcycle boots will offer much more protection in the event of a crash.
Look for features such as armour for both the inside and the outside of the ankle and a reinforced toe and heel. A shank in the sole will provide great protection, too.
Again, it's also worth considering a waterproof boot. You'll find many on the market that have a breathable membrane built into the boot's construction.
5. Motorcycle trousers
A word of warning: normal denim will wear through in an average of half a second when it makes contact with the road.
Even a low-speed spill could cause nasty 'road rash', so abrasion-resistant trousers are a very important safety feature.
There's a huge choice in the market, and leather, textile or denim with an aramid lining are all good options.
Some riding jeans look and feel like normal denim but can offer up to 11 seconds of 'slide time' before wearing through.
We'd also recommend trousers that have, or can accommodate, knee protection. If you can add in hip and even coccyx protection then that's even better.
6. Other motorcycle gear
It's worth considering other forms of protection for those parts of the body that are high impact. Think about elbow guards, shin guards and knee guards.
Goggles to protect your eyes are also advisable. Basic sunglasses aren't designed to withstand high impact. They don't fit snugly against your face either, so they won't protect you from something getting into your eyes.
Then there's hearing protection. Even basic earplugs can do the trick. These don't block out all the traffic noise but they do reduce the impact of the constant sound while you're on your motorbike.
The style of motorbike clothing you choose is up to you, but safety features really are a must-have. If you're choosing a full textile kit, or buying gear that looks more casual, make sure it protects you from the elements and from injury. These days there's a heap of choice and you don't need to break the bank to kit yourself out properly.