Because every business could benefit from some extra capital now and then.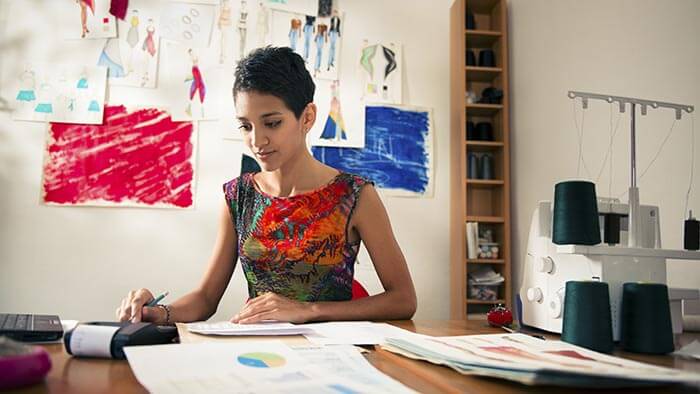 From descending into the Dragons' Den to popping along to your bank, there are lots of ways your small business can raise some extra funding.
But what options are open to you? And how do you go about getting a small business loan? Let's cut through the confusion to find some answers.
What are small business loans?
If you need some extra capital to fund your growing business, you can borrow money from a lender or a bank on the high street.
You can normally borrow anything from £1,000 to £500,000.
Can I use a personal loan for my business?
No. As their name suggests, personal loans are for personal items, like buying a car or paying for home improvements. If you take out a personal loan and put that money into your business, your name will be attached to the loan. So if there are any issues, you could become personally liable.
Be honest and upfront with the lender when you apply for a loan and tell them what you're using it for.
If you genuinely need a personal loan, though, we can help with that.
What's the difference between a business loan and a small business loan?
The only difference is the size of your business. Companies House defines a small business as one that employs fewer than 50 people, with a turnover of under £6.5 million.
So if that's your business, then a small business loan could be worth considering if you want to borrow funds.
What can I use a small business loan for?
You can use a small business loan for lots of different things – from day-to-day operations to growing the business. Some of the most common things people use small business loans for are:
Paying salaries or recruiting new staff
Refurbishing business premises
Buying new stock
Investing in new equipment
Paying for advertising and marketing.
You might also have unforeseen costs, such as a bill you weren't expecting, or a fall in sales that leaves you with cash flow problems. A small business loan could help to tide you over.
Are they secured or unsecured?
Most small business loans are unsecured. These tend to be for smaller amounts, with shorter repayment terms.
Secured loans are when you put up an asset as security against the loan, like your business property or equipment. The asset you offer must be worth at least the amount you're looking to borrow.
The advantage of a secured loan is that you should be able to borrow more money. But there's always the chance that if you can't make the repayments, the lender could take your asset.
So a word of warning. No matter how well things are going at the moment, think carefully about putting up an asset against a small business loan. If the business doesn't do so well in the future, you could lose something valuable to you.
And are they fixed or variable?
Like personal loans, small business loans can have a fixed or a variable rate. Most are usually fixed. This could be the way to go for you, as it means you'll know exactly how much you have to repay each month.
Make sure you know exactly what the terms of the loan are before you sign up to anything.
What are the pros and cons?
Pros
All too often, business is about cash flow. A short-term loan could help you get some ready cash to keep on top of things.
You could get an unsecured loan, which means you'll avoid the risk of losing a valuable asset if you can't make the repayments.
Growing a business often means investing in new opportunities. A loan could give you the funds you need.
Cons
Any loan will add costs to your business. You'll probably already have lots of overheads, like business rent and salaries to pay. Would you be able to meet the extra monthly costs of repaying a loan and the interest?
If your business has a low credit score, you could face a high interest rate. You can check your business credit score here.
Is my business eligible?
To be able to apply for a small business loan, your business must:
Be registered in the UK
Have been trading for at least six months
Have a monthly turnover of at least £5,000
Be aged 18 or over.
What if I'm just starting a business and need a loan?
Sounds like you might be interested in a government-backed Start Up Loan. You can borrow anything between £500 to £25,000 to start or grow your business. You'll also be able to call on free support to help you write your business plan, with up to 12 months of free mentoring. You can find out more in our article on start-up loans, or at the GOV.UK website.
What should I think about before taking out a small business loan?
The main things you need to ask yourself are:
How much you need to borrow
For how long
How long it'll take you to pay the money back.
It's worth being honest with yourself and thinking about how good a shape your business is in right now, and how things might look in the future. Do you have a backup plan if you're not able to make the repayments?
What should I do when I've got a small business loan?
Make sure you use the funds wisely and effectively by sticking to your plans and your budget. If you can, keep the funds in a different account from your business account. Then move the money across as and when you need it.
Make sure you make the repayments on time too. And let your lender know as soon as possible if you're having difficulties or if things have changed.
Are there other ways I can borrow money for my business?
Business overdraft – some banks let you dip into the red now and then. But business overdrafts are becoming more and more rare. If you're lucky enough to have one, always let your bank know that you're going to use your overdraft before you do so.
Revolving credit – this is similar to an overdraft. You agree with your bank a certain amount of money that you can access if you need to. If you dip into it, you'll be charged interest on the amount you owe. The advantage is it gives you the flexibility to quickly access some extra cash. But this type of arrangement tends to have higher fees than a business loan.
Borrowing from friends or family – if this is an option for you, make sure to do things properly and draw up a repayment plan with a specific interest rate. If you all know exactly what's expected, you hopefully should be able to keep everyone happy.
The Bounce Back Loan Scheme (BBLS) – if your business has been affected by the pandemic, BBLS gives you the opportunity to access finance quickly. You can borrow between £2,000 to £50,000, up to a maximum of 25% of your turnover. Find out more at GOV.UK.