Is November too early for Christmas decorations?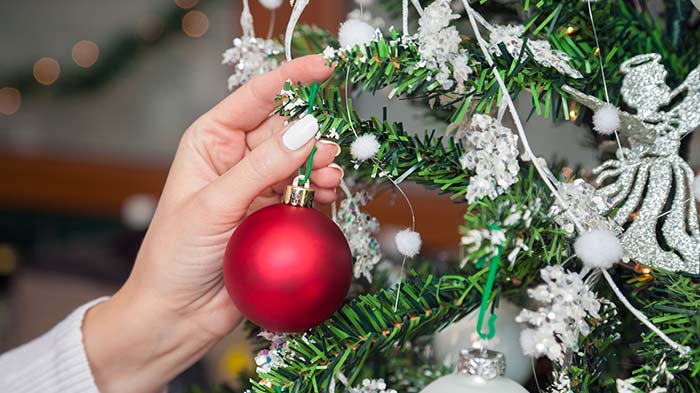 Halloween is over and the nights are getting darker earlier. That only means one thing for Christmas lovers – it's time to get into the festive spirit.
There's always a lot of contentious opinions with Christmas decorations. So, when's the right time to put them up?
Traditionally, Christmas trees and decorations would go up on the first day of advent, which is the fourth Sunday before Christmas Day.

Some might even wait until Christmas eve. It was considered bad luck if you had them up any earlier or later.

Our research found nearly two thirds (63%)* of Brits think November is too early to put up Christmas decorations.

However, shops and TV adverts promote the festive season even before the end of summer, so it's difficult to resist getting involved sooner than you'd planned.

Tesco's Christmas Report has revealed that 2.4 million people plan to have their tree and decorations up before December.

If you're a Christmas enthusiast, you're not alone this year. A new survey on behalf of John Lewis & Partners revealed that - nearly 40% of customers plan to decorate areas around the house they haven't decorated in before - such as the hallway, stairs and outdoors.

And, figures from Studio Retail reveal a 38% year-on-year rise in unique purchases. Showing that consumers are buying Christmas decor earlier than the year before.

You're also backed up by The British Christmas Tree Growers Association. They recommend that you should buy a real tree from the beginning of December - adding that if it's well looked after, it should last more than four weeks.
Why Christmas is good for your mental health
But before the 'Grinches' start coming for you, it's worth learning that decking the halls early can be good for your mental health.
Psychologist, Deborah Serani, says that decorating your home for Christmas early can 'create that neurological shift that can produce happiness'.
She explains: 'Christmas decorating will spike dopamine, a feel-good hormone.'
This year's been difficult for everyone. By getting excited about Christmas and having something to look forward to, gives people that positive push through these uncertain times.
Our survey found nearly one in four (23%) think November is generally too early, but this year is an exception.
Dr Elena Touroni, consultant psychologist and co-founder of The Chelsea Psychology Clinic says "Christmas activities like decorating the house or the tree are happy (and often shared) experiences that provide a temporary break from the reality of what's happening in the world right now."
Avoid decorating mishaps
Be careful - if you've got as many as 60,000 LED bulbs to light up, you'll soon be left in the dark if something goes wrong.

Jessica Willock, head of home insurance at Confused.com, says: "The party season brings with it an increased risk of accidents in the home, with decorations sometimes providing more than just a little extra sparkle.

"Remember to decorate with care to reduce chances of an accident. And don't overload electrical sockets when using Christmas fairy lights, as this can be a fire risk."

You can take accidental damage out for buildings and/or contents. Depending on how you're installing your Christmas decorations, there could be a one-off mishap to the property or contents.
READ MORE: Home insurance accidental damage explained
When to take Christmas decorations down
This debate is less controversial. According to tradition, your Christmas tree and decorations should be taken down by the 6 January. Some people believe leaving it longer than this can cause bad luck.
Getting into the festive spirit
Psychologists are telling you it's OK for you to put your Christmas decorations up and if it brings some happiness to your home during these uncertain times, then why not?
*Figures taken from omnibus research carried out by OnePoll on behalf of Confused.com. This was a nationally representative poll of 2,000 UK adults. The research was conducted between 10/11/2020 – 13/11/2020.