Together with our partner HPI limited, we make it easy to find out more about the history of your car, van or bike. Our vehicle check information comes from a number of sources including the Police National Computer (PNC) for recorded stolen vehicles, finance houses, the DVLA and the Association of British Insurers (ABI).
Whether you've got a car, van or bike it only takes about a minute.
Using the quick registration plate lookup service we'll return information on the vehicle from these sources, so that you can be confident in what you're buying:
Is the vehicle currently recorded as stolen?
Has it been written off?
Has it been exported?
Is the mileage correct?
Is there outstanding finance?
How many previous owners?
Outstanding finance
Stolen (police interest)
Stolen (insurance claim)
Scrapped by the DVLA
Previous 'total loss'
Subject to plate transfers
Colour changes
Fuel
Make and model
Number of former keepers
VIN (chassis number) check
Engine number and size
Year manufactured
Exported
Date first registered
Colour
All HPI checks include a £10,000 guarantee.
The car check results are displayed instantly and can be retrieved at any time.
You will also receive your certificate via email in PDF format, including a valuation and mileage verification.
If you'd like to know more, take a look at our handy guide to online car valuation. Or feel free to browse our helpful article on car buying.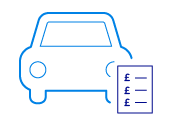 Car valuation
Buying or selling a used car? Or just curious? Find out its value for free
Looking for something else?
Confused.com Vehicle History Check is provided by HPI Limited (Company Number 4068979), registered address: Dolphin House, New Street, Salisbury, SP1 2PH.