Peugeot van insurance
Find a great insurance deal on your Peugeot van with Confused.com
Get a van quote
Whether you use your Peugeot van in connection with your business, or as an everyday run-around, we can compare policies and prices from our extensive panel of van insurance providers, and get our best quote to you in minutes. But what should you know about van insurance?
The price you get for your van insurance policy will vary from customer to customer, van to van, and provider to provider. Insurance companies calculate premiums based on a huge range of variables dependent on the driver(s) and vehicle, making prices very difficult to predict. Below you can find some information on Peugeot's current range of commercial vehicles and some of their customisable options, all of which are likely to impact your insurance premium.
Volkswagen Model
Engine Size
Bipper
1.3 Diesel, 5 speed manual
2.5 - 2.8m3
2
4A
Partner
1.6 Diesel, 5/6 speed manual
2.4 - 3.7m3
2 - 5
1E - T2
Expert
1.6 Diesel, 5/6 speed manual
5 - 7m3
2 - 9
6E - 7E
Boxer
2.2 - 3.0 Diesel, 6 speed manual
8 - 17m3
2 - 17
5E - 8E
*All information sourced from Peugeot price & spec tech guides, available at Peugeot's website.

All cars on UK roads are allocated insurance groups like the ones above, to help insurers calculate insurance premiums, though vans are a little different – insurance groups for vans can be recommended by the ABI (Association of British Insurers), but insurance companies are not bound to follow them. The above information is intended to give you a guideline to understand how you can expect a vehicle in Peugeot's commercial range to impact your premium.

You can learn more about how van insurance premiums are calculated by reading our article - saving money on van insurance.
Established - 1810 as a manufacturer of coffee mills
Headquarters - Ave de la Grande Armee (Paris), and Sochaux, France
Products - Automobiles only
Parent company - PSA Peugeot Citroen
Peugeot have been producing automobiles for over a century, and have been forerunners in the market for much of that time, so it's understandable why their customers expect a certain level of quality, style, and reliability from their products; their current range of commercial vehicles does not seem to let their reputation down.
From the compact Bipper to the bulky Boxer, their commercial vehicles all follow a trend that combines style with practicality, and whilst the range of options and conversions available may not be as wide as some other van manufacturers, they still seem to have an answer for the demands of most van drivers.
Whatever you use your van for, its important you have the right insurance policy in place to protect you, it, and your business. You can complete a quick form with Confused.com and receive our best quotes for your van insurance in minutes, or if you are just looking for further information, browse our van insurance guides, which are full of useful information for the modern van driver. You may also find the following sources useful;
Confused.com's guide to cutting your van insurance costs may help you keep your premiums to a minimum
The DVLA website can help you calculate what tax band your Peugeot van might fall into
Need more help? Take a look at our expert guides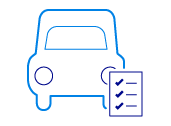 Van registration history check
Do you really know what you're buying? Has the van been stolen or written off? Enter a reg plate to see a vehicle's past.