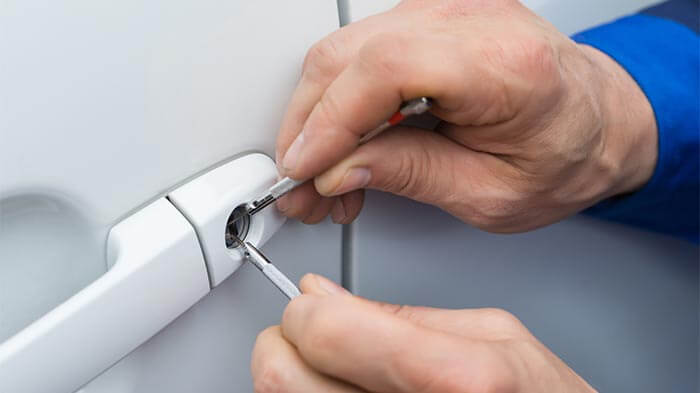 Car crime – increasingly keyless theft – blights many lives, piling more pressure on our insurance costs.
We've assembled the best security ideas – including those for electric vehicles – that not only protect your wheels but also your car insurance costs.
According to Statista more than 113,00 car thefts occurred in England and Wales during 2019-20 – that's a fall of 1,330 when compared with 2018-2019.
But there are still far fewer vehicle thefts compared to 2002-2003 when 307,000 thefts were reported.
This was followed by a ten-year decline. Vehicle thefts were cut to just 70,000 in 2013-2014.
Many car thieves are part of a bigger industry. Some high-value vehicles can be driven to a secure location and then left for several days to be checked thoroughly for tracking devices.
Once 'cleared' and the car re-programmed, they can be then sold on.
So, while car makers get better at making our vehicles more secure, criminals get smarter too.
Car security isn't about car keys anymore – it's increasingly about computer hacking, vehicle cloning and organised re-selling, often to order.
So how can you protect your car? Here are some handy tips.
Compare car insurance quotes
Jump to a section:
Buy a car with robust security
Watch out for catalytic converter theft
Keyless entry and start is a convenient feature now on many cars. While often helpful, keyless entry has one gaping drawback – it can make it easy for car thieves to make off with your car.
Often working in pairs, car criminals do this by hijacking a car key's radio signal, sending it to a nearby transmitter handled by an accomplice.
This acts as the 'key', letting them open your car up, start the engine drive it away, possibly to be stripped for spare parts.
Enter, then, the Faraday pouch, which also goes by the name of a 'keyless pouch'. Most have signal-blocking stitching that helps to block out any radio interference.
A small holdall, you simply pop your key fob inside.
How do you know if your car has keyless entry?
If you can open your car and start its engine without physically using a key then you know your car has keyless entry. So, it's potentially a target for theft.
A shrinking list of car manufacturers still allow you to buy a new vehicle without keyless entry and start.
A small Faraday pouch or wallet can't guarantee your car's safety but it's worth considering for little up-front cash.
If you generally hang your keys up inside your home, keep them away from exterior walls or windows where radio signals can be picked up more easily.

Electronic car theft is quiet and quick and some thefts can happen in as little as 60 seconds, so don't make it easy for the snoopers.
Keeping your key in a cheap metal tin could also help block your key's signal.

If you sleep upstairs perhaps consider keeping it on the ground floor. Do you really want a thief coming looking for it?


A tough, loudly-coloured metal lock clamped across your steering wheel is a strong visual deterrent for many car thieves – though not for the most determined.

While some wheel locks do look a bit on the heavy-handed side, most owners feel their highly visible presence is worth it for the peace of mind.

If you buy one, make sure it doesn't lean too heavily on a steering wheel mounted horn or nearby indicator stalk.
Check too that it doesn't scratch the steering wheel or get in the way of automatic gearbox paddle shifters if you have them fitted.

Some wheel locks will have a storage bag, while others won't – again, check. Have a think too about where you'll store it when driving.
Some vehicles will have space under the passenger seat, but not all. Will you keep it in the boot – and how can you keep it from sliding around?

Some wheel locks are on the expensive side – think north of £60. But their chunky, robust second line of defence presence is hard to ignore, and in a very good way, we think.


If you run an EV do watch the security of your electric charging cables. Any cables left outside your house, for example, may be vulnerable to theft.

Electric vehicle cable theft is on the rise as the kit is increasingly desired by scrap metal thieves. And, massively increasing electric vehicle sales means it's a trend.

Some electric car charging points aren't easily stolen. But some charging stations rely on EV drivers to use their own cables – and it's easy to leave these unattended.

Typically a standard Type 2 BP Chargemaster cable retails for £149 and is widely used across many marques, including Audis, BMWs, Peugeots and VWs.

One get-around here is to consider fitting a dash cam. While it won't stop the most determined thief, it may at least give them pause.
But do make sure the dash cam has a 'parking mode'. Some only run when your car is on the move.

If you have a garage, try and keep all your charging kit inside it. It's best not to over-advertise this increasingly targeted (and not cheap) equipment.

At the start of 2021 there were more than 500,000 electric and hybrid vehicles on UK roads. More than 175,000 electric vehicles alone were registered in the UK last year (2020).


Hey, I can see your car! Well, perhaps not literally. But a GPS tracker could be an inexpensive way of pinpointing exactly where your car is.

Many of us already use GPS satellite technology when using our phones – Google Maps, for example. But you can fit GPS car trackers discreetly to a vehicle, often with a simple adhesive patch.

Some trackers rely on their own long-life battery while others can be wired up to your car's on-board diagnostics (OBD) port.
Almost all cars made after 1996 will have an OBD, and you can set them up using your own SIM card.

Be careful how you pay for a GPS tracker. Some device makers may try and tie you into monthly fees via a subscription service.
Have a think too about what you want to use a tracker for. Will you want to use it to track other items, like a bag or bike?

In other words, there's plenty of flexibility and choice. Some start from as little as £50, or even less.
Other devices rely on the monthly subscription model but throw in the device for free. It's all about what you feel works best for you.

A VHF system is also an option – albeit more expensive.
The VHF advantage is that it can track your vehicle down even if it's been hidden underground, or in a hard-to-find, isolated shipping container.

There's also another hard-to-argue-with advantage – a Thatcham-approved VHF tracker could also lower your insurance costs.


Most cars on the road have immobilisers fitted to them. Immobilisers were required by law since 8 October 1998.
But if your car is older, possibly a classic car, then consider having one professionally fitted.

Before immobilisers became commonly fitted some cars could be 'hot-wired' to start without a key.
An immobiliser's job is to stop an engine being run unless a key – the right one! – is used.

A car engine will only start if a code inside the key's transponder chip matches the code planted in the immobiliser, which is usually factory-fitted.

While an immobiliser won't stop your car being pinched, it certainly slows down a car criminal's progress.
And the more secure your vehicle is, the lower your insurance premium could be. So they're good news.

If you're having an immobiliser fitted by an aftermarket installer, make sure the device is Thatcham-approved.


Choosing where to park could have a dramatic impact on how easy or difficult your vehicle is to steal.
Car thieves don't like well-lit public roads as they're easily seen. So, side roads or dimly-lit alleys aren't sensible.

That's common sense, of course. But areas of high crime can be easily avoided, even if you don't know an area well.
A number of websites, like ParkMark, identify well-maintained and run public car parks.

Smartphone parking apps also make secure parking easier to find. Most have easy-to-use interfaces with on and off-street parking options, plus live availability too, in some cases.
Some even allow you to track down private rented driveways as an alternative.

A number of supermarkets – Morrisons and Tesco are good examples – now rent out parking spaces to non-customers.

In other words, there's plenty of tools and solutions to help you keep your vehicle secure and your no-claims bonus intact.

But wherever you park, do make sure you park close to other people's cars. If your car is a bit isolated, it's easier to be preyed on.
CCTV cameras add another layer of security, of course.


Thatcham Research, the vehicle and technology research organisation funded by insurers, suggests consumers look at its own car security ratings when choosing their next car.

While premium models often have better security than cheaper cars, it's not a 100% given. And some 'premium' vehicles, by their very desirability, are more vulnerable to being nicked.

Thatcham Research recommends asking a dealer if a keyless fob can be turned off overnight – or if it has an automatic 'sleep' function.
Some other questions it recommends asking:
Are there any software updates?

Is a motion sensor-enabled fob available?
The good news is that some car makers are now switching to better wireless technology such as Ultra Wide Band (UWB) and Bluetooth Low Energy (BLE).
These are thought to be more tamper-proof.


Never keep your car paperwork inside the car. Always store the logbook and your car service records safe at home.
The most important document is the logbook, or V5C, which is your car's registration document.

Although things like VED road tax and driving licences are now digitised, the British logbook, a paper-based hanger-on, has held out.

If your car is stolen with the V5C inside it, you must tell the police and your insurer immediately. You'll also get a crime number.

And if you're buying a car, do make sure the logbook, or V5C, has a 'DVLA' watermark and that its serial number isn't:#
Between BG8229501 and BG9999030

Between BI2305501 and BI2800000.
If it is, the V5C might be stolen.
A catalytic converter is part of a vehicle exhaust and filters out harmful engine emissions. The Association of British Insurers (ABI) warns it's a growing problem.

"They have become targets for thieves because of the high value of the metals they contain, rhodium and palladium," the ABI warns.

"Rhodium currently sells for just over £10,000 an ounce; palladium for just over £2,000 an ounce.
"Thieves crawl under vehicles, sometimes sawing off the converters so causing more damage. The repair bill can typically range from £2,000 to £3,000."