Working from home during the coronavirus pandemic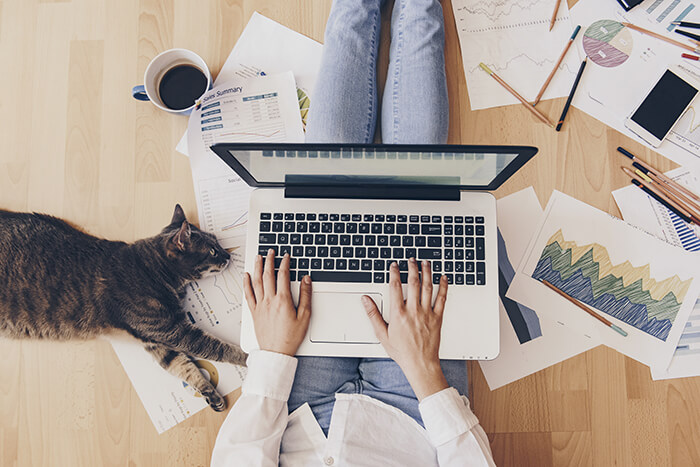 If you're now working from home, does your home insurance cover you?
The coronavirus pandemic has forced two fifths of Brits to work from home. And a further 7% are expected to work from home in the near future.
Although it's thought that this will curb the spread of the virus, the sudden change to working from home could be unsettling for some.
After all, there are so many uncertainties. With school closures, juggling working with childcare will be difficult.
The sudden shift away from an office environment could have a detrimental effect on your wellbeing too.
And what are the effects on your home insurance and energy bills?
Here are some tips for working from home during the coronavirus pandemic:
I'm working from home during the pandemic, do I need to update my home insurance?
During the coronavirus pandemic, many people who usually work in an office will now be working from home.
You don't need to update your insurance, or even tell your insurer that you're working from home during the outbreak, as it's not your usual place of work.
Does working from home during this time class as 'business use'?
More than one in 10 Brits are confused about whether working from home is classed as business use on their home insurance.
If you're working from home because of the coronavirus pandemic, you don't need to update or change your policy.
The only time you'll have to do this is if your home is permanently used as an office. Pandemic or not.
If your home is the equivalent of a hustling, bustling office, it's worth limiting who visits you during this time.
Connectivity tools like Microsoft Teams, Skype and even Facetime can help if you need to have a contactless meeting.
I've been given equipment to work with during the coronavirus pandemic. Is this covered?
If you're using equipment supplied by your company, then it'll be covered under their business insurance.
Read more: Home insurance for home-based workers
How will working from home affect my broadband, mobile data and energy?
It's likely you might see a rise in energy bills if you're working from home. Here are a few quick tips to help you save:
Put the heating on as and when you need it, instead of continuously
Keep the area in front of your radiator free
Turn your devices off instead of keeping them on standby. This is particularly important if you're using any additional technology from work.
For more energy saving tips take a look at our energy efficient home guide. While you're there, our guide to saving on heating could be worth a look too.
To see how much you could be saving by working from home, check out our working from home savings calculator.
I have children, what can I do with them while I work?
As schools close, one in three people (32%) will be looking after their children.
Your children are probably going to be ecstatic to be spending more time with you during the closures.
But two in five people are concerned about how they will be able to look after their child and carry on working. So what can you do to keep your little ones occupied?
First off, explain the situation to your children. Tell them the hours you'll be free to play and the hours that you're going to be busy working. Try and get into a routine with this.
If you have a partner, you could alternate working hours between each other. When one is working the other can do some childminding and vice versa.
Keep a box handy full of games, art materials, colouring books and activities. If you're in a working time and your children pay you a visit, you can send them to the activity box to pick something out.
There's no perfect solution to working from home with your children, but this is an unpredictable time for everyone.
It's worth chatting through your situation with your employer, they may be able to provide help or offer advice.
Read more: Home insurance policy types
Wellbeing when working from home
Personal wellbeing is deemed to be the most concerning issue for people in the UK.
When work places, schools and social hangouts will open again still hasn't been confirmed. For some, this can be very lonely.
The good thing is we live in a connected age. Facetime, social media and phone calls can help you to keep connected with your friends and family.
You can exercise too – the NHS has put together some exercises that you can do indoors. They've also got some great tips to help your mental wellbeing while isolating.
If you're in need of some fresh air you can still go outside for a walk or a run. Just remember to keep the allotted distance between you and other people.
For more information, take a look at the government website.
Unless otherwise stated, all figures taken from omnibus research carried out by One Poll on behalf of Confused.com. This was an online poll of 2,000 UK adults (nationally representative sample). The research was conducted between 23rd March and 26th March 2020.