Our guide to help you through one of the biggest purchases you'll ever make.

Buying a car is an exciting prospect. Due to depreciation, most people decide to go down the used car route. So it's useful to know what to look out for before you make that important purchase.
Most motorists know to check for obvious signs of damage. For example, the condition of the tyres, signs of rust and unusual engine noise. And you can check the service history, to ensure it's been regularly maintained.
But some problems with a car can be difficult to spot. More subtle things, like the spare tyre and the state of the air conditioning, are often overlooked.
So it's good to get clued up beforehand. These things can quickly turn a dream motor into a heap for the hapless buyer.
Take someone with you
Try to go with someone who knows what they're doing. They'll be able to spot any issues with the engine if you aren't up to speed with this kind of thing. However, even if you're an expert mechanic, it's important to take someone with you.
What should I look out for?
There are a couple of things that are quite easy to spot:
Check the advert description matches the car. If they didn't disclose a scratch or dent, it's fair to ask for a discount.
Always try to view prospective cars in daylight on a clear day as well. This is the best way to ensure you can clearly see the car's condition, warts and all.
After you've checked the tread on the main tyres, you should check the condition of the spare tyre. Often it'll be in the boot. If it's bald or damaged, negotiate a discount because it'll need replacing.
While you're there, check the tyre changing kit. This should contain a jack and a wrench. Some cars have wheel bolts; if these aren't present then you can't change the tyres.
Remember to test the air-conditioning, heating and stereo. Don't be afraid to sit in the car and investigate these fully. It could mean a hot and silent car journey if they don't work.
Get your friend to turn on all the lights and signals. You can then walk around the vehicle to check they all work.
It's also worth getting them to rev the engine as hard as they can while they're in the car. If any blue or black smoke appears, the engine's burning too much oil.
Check the locks. If the car has an immobiliser lock, use the key remotely. Make sure it locks the car without any glitches, and make sure every door and the boot is locked. Then test the key manually.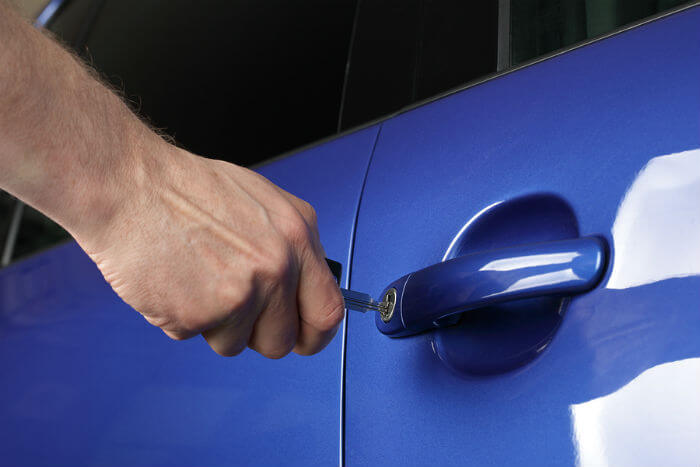 Creature comforts
If you're a fan of a supersized service station coffee, then look out for a cup holder. A pint of hot coffee over the crotch is never a pleasant experience.
As most music is stored on phones these days, a USB or auxiliary cable input may be useful to some car buyers.
Or if you prefer wireless, look out for built-in Bluetooth or WIFI.
The test drive
Here are some important questions to ask yourself while taking the test drive:
Is the car warm? Before starting the engine, feel the bonnet. It should be cold. If it's not, there could be a starting problem that the seller isn't telling you about.
Any unusual noises? There shouldn't be any rattles or clunks, no matter what type of road you're driving on.
Do you feel confident using the brakes? They should stop the car in a straight line.
Do the gears change smoothly without crunching? Also check the biting point of the clutch. The higher it gets without biting, the more likely it is to be worn.
How's the steering? When locked, the steering wheel shouldn't move excessively. This is known as 'free play'. Nor should it vibrate or stick.
When taking the car out, try it on a variety of roads for at least half an hour. It's important to get a feel for it, especially if it's a different model to what you're used to.
Think about how the car will accommodate your daily routine. Make sure there's enough room for your family, pets, shopping or anything else you might store in your car.