Hybrid cars - the perfect middle ground if you're not ready to make the switch to electric. We've rounded up our favourites.
You love the idea of electric vehicles but are worried about battery life. So, what's the answer?
One solution is buying a hybrid vehicle that combines a normal petrol or diesel engine with an electric motor and batteries.
This means it will use less fuel and produce lower CO2 emissions, so while the tax benefits aren't as attractive as on electric vehicles, there are still benefits.
There are different types of hybrids, all of which use electric power to varying degrees. Which option you choose will depend on your requirements.
It's also worth bearing in mind that a number of manufacturers produce different hybrid versions of the same car in order to meet individual needs.
Looking for finance on a new car?
Here are our favourite hybrid models at a glance:
Hyundai Ioniq from around £25,740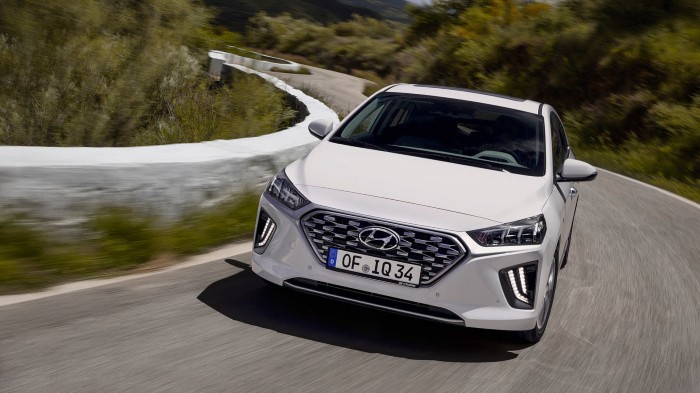 This is a seriously good-looking car. It's sleek, aerodynamic and comes in a variety of environmentally friendly formats, depending on your preference.
As well as conventional hybrid, it's also available in plug-in hybrid and fully electric versions, so there really is an option to suit everyone.
The hybrid version marries a 1.6 litre GDi petrol engine with a self-charging 1.56 kWh lithium-ion polymer battery.
The plug-in version, meanwhile, starts from £30,250, and can travel up to 32 miles on electric power alone. This is more than enough for most town driving.
It can be charged on the go, by a wall box in two hours and 15 minutes, or even via an emergency 3-pin connector that takes six hours.
Both conventional and plug-in hybrids come with a free five-year subscription to Hyundai's LIVE Services, which provide real-time information on petrol station locations, traffic, and parking.
READ MORE: Petrol and diesel ban 2030: what does it mean for you?
Skoda Superb iV from around £25,105
Skoda's first model with a plug-in hybrid powertrain is definitely worth a look. It's well designed, comes in a variety of versions, and offers plenty of neat touches.
These include a charging socket subtly tucked into the front grille, privacy glass, driver fatigue sensor, adaptive cruise control, and blind spot detection.
It even has an e-noise generator that makes the sound of a conventional engine at speeds of up to 32mph to ensure pedestrians know you're near them.
There are four trims available in the hybrid form – SE Technology, SE L, Sportline Plus, and L&K – each offering a higher degree of technology.
Opt for the L&K version, which comes with a price tag of around £37,000, and you will enjoy a rear-view camera, a virtual cockpit, and a 9.2" touchscreen display with 3D maps.
You can also choose between hatch and estate versions, depending on whether you need the extra space to pack the family's belongings for a day out.
BMW 330e from around £40,000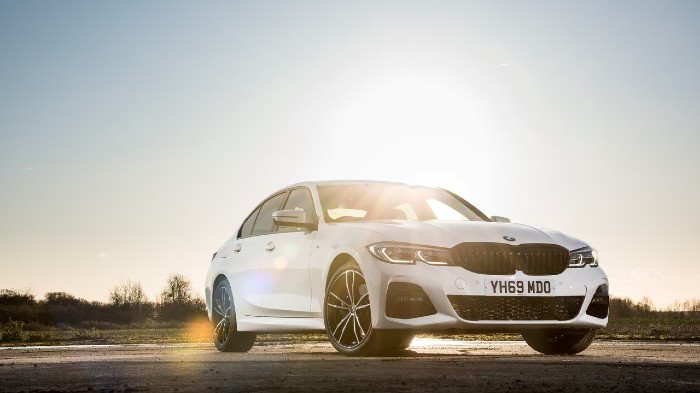 It's been around for generations, but the ever-popular 3 Series has a habit of winning awards and the latest incarnation is no exception.
The 330e M Sport was named 'Best Executive Car' in the 2021 What Car? awards, in which it was praised for being 'all things to all drivers'.
Steve Huntingford, the magazine's editor, said: "It can run for up to 36 miles on electric power alone, which is enough for most commutes, but it's also great at shrugging off long motorway trips and displays an agility and sense of fun in corners that no rival can match."
You can also recharge the battery to 80% capacity in 3.4 hours by using the BP Pulse wallbox, while BMW's mobility service, ChargeNow, provides access to 7,000 UK partner charging stations.
Alongside its hybrid credentials, this 3 Series beast offers the long-held benefits of being balanced, responsive and fun to drive.
All in all, it's an enticing combination: access to BMW's style and technical genius, combined with lower running costs.
Volvo XC60 from around £51,000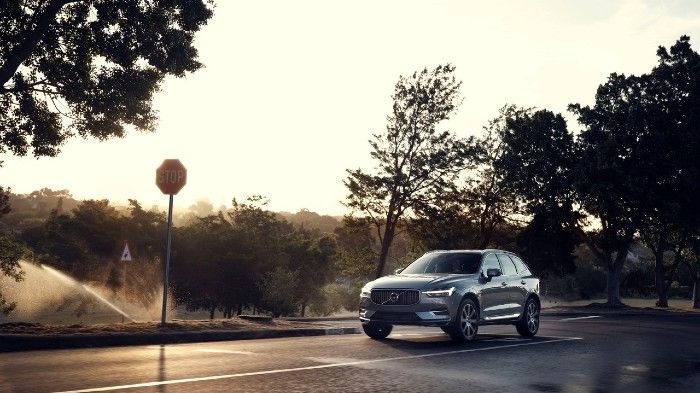 Those with long memories may see the Swedish car maker as a manufacturer of bulky vehicles whose main claim to fame was being strong.
However, the new breed of Volvos is a lot more than durable.
The XC60 is a prime example. Aimed squarely at the midsize SUV market, it's definitely worth considering if you're after a family car with plenty of style.
As we've come to expect from Volvo, it's well-built, boasts a spacious interior, and a variety of engines – including a full plug-in hybrid version, known as Recharge.
All plug-in versions benefit from a power glass tilt and slide panoramic sunroof, a recharging port located in the nearside front wing, and a 7m charge cable with a 3-pin plug.
The official electric range is up to 33 miles, with an overall fuel consumption of between 85.6mph and 113mpg. A mild hybrid version of the XC60 is also available.
Volvo offers a variety of option packages for the car, depending on the trim level chosen.
Land Rover Defender PHEV from around £70,260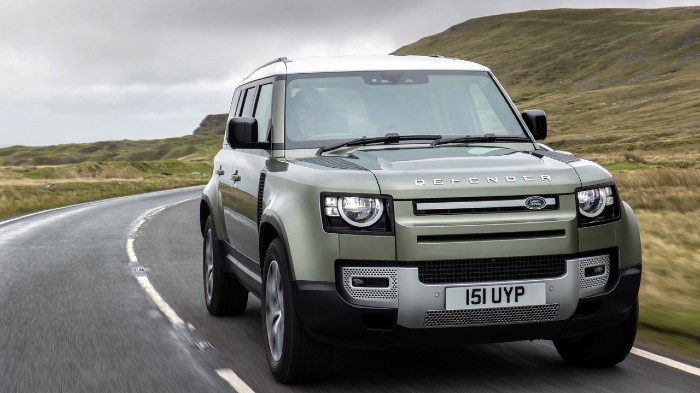 Land Rover has long been known for building tough machines that can provide years of service over the harshest of terrains.
However, it's now embraced the hybrid revolution. Therefore, alongside the usual off-road capabilities, you will benefit from low running costs and an all-electric range of 27 miles.
The P400e has a powerful 2.0-litre four-cylinder petrol engine and 105kW electric motor that provide a combined economy of 85.3mpg.
As well as being fuel efficient, it's also the most powerful Defender, capable of transporting you from 0-60mph in an impressive 5.4 seconds.
The P400e is available with the 110 body design, while standard equipment includes 20 inch alloy wheels, Electronic Air Suspension and a charging port on the left hand side of the vehicle.
It's also available with the option of five or six seats, along with three-zone climate control, privacy glass and regenerative braking that sends energy lost back into the battery pack.
Honda Jazz from around £18,895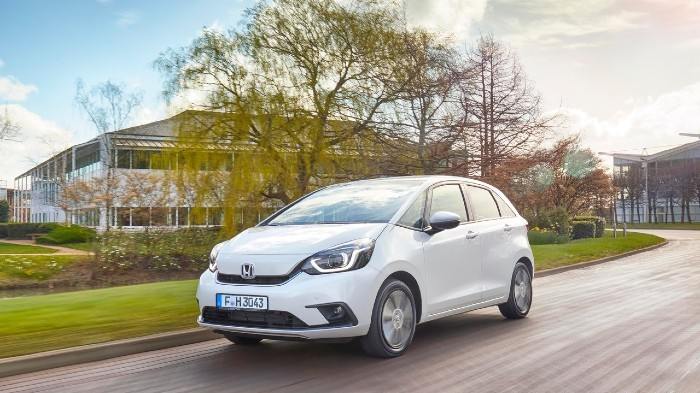 The Jazz has long been praised for its spacious, well-designed interior – and the latest incarnation builds upon these qualities, while adding more to the mix.
The first point to note is the array of safety features. The good news is that Honda SENSING, the package of warning systems, now comes as standard on all Jazz models.
This includes road departure mitigation, traffic sign recognition, lane keep assist, adaptive cruise control with low speed follow, intelligent speed limiter, and auto high-beam headlights.
The Jazz comes in four trim levels – including the new Crosstar EX, which boasts SUV inspired styling and innovative touches such as water-resistant upholstery!
However, even the SE version has a long list of standard features, such as electrically adjustable and heated door mirrors, rain-sensing auto wipers, and climate control auto A/C.
You can also personalise your Jazz with a choice of optional extras, including illuminated centre consoles, side body trims, bumper step protectors and various cargo packs.