If you're travelling abroad, it's good to know where the nearest British Embassy is. Find out how the British Embassy and its network of consulates can help you when you're abroad.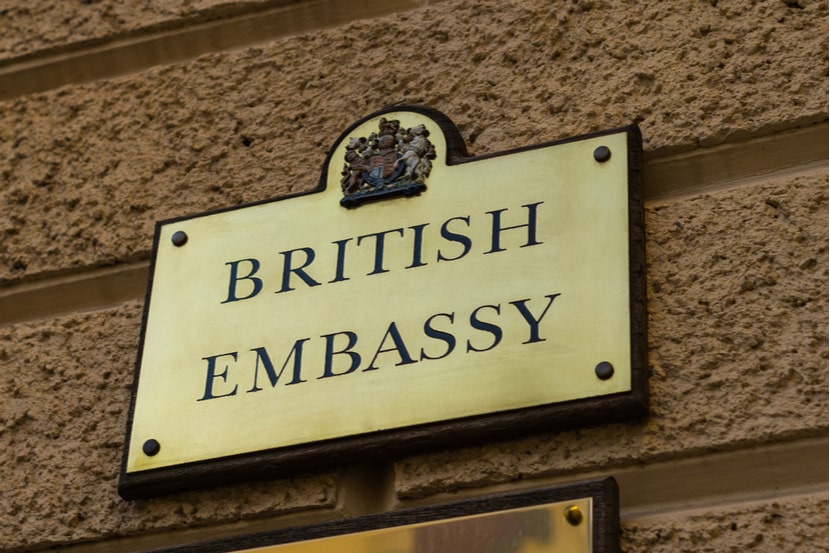 None of us envisage emergencies or serious problems when we travel overseas, but if the worst does happen, you should be able to find help and support with the British Embassy.
What is the British Embassy?
The British Embassy provides representation for Britain overseas and is run by the UK Foreign and Commonwealth Office. It handles political, social and cultural relationships between Britain and its host country, but more importantly, from a traveller's point of view - it could provide help in a crisis.
This includes all British citizens in the country from ex-pats and holidaymakers to those who are there on business.
The embassy is run by the ambassador who may well live there, too.
In commonwealth countries, British Embassies are known as high commissions.
There'll only ever be one British Embassy in any country (usually in the capital) but there may be consulate offices elsewhere in the country providing administrative services and support to British citizens.
You'll often find consulate offices in cities outside the capital and tourist areas.
The British Embassy in the US is in Washington DC, for example, with consulate offices in Houston, Boston, Chicago, Los Angeles, Miami, Denver and New York.
How can the British Embassy help?
The British Embassy, via its network of consular offices, could help you if you encounter problems overseas.
This might include:
Issuing a replacement passport or other travel documents if yours are lost or stolen
Helping you to stay safe in the event of terrorism or a natural disaster
Assistance if you are the victim of a crime
Helping friends or family transfer money to you in an emergency
Giving you the contact details for English speaking professionals you may need from doctors, to lawyers or funeral directors
Visiting you in hospital
Providing mental health support
Contacting you if you are arrested and detained
For full details of how the British Embassy can help and support you overseas, it's worth taking a look at its consular charter. It also includes advice about how to best prepare for your trip and stay safe while you are away.
What can't the British Embassy help with?
While the British Embassy can help in many different situations, its services are limited - particularly if you have got yourself into trouble.
It cannot, for example:
Get involved in criminal proceedings, get you out of jail or stop you being kicked out of the country

Help you get superior treatment, either in hospital or prison

Give you money (you may get a loan in emergency situations)

Give you legal advice

Investigate crimes

Search for missing people

Book accommodation or travel for you

Find work for you
The British Embassy is also not able to recover the cost of any belongings that are lost or stolen while you are away. Nor are they able to help with the cost of medical treatment overseas. This is why it is so important to arrange travel insurance before you leave.
You should be able to claim on your travel insurance for the cost of medical treatment, lost baggage, money and other possessions. It should also provide personal liability cover which should pay out if you are involved in an incident or accident and somebody else makes a claim against you.
How many British Embassies are there in the world?
The UK has 84 embassies and 49 consulates across the globe.
How to find a British Embassy near you
You might be wondering how to contact a British Embassy in an emergency.
Thankfully, it's easy to track down British Embassies, consulates and high commissions all over the world using the UK government website.
Be prepared that there may not be one on the doorstep. While Spain has a good scattering of consulate offices, including a presence in Ibiza, Tenerife, Mallorca and Gran Canaria, France only has consulates outside of Paris in Marseille and Bordeaux.
In Italy the British Embassy is in Rome and there is one consular office in Milan.
If there isn't an Embassy or consulate office local to you, you can also phone them. The contact details are provided in the government website listings.
Of course, accessing the government website might be easier said than done in an emergency especially if you don't have access to a phone or the internet. In that case you should be able to get the relevant information from your hotel.
Alternatively, a good bit of pre-travel prep is to find details of your nearest embassy and jot down contact details before you go.
Who can help you if you run into trouble abroad?
The British Embassy is the official source of help for UK citizens overseas.
If you have lost your passport, you've been a victim of crime, or arrested, the British Embassy can be a vital source of help and support.
However, for some emergencies - access to an English speaking doctor if you or one of your party is ill, your hotel may also be able to help in the first instance.
Some travel insurance policies also offer 24/7 medical helplines which could help you arrange treatment - or get you flown home - in an emergency.
How to contact the British Embassy
To contact the British Embassy while you are away use the locator tool on the UK government website.
This gives you details about the British Embassy in that country as well as any consulate offices, which may be more convenient for you.
These listings include addresses, telephone numbers, email addresses and online contact forms.
For common enquiries such as lost passports there may also be links enabling you to make an online application for emergency travel documents.
It's a good idea to find the contact details for the British Embassy or consular offices before you travel, and storing the details both on your phone and written down.
If you are travelling to a remote location, it's often recommended to register with the British Embassy.