If you drive one of the cars on our list, you might want to look into extra security to lower the chances of it being stolen.
This article contains affiliate links. If you buy any products via these links, we may earn a small commission at no cost to you.
If you're buying a new car, one of the most asked questions is 'is it nicked' or 'is it stolen'. That's because the last thing you want is to buy a stolen car and it's worth checking whether it's on the list of most stolen vehicles in the UK.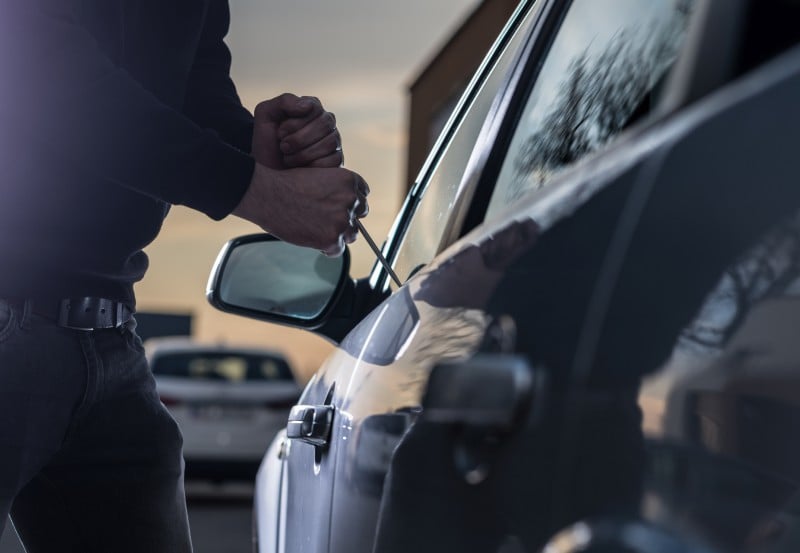 Figures from stolen vehicle recovery service, Tracker, reveal top-of-the-range vehicles such as Range Rovers and Land Rovers were favoured by thieves in 2020.
Most of these vehicles have been stolen by hacking the keyless entry system on drivers' key fobs.
So how do you protect your vehicle from keyless theft? And what other measures should you take to keep your car secure?
The UK's most stolen cars
Range Rover Sport

Range Rover Vogue

Range Rover Autobiography

BMW X5

Land Rover Discovery and BMW 3 Series

Mercedes-Benz C-Class

Range Rover Evoque

Mercedes-Benz C-Class AMG

BMW M3 and Mercedes-Benz S-Class

Land Rover Defender, Mercedes-Benz E-Class and BMW 6 Series
It seems thieves are looking for something a bit more robust this year. Six models of the 10 are either from the Land Rover or Range Rover ranges.
In fact, 37% of all the models stolen in total were either Land Rovers or Range Rovers.
Clive Wain, Head of Police Liaison for Tracker, comments:
"Range Rover and other Land Rover models have always featured in our top ten most stolen and recovered league table in the last 10 years, as has the BMW X5 which has slipped from 2nd to 4th position in 2020.
"However, most premium 4x4 cars are hot targets, with car thieves stealing to order, often shipping them abroad or stripping them for parts in a chop shop to meet the growing demand for spare parts."
What is keyless entry theft?
Keyless entry theft has now risen to an all-time high, with 93% of vehicles stolen without using the owner's keys. That's a 26% increase in just five years.
It's thought that this could be down to thieves hacking cars with keyless entry functions.
This convenient system allows you to get into your vehicle and start it without having to get your keys out.
The fob itself permanently transmits a signal to the car. Using a relay device, criminals can hack this signal, open the car and drive away. Even when the fob is inside the house.
How can I keep my car secure?
To keep your car secure and to protect against keyless car theft, the Metropolitan Police advise using an electronic car key security pouch – known as a faraday pouch.
The pouch blocks the keyless signal when the fob is inside it.
Check prices for Faraday Pouches on Amazon
When storing your keys, keep them out of sight. It's not unusual for thieves to fish for them through a letterbox.
But a multi-layered approach to security is best, as Clive Wain says:
"Keyless car theft has risen dramatically in recent years. It is quick and easy for professional criminals who have the tools and experience.
"Cars are commonly taken from outside of the owner's house, often discreetly and within minutes, meaning the theft often goes unnoticed for some time.
"We encourage drivers to use traditional visual deterrents such as crook locks and wheel clamps to deter criminals and protect their car."
Alarms and immobilisers are usually fitted as standard for new vehicles. You can also give your car a distinct mark that can be used to identify it.
Though they can't stop signals being intercepted, tracker systems can increase the chances of your car being recovered and returned to the police. Wain says:
"In the event of a theft, stolen vehicle tracking technology will significantly help police quickly close the net on thieves and return the vehicle to its rightful owner."
For more tips see our guide on how to protect your car from theft.
Check prices for steering wheel locks on Amazon
What do I do if my car is stolen?
If the worst happens and your car is stolen the first thing to do is call the police. Dial 101 and ask to be put through to your local police station and tell them exactly what has happened. You will need the following details:
The vehicle's registration number

The make and model

The colour of the car

Any details you can give about when and where it was stolen.
You should be given a crime reference number. You'll need this when speaking to your car insurer. The police will tell DVLA about the theft and they'll tell it if the car is found.
After you've spoken to the police, call your insurance company. It'll give you the details of exactly what you need to do to make the claim. You'll need to give it as much detail as possible about the theft and also have documents including your policy number to hand.
If your car isn't found and you make a car insurance claim and you paid for the car, you need to tell the DVLA. This is because technically the car has been sold to the insurance company. At the same time, you may need to give your log book back to the insurance company.