The death of the spare tyre
Manufacturers are increasingly opting for puncture repair kits over spare tyres. But how do you use them?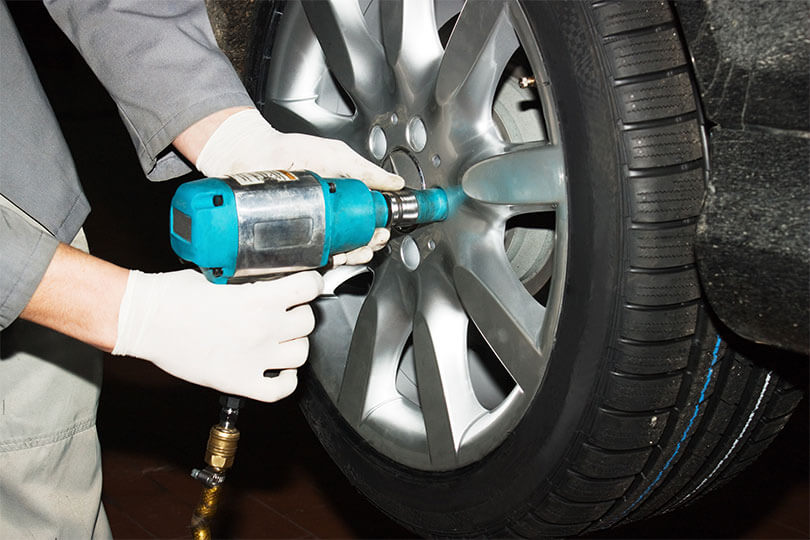 It's no longer a legal requirement to carry a spare tyre and jack in your car. In fact, more car manufacturers are opting for puncture repair kits instead.
Theoretically they're easier and quicker than replacing the wheel itself. They're also much lighter than a spare wheel.
But they can be confusing to use, and aren't suitable for all types of puncture.
We'll take you through the basics of using puncture repair kits, and other alternatives to the spare wheel.
How do you know if your tyre has a puncture?
A serious puncture can flatten the wheel straight away, making it very difficult or even impossible to drive on. At this point, you should pull over and consider your options for repair.
Perhaps the most daunting type of puncture is a blowout. This is when the tyre bursts and all the air escapes, destroying the tyre.
If you ever encounter this, you should keep both hands on the wheel, avoid heavy breaking and try to pull over safely. Once safe you can either change your wheel or call your breakdown service.
Under-inflation is one of the most common causes of a blowout. Others include hitting a curb or a pothole at speed.
Keeping up regular maintenance on your tyres will help you to avoid blowouts- you could even catch a puncture before it ruins your tyre completely. But even a well maintained tyre can fall foul to a puncture through no fault of the driver.
Read more: How to change a tyre
How do puncture repair kits work?
First, what type of puncture do you have? If your tyre has blown out, or the wheel structure itself is damaged, you'll have to phone your breakdown cover service.
If it's a small puncture, from a nail for example, the repair kit should help. You'll find it either under the floor of your boot or in the side panels of the car.
The kit will usually consist of:
A bottle of sealant

A compressor

A speed limit sticker to remind the driver to travel at a certain speed. They usually specify speed limits of around 40 mph.
To inflate your tyre:
Remove the dust cap from your tyre.

Attach the sealant bottle to the tyre valve.

Attach the compressor to the sealant.

Attach the compressor to the 12V charger (the cigarette lighter) in your car.

Turn on your engine and wait for 10-15 minutes. At this point the tyre should be inflated.

Disconnect the compressor and the bottle of sealant, and replace the dust cap.
These instructions may vary between models but you should find directions on the pump itself, or in the car's manual.
If you find your tyre isn't inflating, try driving on a few feet at a very slow speed. The sealant may need to circulate around the tyre. If this doesn't work you may need to call your breakdown service.
These kits act as a quick fix to get you to a garage. The tyre and the kit should be replaced as soon as you can as this is a legal requirement.
Read more: How to check your tyre pressure and tread depth
What are the disadvantages of repair kits?
As previously mentioned, the kits don't repair every type of puncture.
Also it'll be difficult to replace your wheel after using a repair kit. The sealant is difficult to clean so many fitters may refuse, or charge more for the cleaning.
Run-flat tyres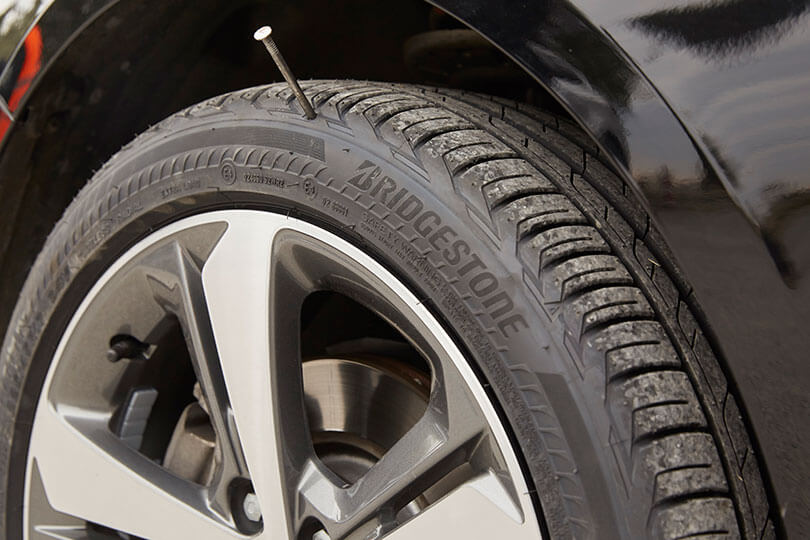 Driving on a flat may sound like dangerous stuff, but these reinforced tyres enable you to drive post-puncture for a limited distance. In the past they've been fitted by manufacturers and weren't suitable for all cars.
However, using the latest technology, 'run-flat' tyres have moved up a gear. Bridgestone's DriveGuard tyres can be used on almost all cars, providing they have a Tyre Pressure Monitoring System (TPMS).
Since November 2014, all new cars must now have a TPMS, which measures the tyres' internal pressure and alerts drivers to any pressure loss via the dashboard display.
While these tyres can stop you being stranded at the roadside, the you should tell your insurer if you have run-flats fitted, as they could be classed as a modification.
Read more: Car insurance for modified vehicles

How will my breakdown company repair my tyre?
If you have a spare tyre, and you're unsure how to change the tyre yourself, your breakdown service will come out and change your wheel.
If not, they'll try and fix the puncture at the roadside or get you to a garage for a new tyre.
They may try a puncture repair kit, but most breakdown companies may insert a 'temporary plug' into the puncture.
The advantage is that the tyre could still be repaired as it's simply a rubber plug inserted into the puncture to enable you to reach your destination safely.
Multi-fit wheels
Some breakdown providers have the option of fitting 'multi-fit' wheels.
These are said to be compatible with around 80% of cars that don't carry spares.
It can be quickly and easily fitted at the roadside and recovered from the garage you visit.
First published 02 February 2016