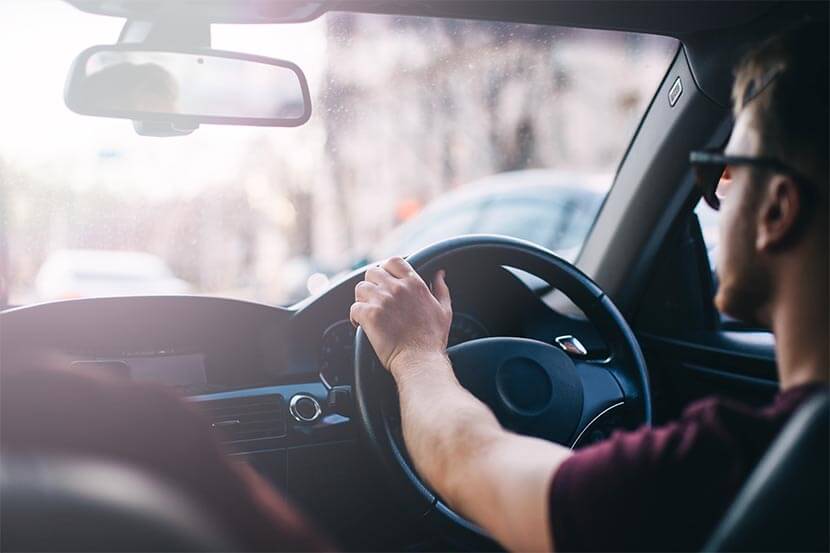 Third-party insurance covers you if you damage another vehicle, or another motorist claims against you. But it offers you zero accident protection for your car.
What is third party insurance?

If you've got third-party only (TPO) insurance you should be covered for any damage caused to someone else's vehicle if the accident's your fault.
Third-party cover means you're also covered for any possible personal injury claims against you too.
Say you drive into the side of a car at a turning and cause injury to the driver and their passenger. Your third-party policy should pay for the damage to this car.
Your policy should also cover you for any medical expenses racked up by the driver and any passengers. But third-party cover won't unfortunately cover the damage to your car.
Shopping for third-party insurance buys you the legal minimum when buying car cover.
Usually, your insurance company should pay for any third-party claim. The only conditions being your insurance cover is up-to-date and paid for.
That may be by monthly instalments or via a one-off lump sum, which is usually cheaper.
Compare car insurance quotes
Why is it called 'third party'?
The name's rooted in insurance law. The driver buying the cover is the first party.

The second party is the insurance company, who takes on the risk.

And the third party is the driver or vehicle you hope, in the politest possible way, to avoid.

But if you can't and there's a prang, your insurance company picks up the tab.
What does third party cover you for?
As mentioned, it covers any damage you cause, as well as personal injury claims to the driver. Even claims from their passengers.
An accident might, for example, also involve a cyclist or by-stander. If your accident also manages to write off a lamp-post or someone's garden wall, you're covered here too.
In some ways, this amount of cover sounds wide-ranging. But it won't cover you for the theft of your vehicle or any fire risk. That cover requires an upgrade to Third-Party Fire and Theft.
What does third party fire and theft cover?

Third-party fire and theft (TPFT) cover means you're covered for three specific areas.
First, damage to someone else's vehicle. Secondly, for any accidental fire to your vehicle. You're also covered for the theft, or attempted theft, of your vehicle.
So if your car is stolen and the police can't recover it, a third party fire and theft policy should pay for its replacement cost.
If your car's destroyed by fire a TPFT policy has your back here also, legally speaking. If your car's fire isn't an accident and it's a suspected arson incident, you'll need a crime reference letter to support your claim.
TPFT also covers you for third party claims. In other words, you're covered for any damage your driving cause other vehicles.
If you accidentally drive into the back of someone else, damaging their bumper and lights, your insurer should cover these repair costs.
You're also covered for any personal injury claims that might crop up from the other vehicle. Medical expenses, for example, from a driver or any of its passengers.
Your policy protects you for any damage caused to the public environment like road signs, bollards or fencing. But you're not protected for any damage caused to your car as a result of your own driving.
At first glance this insurance cover has enough range for some people's driving needs. But third-party fire and theft might not cover any damage to your car as the result of an accident. We've repeated this as it's easy to overlook.
What is the difference between third party and fully comprehensive car insurance?

Third party is the minimum level of legal cover you need to be on the road. It covers damage from yourself to another driver's car, as well as any injury compensation costs.
On the other hand, if you've got fully comprehensive car insurance you're covered for accident damage cover for your car, even when it's your fault.
Third party fire and theft cover, in contrast, adds fire and theft protection on top of third-party cover. So if your car's stolen and it can't be recovered, your insurer should pay you its agreed market value.
You're also covered for attempted theft, in case there's any damage.
And if your car's had an accidental fire, you can also relax a bit – you're covered. But if there's any arson concern then your insurance company might need a police crime reference number.
What are the main differences between third party and fully comprehensive cover? Let's lock it down more.
The main difference between third party and fully comprehensive insurance is accident damage cover for your car, even when it's down to your lack of attention.
While third party and third party fire and theft policies provide cover for other people and their cars, third party won't give you financial protection for your own.
For many people, comprehensive insurance is a better deal as you're covered for most outcomes and eventualities.
Third party insurance is really to protect other people if a driver causes an accident – it's not really designed to help someone recover accident cost to their own vehicle.
Car security devices like engine immobilisers and emergency braking systems are now standard on most new cars.
These help keep the price of a good quality car insurance policy down, though many older cars don't have this tech kit.
It's worth pointing out that any insurance premium could be negotiable – so it's often worth asking your insurer for a better deal come renewal.
Why is third party insurance more expensive?

If you buy basic insurance cover do you pay less? You might think so. But in the insurance world less isn't always lower when it comes to third party cover.
We'll explain this. Historically, third party cover was cheap as it allowed higher risk drivers to get reasonably priced cover. But over time the insurance industry saw third party claims rise.
Their claims policy info told them third party policy holders tended to have more crashes, with higher value claims. The same data also told them policy holders tended to be younger, often.
So, fairly, the insurance companies gradually raised prices for many third-party policies. For comprehensive policy drivers, it was also unfair to subsidise less experienced, or higher risk, car owners.
Fewer third party policies are now offered – and there's now less competition for this type of underwriting.
For older drivers with a solid no-claims record, comprehensive policies have become better value for money.
However we point out that comprehensive cover policies still vary a lot (as some third party policies do).
For many younger drivers, fully comprehensive insurance policies make a lot of sense.
But like so many things in the insurance world, a lot depends on your job, the age of your vehicle and your claims history.
If you're unsure of what cover might suit you, why not talk to your insurer? Whatever they say, you've got the option of shopping around.
Buying third party cover can still work for some. Let's look at some scenarios to see whether they might work for you.
Why should I get third party cover?

Third party cover does work for some car owners. Typically, third party cover might work if you're happy to cover the cost of any accident repairs. This is often when the value of your car is low.
But when you've got a car accident there's usually an excess to pay – and possibly admin fees on top.
So, why not take a hard look at the value of your wheels – and decide whether you'd be ultimately better off, once all the numbers add up!
It doesn't always come down to money. Perhaps you need to think about whether you can sleep at night knowing that your cover is the legal minimum only.
Some insurance companies are only able to offer convicted driver insurance at a third-party level.
Or drivers with other driving offence codes. So you don't want to buy a policy that could place you in a potentially higher risk group.
Insurance companies are data geeks, remember. So you don't want them to mis-read you if you've built up a responsible profile.
Also, opting for third party is often insurance industry code for 'higher risk' than average! However, if you can make third party cover work for you, great.
If you've got some convictions history and are finding cover difficult, some insurers might offer you third party cover if fully comp is out of the question.
How can I save money on my car insurance?
It's not that hard but it pays to be a bit savvy. That's because there can be big premium differences, even within the same car model range.
We've lined up five ideas to help keep your premium low when you talk to your insurer. Not everyone will give you a lightbulb moment of revelation. One or two might.
Add a named driver
If you've got a spouse or partner, you could put them straight on your car insurance. Statistically your car's less likely to be involved in a car accident if you add a named driver to your policy.
This works best when your partner is similar in age – not too much older or younger.
Sort your policy out earlier
You should get your renewal notice from your insurance company about three weeks before the renewal date. And the earlier you sort out your policy, the less expensive it could be.
So, put a date in your calendar and set a reminder to talk to your insurance company and compare quotes to find a better deal.
Don't be afraid to haggle
Haggling isn't arguing and it's not shady. It's simply asking for a better deal. You might be surprised what you hear back. If you decide to haggle, do it with plenty of time left before your policy renews.
Downsize your ride
When replacing your car try and avoid too much bling or high-end kit. Some high-end LED front lights, for example, are now sealed units.
This means they cost a lot to replace if damaged, or when the lighting fails. In some cases on older cars, these lights might be uneconomic to repair.
Check your mileage
It might sound obvious but some of your premium is calculated on how much time you're out on the road. If you drive 8,000 miles a year rather than 10,000 miles, tell your insurer.
Your cover could be cheaper.
For more information, check out our tips on how to get cheaper car insurance.