Book the perfect space in 3 easy steps

Whether it's business or pleasure, there's a space for you.
We've teamed up with yourparkingspace.co.uk to make it easy to find and book parking. Choose from over 250,000 daily, weekly or monthly parking spaces nationwide.
How does it work?
Simply enter the location or postcode of where you'd like to park. Then we'll show you available spaces nearby sorted by distance. Couldn't be simpler!
Quickly compare residential and commercial parking, including driveways and lock-ups, all in one place.
For added peace of mind, every booking is covered by the yourparkingspace.co.uk guarantee.
There are lots of reasons to book a parking space with Confused.com.
Safe and secure: Looking for extra security? Find a lock-up to store your car.
Overnight parking: Find somewhere to keep your car tucked up at night.
Long or short-term parking: Book spaces daily, weekly or monthly.
Suit your commute: Find spaces near the tube or local train station.
Get your holiday or business trip off to a flying start: Find cheap parking near the airport.
Enjoy a concert or sporting event: Get ahead of the crowd by pre-booking parking close to the venue.
Fed up of local parking restrictions? Avoid restrictions around your home or workplace.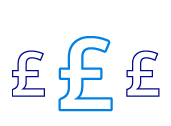 Save even more
Some of the other ways we can help you save:


Confused.com parking is administered by YOURPARKINGSPACE LIMITED, a company registered in England and Wales with registration number 08670309 whose registered office is at 74 Gainsborough Road, Richmond, Surrey, England TW9 2EA 4BL