Choosing and fitting baby and child car seats
Keep your little ones safe and secure with these tips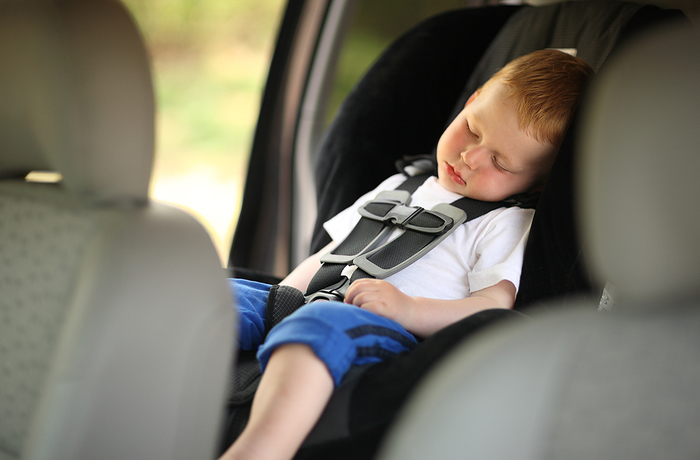 When you need a car seat
Children must sit in an appropriate child seat until they reach their 12th birthday or are 135cm tall – whichever comes first.
Exceptions
Children are able to travel without a car seat:
in an unexpected emergency over a short distance (only if the child is above three years old)

in a taxi where there's no available restraint

if there's no room for a seat because there are two seats there already

if the car has no seatbelts, children above three years old can travel unrestrained
Jump to our top tips for driving with a child car seat
Child car seat selector
We've created a car seat calculator to help you figure out what kind of car seat is suited to your child.

Select your child's age range and our tool will show you what car seat group to you might need. We'll also show you some examples of what seats in this group look like, so you know what you're looking for.
Car seat groups
Car seats are grouped into two overall categories: seats based on your child's height, and seats based on their weight.
Height-based seats – or i-Size – are part of a European initiative to increase the safety standard of car seats.
Using i-Size means that your child is rear-facing until they're 15 months old. Also, these seats can only be used with ISOFIX fittings, so there's less risk of fitting the seat incorrectly.
Weight-based car seats are better known than i-Size, and are grouped into five categories:
Group
Weight (kg)
Age

Group

0

Weight (kg)

0-9

Age

0-9 months

Group

0+

Weight (kg)

0-13

Age

0-12 months

Group

1

Weight (kg)

9-18

Age

9 months - 4 years

Group

2

Weight (kg)

15-36

Age

over 4 years

Group

3

Weight (kg)

22-36

Age

over 6 years
Forward-facing car seats are available for groups 1, 2 and 3. There is some debate as to when you should switch from rear-facing to forward-facing.
In 2009, the British Medical Journal advised that parents should put children in rear-facing car seats up until age four.
It found that rear-facing car seats offered more protection for younger children than forward-facing.
Combination seats – seats that can switch from rear to forward-facing - are available. However, they may not offer as much protection as a dedicated rear-facing seat.
Read more: How to wear a seatbelt when you're pregnant

Legislation change
In March 2016, the rules on using booster seats and booster cushions changed.
Booster seats – those that have no back – will only be allowed for children taller than 125cm and weighing over 22kg.
This applies to new products. If you're already using a booster cushion that meets the current safety standards, you can carry on using it.
There are some groups that recommend against the use of booster cushions altogether, as they don't offer any crash protection.
ISOFIX
Most car seats can be fitted by using the seatbelt, but if your car was made after 2006 you should have ISOFIX built in.
ISOFIX is a system that's designed to make installing car seats quick, easy and – above all – safe.
Strapping a car seat in with the seatbelt leaves room for error. Using ISOFIX anchors the seat to the chassis of the car so it's more secure.
Take a look at your car's handbook to see if you have ISOFIX and which seats are compatible with it.
Read more: Child car seats and the law

Fitting the car seat
If the middle rear seat has a diagonal seatbelt, this is the safest place to fit a car seat. This is because the seat is as far away from the sides as possible.
Not all cars have this, however. In that case, the ideal place to fit a car seat is behind the front passenger. This makes it easier to get your child in and out of the car when parking on the left.
In either case, fitting the car seat in the rear is safer than in the front.
If you do fit the seat in the front passenger's seat, remember that you must deactivate the passenger's airbag beforehand. Leaving the airbag active with a baby car seat in place is both dangerous and illegal.
Top tips for driving with a baby car seat
Don't put your baby in a car seat while they're wearing a coat.
Infant coats tend to be large and puffy, and this means they're more able to wriggle out of the safety harness.
Don't leave your baby in the car seat for more than two hours.
Letting your baby out regularly lets them change position and ensures they're not bunched up for too long.
Use a baby car seat mirror.
Attach a mirror to the rear passenger headrest so that you're able to check on your baby. Plus, with their reflection to distract them, they'll be less bored – win win!
First published on the 23rd of September 2016