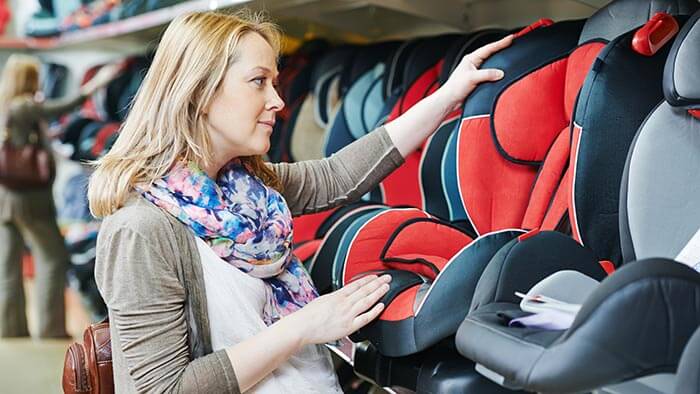 Confused about which car seat to get? We're here to help.
Shopping for a child car seat can be a headache.
There are so many options to choose from. And with new models coming out each year, it might feel that there's no end to the confusion.
Do I need a child car seat?
The NHS recommends buying a suitable car seat as soon as your child is born. Hospital staff might insist that you have the car seat ready to take your child home, even if you plan on taking public transport.
Your child needs a car seat if your child is both:
Under 12 years old

Less than 135cm (4ft 5in) tall
Once they're taller than 135cm or turn 12, they don't need a car seat but they must wear seat belts.
There are a few circumstances where a car seat is not required, such as in a taxi or in an emergency. To view the full list of when there are exemptions, have a look at the government's rules.
But in most cases, child car seats are mandatory. If you fail to follow the rules, you face being handed a stiff penalty if you're caught.
Having a properly fitted child car seat can also help reduce any worries or nervousness you might have, and may help you drive more safely.
If you're pregnant and you're unsure of how to place your seatbelt, read our safety tips for driving while pregnant.
What car seats are compatible with my car?
To check what car seats you can use in your specific make and model, visit our friends at heycar, who have a useful online search tool.
What size car seat do I need?
You can choose car seats based on your child's weight or height.
Child car seats based on weight
This is the most common type of car seat in the UK. Car seats are grouped into categories – 0, 1, 2 and 3.
This table shows what weight ranges are appropriate for each group:
| Group | Weight range |
| --- | --- |
| 0+ | 0 - 13 kg |
| 1 | 9 - 18 kg |
| 2 | 15 - 25 kg |
| 3 | 22 - 36 kg |
What are combination seats?
Adjustable, combination car seats – or multi-group seats – stay with your child as they transition from one group to the next.
The benefit with these is that you won't have to change car seats as often. They're usually more expensive though and have fewer features than a car seat designed for one specific group.
Should I get a rear-facing or forward-facing seat?
The law says your child must be in a rear-facing seat until they weigh more than 9kg.
But the current safety advice is to keep your child rear-facing for as long as possible, or at least until they weigh 18kg.
Studies have shown that rear-facing seats are safer than forward-facing ones.
Child car seats based on height
These are called i-Size car seats and can fit into only those cars with ISOFIX.
ISOFIX is the international standard for fixing child seats. The system uses metal mounts attached to the car's chassis.
The i-Size seats don't fit many cars in the UK at the moment, but as new models of car come on to the market, that should eventually change.
If you want to buy an i-Size seat, which is considered safer than other child car seats, check first to see if it'll fit your car.
How to fit a child car seat
There are two ways you can fit a child car seat:
Using ISOFIX car seat anchor points

Securing with a seat belt
It's important to know exactly how your seat should fit into your car. Like with a crash helmet on an adult, a car seat works properly if it's fitted properly.
You should consider getting your car seat fitted by an expert before trying it yourself.
Many retailers will be happy to talk you through the process. It also gives you further reassurance that the seat you've bought fits and is suitable for your car.
Fitting a car seat with ISOFIX
If you have a compatible car, using an ISOFIX child car seat is simple:
Find the two anchor points at the back of the rear passenger seat.

Extend the arms of the car seat base.

Slide the arms into the anchor points until they lock.

Push the car seat back as far as it can go.
There are usually indicators that tell you when the seat is secure. It's important to check the instructions of your car seat as they'll tell you what and where these indicators are.
Some car seats have a third anchor – a strap that secures to the back of the passenger seat. This adds an extra level of stability to the car seat.
Fitting a car seat with a seat belt
The specifics of how to fit a car seat with a seat belt vary depending on what seat you have.
You'll need to check your car seat's instructions for the best way to fit it this way.
Should I buy a second-hand car seat?
No – you should never do this.
Even if it looks to be in good nick, you can't be sure that a second-hand car seat hasn't been in an accident. If it has, that could make it unsafe.
Even if it hasn't been in an accident, it could have become damaged through wear and tear.
Even if you trust the person who is selling or giving it to you, neither of you can be sure that it's 100% fit for purpose.
So it's always best to buy a new car seat. That way you can be sure that it meets the right safety standards.
Similarly, if you damage your car seat and it's not covered under your car insurance, don't cut corners – buy a replacement straight away.
Can I recycle my old car seat?
At the moment, there's no real way to recycle car seats.
To make the seats safe and durable, they're made of a mixture of materials that make recycling difficult.
Get in touch with your local recycling centre to see if they can recycle parts of the car seat.
Unfortunately the parts that can't be recycled will have to be thrown away. Don't give it to a charity shop or try to sell it on a listings website.
When you do throw the car seat out, clearly write 'unsafe' or 'expired' on it somewhere to lessen the risk of someone else using it.