Baby name generator
Get some inspiration for what to call your little one
Still unsure on a baby's name? We know how confusing it can be, so we've tried to help you with our baby name generator.
It can help you narrow down some choices and get some new ideas for your little bundle of joy.
Just enter your baby's surname, pick a gender and choose what style of name you're after.
Picking the right name for your newborn is one of the most important decisions any parent will make.
You could take your friends' and family's suggestions on board, but after all, the decision is between you and your partner, so you need to make the right one.
You have a stack of names to choose from, so let our baby name generator help you find the perfect one!
Once you've found your ideal name, what's the next key thing you need to do?
Find out what you could do to save your pennies once you've had your little one..
Ready to get a quote?
Compare quotes from up to 12 life insurance providers to find the best deal.
Or call now on 0800 652 9754

Royal baby name generator
Try our royal baby name generator and find a blue-blooded name for your little prince or princess.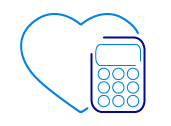 Life insurance calculator
Don't know how much life cover you need? This handy tool can point you in the right direction.