Fancy some sun, sand, sea and sangria (when you're not driving, of course)? A driving holiday in Spain is a great way to see all that the country has to offer beyond the package holiday.
But whether you're driving your own vehicle or hiring a car when you get there, you should understand the laws that apply when you're driving in Spain.
Can I drive in Spain with a UK licence?
Yes, you can drive in Spain using your full UK driving licence. But you must be at least 18 years old and, obviously, it must be in-date.
Unlike in some other European countries, you don't need an international driving permit to drive there.
What do I need to drive in Spain?
It's important to have all the necessary documents and other kit with you before you head to Spain in your car.
Speak to your car insurance provider to make sure you're covered, and upgrade your cover if necessary.
Here are some handy checklists of what you should take with you:
Documents
Full UK driving licence
Passport as proof of ID
Car insurance documents
V5C registration document
If you've lost any of the above documents, don't panic. You should be able to replace missing paperwork fairly quickly.
Other kit
These items may already be part of your breakdown kit, but you should take:
Two warning triangles (compulsory)
UK sticker (not 'GB')
Headlamp adjustment
Hi-vis jacket (not strictly mandatory to carry, but you can be fined for not wearing one in certain dangerous situations)
Spare pair of glasses

What are the Spanish driving rules?
Drink-driving limit
The Spanish drink-drive limit is 0.5mg/ml of blood, and 0.3 mg/ml for people with fewer than 3 years' driving experience.
By comparison, in Wales, Northern Ireland and England the drink-drive limit is 0.8 mg/ml of blood, and 0.5mg/ml of blood for Scotland.
You could be given a roadside breath test if the police suspect you of being over the limit.
Fuel
It's against the law to carry spare petrol in the car in Spain. But you could also be fined for running out of petrol on certain main roads, so keep an eye on your fuel gauge!
Mobile phones
It's against the law to hold a mobile phone while driving.
Indicating
You must use your indicators when coming on or off motorways (autopistas). You should also use your indicators when you change lanes. If you're caught not doing so, you could be fined.
Using your horn and flashing your lights
You're not allowed to use your horn unnecessarily, and never in built-up areas unless in an emergency.
If you need to warn another motorist, flash your lights instead.
Meanwhile, cars approaching you from behind might flash you to let you know they want to overtake you.
Toll roads in Spain
The autopistas are usually quite light on traffic. This is because the motorways are littered with toll booths, meaning you could rack up quite a bill if you're travelling a fair distance.
The amount you pay per toll depends on the length of the road and the area you're driving in. For example, driving from Barcelona to Calella – a distance of about 35 miles – would cost around 7€ (prices correct at the time of writing).
Rather than paying the tolls, many of the locals opt for the back roads, which might get quite busy. If you're after a fast and smooth (but potentially expensive) drive, take the autopistas.
Then again, if you want to enjoy the scenic Spanish countryside, a slower journey on slower roads might be just what you need.
Spanish road signs
Most road signs are fairly consistent across the continent, and they're fairly easy to decipher.
However, there are a few signs in Spain that you might not be too familiar with: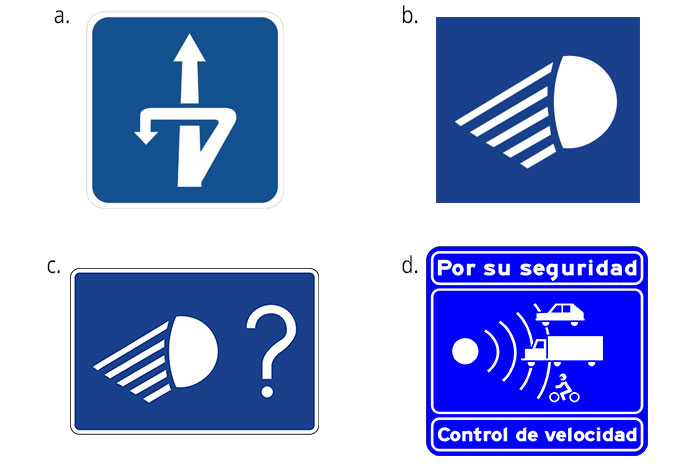 a. If you need to make a U-turn, take the next right and turn around on the next level.
b. Drivers should switch on their headlights now.
c. Drivers should check their headlights and switch off if necessary.
d. Speed cameras ahead.
Spanish speed limits for cars
Spain measures distance in kilometres and speed in km/h, so remember this when you see distance and speed signs.
As a rough rule, 10km is the equivalent of just over 6 miles.
Stricter limits were brought in during 2021 for driving in 'municipalities'. This doesn't mean absolutely every road within a town or a village, but it does cover most of them.
| Road types | Speed limites |
| --- | --- |
| Municipalities: Shared by pedestrians and cars | 20km/h (12mph) |
| Municipalities: Single lanes | 30km/h (18mph) |
| Municipalities: Dual carriageways | 50km/h (31mph) |
| Single carriageways | 90km/h (55mph) |
| Dual carriageways | 100km/h (62mph) |
| Motorways | 100km/h (62mph) to 120km/h (74mph) |
You're allowed to exceed the speed limit by up to 20km/h (12mph) to overtake a slower vehicle on some roads outside built-up areas. But you can't do this on motorways or dual carriageways.
There's a 60 km/h (37mph) minimum speed on the motorway.
If you're heading to Spain with a caravan or motorhome, make sure you know the speed limits. The Caravan and Motorhome Club has a handy guide.
Radar and speed camera detectors are illegal in Spain, which is also the case if you're driving in France. But if your sat nav includes speed camera information as standard, you should be OK.
In fact, the Spanish authorities are pretty good at making people aware of the location of speed cameras. Most cameras are signposted and there's even an app that shows you where they are.
Parking in Spain
You probably won't spend your entire holiday driving, so when you want to park up for a while, it's important not get caught out by the Spanish parking rules:
Parking is not allowed within 5 metres of a bend or intersection.
Vehicles parked at night on poorly lit streets must have their side lights illuminated.
Vehicles should be parked on the right-hand side of the road unless it's a one-way street where parking may be allowed on both sides.
Road signs show the areas where parking is restricted and must be paid for. There should either be parking meters, or automatic ticket machines that give a ticket to display in your windscreen.
Disabled parking access - UK disabled permits are recognised in Spain. They must be displayed on the inside of the windscreen and let you park for an unlimited time in loading and unloading zones, and with a time limit in pedestrian zones.
Driving in Spain after Brexit
Although the UK is no longer part of the EU, little has changed as far as driving in Spain is concerned.
Different countries within the EU have different requirements regarding international driving permits. But the good news is they aren't required in Spain for visits of up to six months.
From mid-2021, there's also no requirement to show an insurance green card when entering the EU.
But you must make sure your car identifier is 'UK' rather than 'GB'. This might mean you need to get some new country stickers before you leave.