Fuel price index
The most comprehensive analysis of petrol, diesel and other fuel prices across the UK
Page last updated on 01/12/23
Buy car or home insurance and choose a freebie with Confused.com Rewards
2 x £10 fuel rewards

12 free car washes

£20 to spend

Free recipe box
**Single annual policy. Shell Go+ account required. Only one £10 fuel reward can be used per transaction and each can only be used on fuel purchases of £10 or over. HelloFresh 18+ subscription service. Geographical exclusions apply. T&Cs apply.
The average price of fuel
These are the average prices that you can expect to pay UK-wide for the major types of fuel. We update these prices weekly.
We can help you save money
Want to find the cheapest fuel station near you? Use our handy petrol prices tool.
Find cheapest price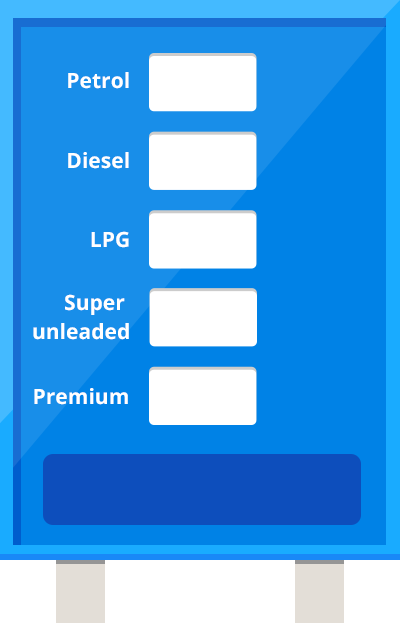 148.6p
156.7p
78.3p
164.5p
172.5p
-2.2p
-2.1p
0.1p
-1.6p
-1.1p
Prices updated from 24/11 to 01/12/23
Cost of filling your car
How much it costs to fill up your car depends on its fuel capacity. Here's how much it costs to fill three typical tank sizes based on the current average price of fuel.

How much do you really spend on fuel?
The price of petrol and diesel is always changing, so it helps to save money on fuel where you can.
Use fuel calculator
Cheapest & most expensive areas
How does the price of fuel in your area fare against the rest of the UK?
Cheapest
142.9p - Belfast (BT)
144.8p - Galashiels (TD)
145.1p - Kilmarnock (KA)
146.0p - Lerwick (ZE)
146.2p - Bradford (BD)
Most expensive
156.2p - East Central London (EC)
155.6p - Isle of Man (IM)
153.5p - Sutton (SM)
153.3p - South West London (SW)
152.3p - North West London (NW)
Fuel prices over time
See petrol and diesel price trends over the past year.
| Date | Petrol | Diesel |
| --- | --- | --- |
| Jan 23 | 149.5p | 171.1p |
| Feb 23 | 148.4p | 168.6p |
| Mar 23 | 147.2p | 165.4p |
| Apr 23 | 146.5p | 161.1p |
| May 23 | 145.0p | 154.6p |
| Jun 23 | 143.3p | 146.1p |
| Jul 23 | 143.4p | 145.3p |
| Aug 23 | 147.7p | 150.3p |
| Sep 23 | 153.2p | 157.2p |
| Oct 23 | 155.3p | 162.2p |
| Nov 23 | 151.9p | 159.8p |
| Dec 23 | | |