When should you report a car accident?
It's common sense to call the police if you're involved in a serious road accident, but what should you do about minor collisions?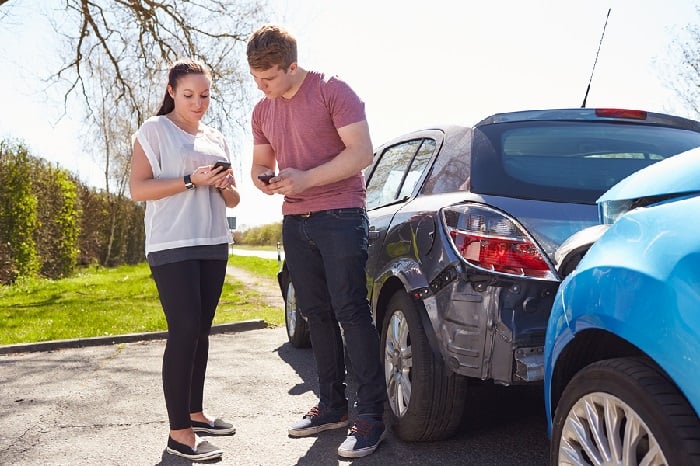 With small scrapes, such as catching the bumper of the car in front as you move off at the lights, you might think nothing of it if you both get out and agree "no harm done".

But if you don't exchange details or report the incident to the police you could face repercussions further down the line.

So to help clear up any confusion, we look at what you should do if you suffer a minor car accident.
The Road Traffic Act
Under the Road Traffic Act (1988) the rules are simple.

If you're driving a motorised vehicle and are involved in an accident which causes damage or injury to another person, vehicle, property or animal, (including dogs, horses, cattle and sheep), you must stop and give your vehicle registration along with your name and address to "anyone with reasonable grounds to be asking for those details".

In most cases this will be the other driver. And if you're not the vehicle owner, you should hand over the vehicle owner's details too.
Read more: What to do if you hit an animal on the road
Report the incident within 24 hours
"If you don't exchange details at the scene, you must report the incident to the police within 24 hours," says motoring lawyer Alison Ashworth from Ashworth Motoring Law.
"The problem is there's often confusion over what people perceive to be an accident," she says.
Ashworth says she sees, "an increasing number of court cases for things like 'a clipped wing mirror', which people may not consider as an accident. But if they fail to stop, the penalty can be severe."
Read more: How to react to emergency vehicles on the road
Don't get caught out
If you don't exchange details at the scene, or report the incident to the police, it could look like you've failed to stop.

This, according to Ashworth, could potentially incur two offences: "failure to stop", and "failure to report an accident".

Both can mean a minimum five points on your licence, a fine, or in the worst case scenario, a prison sentence.
Car parks and petrol stations
If you have a prang or scrape on private property, say a supermarket car park or petrol station, the same rules apply when it comes to exchanging details or reporting an accident as they do on the road.

But what if the other driver isn't around when, say, you scrape a parked car?

In this case it's a wise move to leave your details on the windscreen, and you should still report the incident to the police as you've not been able to exchange details with the other driver.
Read more: Safety tips for driving in the dark
Call your insurer
Policy small print usually states that it's your responsibility to tell your insurer about any accident, however minor and regardless of whether a claim is likely to be made.

"The reason being that some drivers may say at the roadside they don't want to make a claim, but later change their mind," says Emma Banks from insurer Esure.

"People may initially think the damage is minor, but later find out repairs are more than they expected or that there's unseen damage and then decide to make a claim."
If you're involved in a multi-vehicle accident it's very likely that other drivers involved will contact their own insurers who will make contact with your own. You should get in touch with your own insurer to make them aware of what's happened, regardless of of who's at fault.
If you're unlucky enough to be involved in an accident with an uninsured driver, as well as speaking to your insurer, you should report it to the police.
Will it affect my insurance premium?
So as well as swapping details or telling the police, even if both parties agree there's no harm done, you should still let your insurer know.
Doing this won't necessarily affect your premium, especially if no claim is made, according to Heather Smith from insurer LV=.
"Some insurers, including LV=, won't let this information affect the premium, provided that neither party claimed for the accident."
And if you're in any doubt about whether you need to report any collision, however minor, it's always better to report it to the police along with your insurer than do nothing.
Read more: How do I save money on car insurance?