Modified car insurance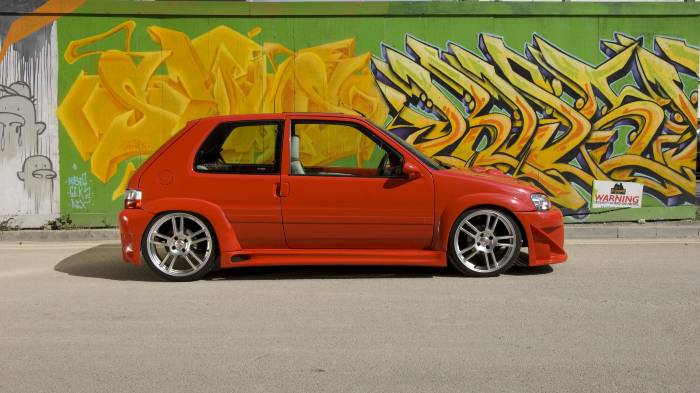 Before you get a modification on your car, always check with your insurer first to see if it might affect your premium.
Each insurer will deal with modifications differently, so there's not one rule that works for all.
What counts as a modification?
A modification is something that alters your car's look or performance from the factory version.
Things that may not affect your premium, but you have to tell your insurer about:
Tow bars

Roof racks

Locking wheel nuts

Winter tyres
Modifications that will probably affect your premium and that you must tell your insurer about:
WARNING: this list does not include every type of modification, so always check with your insurer.
Any spoilers or body kits

Cosmetic or performance exhausts

Mufflers

Any change to the engine performance

Removal of catalytic converters

Racing seats

Paint job (some insurers won't increase premiums for this, some will, so always declare)

Aftermarket alloys/sat nav/stereo

Decals

Altered suspension

Nitrous oxide

Engine chips

LPG (liquid petroleum gas)

Dual controls

Transmission changes

Turbocharging or supercharging

Aftermarket sat nav

Increased performance badging

Uprated brakes

Quick-shift gear levers

Uprated clutches

Rally/spot lights

Roll cage or bars

Windows darkened or tinted

Bull bars

Modifications due to disability
Why are winter tyres on the list?
As long as the winter tyres are approved by the car manufacturer, they're not likely to affect your premium.
Back in 2011, over 70 insurance companies signed an agreement saying that they wouldn't increase premiums if winter tyres were declared. That's as long as the tyres are manufacturer-approved.
READ MORE: What are winter tyres and are they worth it?
What if you have it modified while you're in the middle of your policy term?
The best course of action here is to call your insurer's customer service team. Let them know about any modifications you've had done to your car.
This could be as innocent as some alloy wheels, or having your windows tinted. Or as extreme as a full body kit with engine improvements.
Whatever you've changed on your car, you need to let your insurer know.
Why do modified cars make policies more expensive?
There are a couple reasons why modified cars are more expensive to insure. Firstly, they're probably more desirable to thieves, so could be stolen more often.
Secondly, if the car is damaged or stolen, it's going to cost a lot more to get fixed.Mods like fancy paint jobs, expensive tyres and brakes all cost more to repair, for example.
If it's performance enhancements you've gone for, insurers will see you as a higher risk for having an accident too.
Declare everything
Any change made to a car after it's left the factory is considered to be a modification. You should let insurers know about any changes like these.
Even if you're buying a new car and you choose alloy wheels as an optional extra then insurers will see that as a modification.
Changes like that won't affect your premium much as they're made by the manufacturer, but you still need to declare them.
Just keep in mind, if your car resembles anything from a Fast & Furious film or a max rally, insurance could be expensive.
You might want to squirrel away some extra ££s for your car insurance. And make sure you declare all modifications to your insurer.
Other ways to save on your insurance
It's not all doom and gloom. There are a few other ways you can save on your car insurance. These changes could help balance out any increase from modifications you've had.
Compare insurance prices.
This is the number one most effective way to help your premium. Compare prices to ensure what you're paying for car insurance is competitive.
Make sure the policies are like-for-like, both in the details you declare and with the excess, extra drivers and no-claims bonus (NCB). Don't forget to declare any modifications too!
Increase your voluntary excess.
This can help to reduce your premium. But keep in mind that if you need to claim, you would need to pay both the voluntary and compulsory excess.
So, if you have a compulsory of £250 and a voluntary of £100, you'd pay a total of £350 should you claim.
Ensure your mileage is accurate.
Many people overestimate their mileage. As a result, they pay extra on their premium for miles they're not driving.
Keep an eye on how many miles you're doing and make sure the amount tallies with what you've told your insurer.
Remove any high-risk named-drivers.
Having a named driver on your policy in case they may need to drive could be costing you a lot of money. If they have claims or convictions, or if they're a young driver, think about whether they need to stay on your policy.
You can always add them on as a temporary driver in the future for a couple weeks if you need to.
READ MORE: How to get cheaper car insurance