With weekly insurance, you can enjoy all the benefits of a temporary insurance policy:
Insurance from 1 to 12 weeks (policies can range from 1 to 84 days)
Arrange insurance up to 30 days ahead
Protect existing no claims bonus
Instant comprehensive cover
Basic cover for driving in Europe
Optional comprehensive cover for driving in Europe
Avoid lengthy contracts
To go ahead and get a quote, you'll need to make sure you've got some important bits of information at hand:
Details about you (your licence, address etc.)
The date and time you'd like cover to begin
Details of the car or van you'd like to insure
Once you're ready, you can go ahead and click the 'Get a quote' button at the top of the page to begin.
If there's a great deal out there, we'll help you find it. We show your tailored car insurance offers in a clear way so you can choose the best fit with ease.

With our partners at Safely Insured, a quote can be processed and accepted by you in minutes. We think you'll be surprised at how quick and easy it is to get the temporary car insurance cover you need.
There are lots of different reasons why you might be on the lookout for a weekly car insurance policy...
Moving home and need to borrow a car or van for a week
Use of a car whilst yours is being repaired
Borrowing a car for a week long holiday
Working away from home for a week
Looking after a friend or relatives car
Making the most of the nice weather in your convertible
Whatever your reason, as long as you have the vehicle owner's permission, weekly insurance can provide a handy alternative to lengthy 12 month policies and provide you with cover as and when you need it.
If you're interested in how a longer third party only, third party or comprehensive policy stacks up against a weekly policy, why not visit our main
car insurance
page and start there.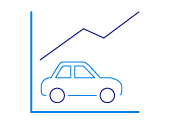 Car insurance price index
How much should you be paying for your insurance? Check the average price for your age and region
Confused.com's temporary cover solution is provided by Safely Insured who are a trading style of Sky Insurance Services Group Limited. Sky Insurance Services Group Limited are authorised and regulated by the Financial Conduct Authority under firm reference number 469048. Sky Insurance Services Group Limited is registered in England No. 05970797 at office: 167 Turners Hill, Cheshunt, Herts, EN8 9BH. Confused.com is an intermediary and receives commission from Safely Insured which is a flat rate fee.