MOT check
Find out the MOT status of your vehicle - FOR FREE
MOTs extended due to COVID-19
All cars, motorbikes and vans will have a six-month extension to their MOT expiry dates. So if your MOT was due on 1 April, it'll now be due on 1 October. This extension is effective for 12 months after 30 March and will happen automatically.
This lets people travel if necessary during the coronavirus pandemic. Your car still needs to be roadworthy, taxed and garages will stay open for repairs.
For more information, visit GOV.UK
You can continue to use our tool to check the MOT status of any vehicle for free. Just type in the reg number and you can see if your MOT is valid, as well as when your next one is due.
Please note - You'll still see your original MOT expiry until after that date has passed. The six-month extension will then appear.
You can use this to remind yourself of when your MOT is due, or to check the status of a used car you're thinking of buying.
MOT checks explained
MOT inspections are to ensure that your vehicle is roadworthy and meets UK safety and environmental standards.
All vehicles must have an MOT check when it's three years old, and then every year after that. This includes cars, vans and motorbikes, but certain kinds of vehicles are exempt:
cars and motorbikes made before 1980
electric goods vehicles
tractors

Driving without a valid MOT is a criminal offence that could land you with a £2,500 fine, three penalty points and a possible driving ban.

If you'd like to find out more information on a vehicle's history, use our vehicle check tool. You can find out how many previous owners the vehicle has had, if it's ever been written off and more.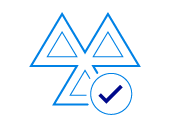 MOT checker
Unsure when your MOT is due?
MOT checker
Result for:
MOT data unavailable
Vehicle not found
An error has occurred, please search again