MOT check
Find out the MOT status of your vehicle - FOR FREE
MOT checks explained
MOT inspections are to ensure that your vehicle is roadworthy and meets UK safety and environmental standards.
All vehicles must have an MOT check when it's three years old, and then every year after that. This includes cars, vans and motorbikes, but certain kinds of vehicles are exempt:
cars and motorbikes made before 1980
electric goods vehicles
tractors

Driving without a valid MOT is a criminal offence that could land you with a £2,500 fine, three penalty points and a possible driving ban.

If you'd like to find out more information on a vehicle's history, use our vehicle check tool. You can find out how many previous owners the vehicle has had, if it's ever been written off and more.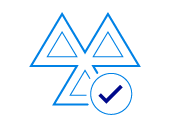 MOT checker
Unsure when your MOT is due?
MOT checker
Result for:
MOT data unavailable
Vehicle not found
An error has occurred, please search again