Critical illness insurance offers you a degree of financial security that could help you put food on the table and keep paying bills if you become seriously ill.
When you're diagnosed with a critical condition or illness it can seriously impact your life, including your ability to work and earn. Critical illness cover could be invaluable in allowing you to get the treatment you need and recover without worrying about your finances.
There are lots of things to consider before taking out a policy. This includes your personal circumstance and how to find the right insurance cover for your needs.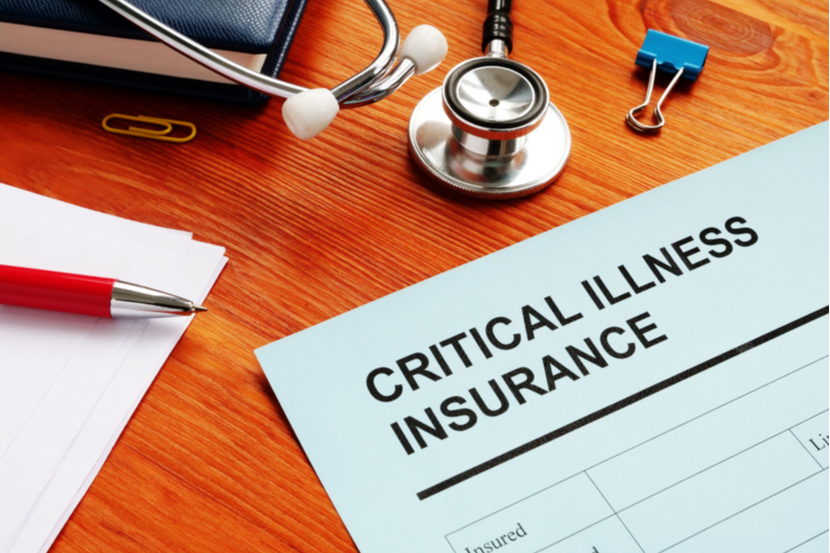 What is critical illness cover?
Critical illness cover pays a tax-free lump sum if you're diagnosed with a qualifying illness during the policy term.
If you become seriously ill, you might find that you're unable to work while you get treatment. This could seriously impact your finances, particularly if you only get statutory sick pay. If you're the main earner, the loss of income could have catastrophic impacts on your family.
Having a critical illness policy in place helps you to seek treatment and recover without the additional strain of worrying about money. It means you can pay the bills, including your mortgage, even if you're out of work.
Provided you keep paying your premiums, you should be covered throughout the term. But once the policy term ends, all protection stops.
How does critical illness cover work?
Critical illness policies pay out when you're diagnosed with one of the conditions in your policy terms.
Commonly covered conditions include:
Cancer
Strokes
Heart attack
Parkinson's
Alzheimer's
But each policy is slightly different, so you need to check the terms carefully before you buy.
When you take out a policy you can decide how long it lasts. Some standard ending points include when your children have grown up, or until the mortgage is paid off.
You should also think about how much cover you need, and what you need the payout to be. For instance, you might want enough to pay off the mortgage in full. Or you might need to think about school fees, or costs of raising your children.
Consider your usual salary and how much you might need to live without it for a while when seeking treatment. Make sure you also consider any debts and household bills.
Sometimes, you might want your cover to decrease over time, for instance in line with paying off your mortgage. Alternatively, you might want the payout to increase in line with inflation, particularly if you're covering your salary.
Thinking through all of these elements should help you find the best policy for your needs.
Critical illness cover is often available as a combined policy with life insurance. But you in these instances, you can often only claim once.
For example, if you get a cash payout after being diagnosed with cancer, the policy is effectively finished. There's usually no life insurance payout if you die at a later date.
Do I need critical illness cover?
Different people need critical illness cover for a variety of reasons.
If you're single, you might want a policy to ensure your mortgage is paid.
If you have children, you might want to ensure your family is provided for if you can't work due to ill health.
Recovering from a critical illness could also mean extra costs for you and your family, for example making changes to your home or car. Your payout could be used to cover this.
Should I get critical illness insurance?
Most people could benefit from a critical illness policy. But the impact of the premium and the benefit of the payout could vary from person to person.
It's a matter of weighing up the monthly cost against the benefits of a payout. If you and your family depend heavily on your salary, it could be exactly the kind of protection you need.
If you have no financial commitments or dependents, critical illness insurance might not be for you.
How much critical illness cover do I need?
Traditionally, critical illness plans pay out the full amount regardless of how serious your illness actually is.
But some offer severity-based cover, where the payout depends on how bad your condition is.
When deciding on how much cover you need, think about what you'd lose if you were unable to work due to illness.
Also, think about what financial commitments you'd still have, such as children or a mortgage.
Try using our life insurance calculator, which could help you figure out how much cover is right for you.
Good things to think about include:
How much is left owing on the mortgage?
What other big debts are there e.g. car, credit card, loans?
What financial commitments do you have e.g. school fees or rent?
How much would you need if you weren't able to work? What is the minimum you could live on each year without your salary?
How much do you have in savings?
How long do you have left until you draw your pension?
What illnesses are covered by critical illness insurance? Full list
Illnesses covered will vary between insurers, so it's important to check the details of a policy before you buy.
Typical conditions that might be included are:
Some kinds of cancer
Strokes
Heart attacks
Multiple sclerosis
Parkinson's disease
Alzheimer's disease
Traumatic head injuries
Depending on the policy, you might be allowed to include optional add-on illnesses.
A critical illness and terminal illness are different things – a standard life insurance policy should cover any illness where your life expectancy is less than 12 months.
You might be required to give some details about your medical history in order to get a critical illness insurance quote.
This is so that an insurer can determine how much of a risk you are, and calculate an accurate price.
It's important to be honest here – your insurer could void any future claims if they find out that the information on your application is false.
What cancers are covered by critical illness insurance?
Most advanced stages of cancer should be covered. However, check with your insurance provider and read the terms carefully, as some early stages might not be covered.
Non-invasive cancers are often excluded from policies. This is when a cancer stays in the original tissue rather than spreading around the body. This includes common cancers such as breast, skin and testicular cancer.
What illnesses aren't covered by critical illness insurance?
This depends on your specific insurer and policy terms and conditions. For instance, some policies only come into effect if your illness reaches a certain level of severity. Others exclude specific types of condition. It's important to check the policy details carefully before you buy it, so you can understand when you can claim and what isn't covered.
Some common exclusions are:
Non-invasive or early stage cancers
Hypertension
Broken bones
Illnesses triggered by pre-existing medical conditions
What are the critical illness cover payout rates?
What you're paid depends on the cover you take out, so again, it's important to read the policy terms before you buy. Sometimes, payout rates within one policy depend on the condition itself.
Some policies also offer child-related critical illness cover within their policies. The payout rates here usually differ, so check to see what your chosen provider offers.
How long does a critical illness claim take?
The payout term varies, but it's usually at least 14 days after you get your diagnosis. This is because many critical illness insurance policies only pay if you survive for two weeks. Otherwise, you need life insurance.
Typically, once you've submitted your claim it takes between four and six weeks for you to get the money.
Income protections vs critical illness cover: Which is best for me?
This depends on your specific needs.
Critical illness pays you a lump sum if you are diagnosed with a condition that's included in the policy.
Income protection insurance pays you a regular income if you're unable to work, which usually stays in place until:
You can work again
You reach retirement age
Death
Critical illness cover usually has a higher payout overall. It might be suitable if you want to cover a certain cost such as clearing the mortgage or paying school fees.
Income protection only stays in place until you can work again, and is designed to cover your usual salary for that period.
Because the policies are designed to cover different eventualities, you might want to have both kinds. It's not an either / or situation where one is a direct replacement for the other.