Coronavirus: Help for small businesses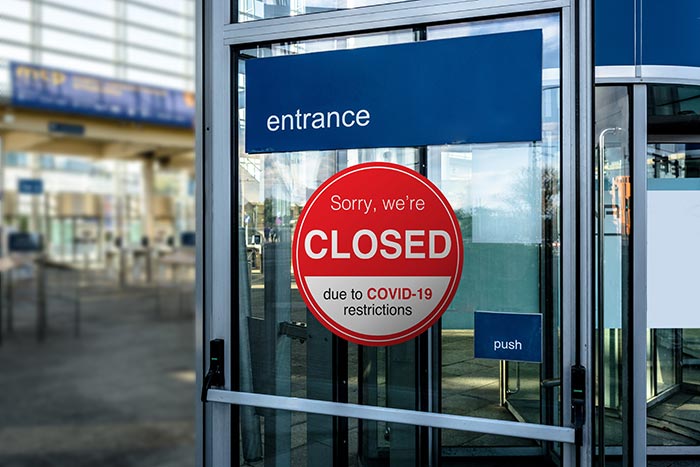 The coronavirus (COVID-19) is having a huge impact on businesses – not just in the UK, but across the world.

It's important to remember that we're all in this together and that there's lots of help available to businesses.

Here are some of the ways you can call on support over the coming months.
Can I claim for disruption on my business insurance?
If you buy a business insurance policy now, you won't be covered for anything that's caused by the coronavirus pandemic.
If you already have a business insurance policy, what you're covered for will depend on your insurer. You can get more information at our partner Simply Business.

There are a number of different types of business insurance. Before working out whether you can make a claim, you'll need to find out what kind of policy you have.
If you have business interruption insurance
Business interruption insurance protects your business if you can't trade because of something like damaged stock or premises.
Depending on your insurer, your policy might also cover business interruption due to illness or disease. However, these conditions will be specified in the policy.
The bad news is that COVID-19 is a new illness that no one really knew anything about. So it won't be listed on your policy.

There still might be reasons why you could make a claim on business interruption insurance. For instance, if a medical authority says that your business has to be closed for a while or if there's an outbreak at your premises.
Your insurer will be able to let you know more.
If you have personal accident insurance
This covers you if you suffer an injury that means you can't work for a while. It pays out while you get back on your feet. Sadly, this won't cover you for COVID-19 as it's for accidents, not for illnesses.
If you have public or employers' liability insurance
Public liability insurance covers you if you do something while running your business that injures someone or damages their property.

There is a chance that this could cover you if you've been negligent and it led to COVID-19 having an impact on someone's life.

Employers' liability insurance protects you if an employee or ex-employee sues you because of an illness or an injury caused by their work.

Just as with public liability insurance, the issue here is whether you've been negligent. If your negligence meant that COVID-19 affected an employee's life, then this could cover you.
Help from the government
The government has introduced a package of support to help businesses. You can see the full list of support at GOV.UK.


A year-long business rate holiday for any retail, hospitality or leisure business

This is regardless of size and turnover

Grants of £10,000 for businesses eligible for small business rate relief or rural rate relief

If you're eligible for rate relief, your local authority will get in touch with you to let you know more.

If you take out a loan, you won't have to pay back any interest for the first six months.

Postponing tax payments

The government has decided to defer VAT payments for three months.

You might find it difficult to pay your tax bills because of the coronavirus. If so, HMRC offers a Time to Pay service. You can find out more by calling their COVID-19 helpline on 0800 0159 559.

Reclaiming sick pay

If any of your employees have to take time off work because of the virus, you'll be able to claim back two weeks of Statutory Sick Pay to cover the costs.

If they're off sick because of COVID-19, your employees don't need to give you a sick note from their GP. But do remember to keep a note of any absences so you can apply for a refund.
Benefits for self-employed and zero-hours contract workers
If you're working as your own boss or on a zero-hours contract, the government is beefing up the benefits system to offer help. They want to make it quicker and easier for people to be able to apply for and start getting benefits.

You might also want to think about business interruption loans. And, if you're making monthly mortgage repayments, your lender may offer you a mortgage holiday too.

READ MORE: Coronavirus: help for self-employed
Other ways to find support
Talk to your landlord if you run your business from a rented premises.

They might be able to offer you a rent holiday or a discount.

Talk to your local authority.

A sum of £500m has been set aside for grants and hardship funds for vulnerable people.

Talk to your customers about being paid promptly.

Make sure you issue invoices as soon as you've done the work and then chase them up quickly. What goes around comes around, so if you owe suppliers yourself make sure to pay them promptly.

Talk to your bank about any financial help they might be able to offer.

They can tell you about the Coronavirus Business Interruption Lending Scheme – the government is offering to guarantee loans.