• Almost half (46%) of drivers say the messaging around diesel vehicles is unclear as registrations drop by 24% year-on-year(2).
• Three in five (60%) drivers would not consider buying a diesel car, with a third (33%) put off by the new taxes.
• Electric and hybrid vehicles make up just 5% of new car registrations in 2018 to date(3) as two in five (43%) drivers call for better government incentives.
• New Confused.com fuel barometer suggests decline in diesel sales began following increase to first-year rate of tax in April 2017.
• Confused.com fuel price index reveals fuel prices were at an 18 month high(4) in January with diesel costing an eye-watering 124.8p/l on average.
Confusion about new taxes on diesel fuel is widespread among drivers and is leading to declining sales, according to new research. Almost nine in 10 (87%) drivers do not know the new law in relation to taxing new diesel vehicles, which comes into force next month (April 2018)(2). New diesel vehicles will be subject up to £500(1) more in tax if they fail to meet the latest pollution standards. The law only applies to newly registered diesel cars on or after April 1st, but many drivers either seem to think the rules apply to all diesel vehicles or are unaware of the taxes altogether.

And the research by Confused.com, the driver savings site, suggests the confusion about diesel goes even further than the latest tax laws. Almost half (46%) of drivers say the messaging around diesel is unclear, contributing to a 24% decline in sales over the past year(3). A fuel barometer, launched by the site to monitor public sentiment about fuel-types, suggests the tipping point was when the first year tax rate for diesel vehicles increased in April 2017.

The research suggests declining sales are likely to continue as three in five (60%) drivers would not consider buying a diesel car, with a third (33%) put off by the taxes. The penalties are partly designed to encourage drivers to adopt fuel-types which are less polluting to air quality and less damaging to the environment. While the rules have had the desired effect of discouraging the uptake of diesel vehicles, it seems to have done little to persuade drivers to switch to electric or hybrid. These models accounted for just 5% of all vehicles registered in 2018 to date(4). It is not surprising two in five (43%) drivers are calling for better government incentives to make it easier to adopt greener driving technologies.

However, confirmed plans to ban the sale of all new petrol and diesel vehicles from 2040, suggests drivers can expect fuel-related penalties and incentives by government and manufacturers to ramp up over the next few years. But with no indication of how these measures might be met by the public, Confused.com has launched a fuel barometer to monitor driver sentiment around the issue. Updated quarterly, the barometer measures car registrations by fuel type, national driver opinion polls and Google Trends data to provide a detailed picture of the state of the nation when it comes to fuel.

While future measures to encourage the adoption of electric and hybrid technologies are expected, the research suggests more needs to be done to educate drivers with regards to fuel in order to enable them to make informed decisions. Just one in seven (14%) said they would not choose diesel because they believe it is worse for respiratory problems, which is one of the main reasons for taxes on diesel vehicles specifically being introduced. And almost half (48%) say they believe diesel is worse for the environment, even though there is much debate about petrol being more damaging.

But not all drivers are convinced by the negative rhetoric, with one in five (20%) motorists claiming they are annoyed the government is penalising diesel car owners. Of the two in five (37%) who say they are still open to buying a diesel car, the majority (72%) say this is because they are cheaper to run and deliver more mileage. However, the cost-efficiency associated with diesel is likely to be short lived. Confused.com's fuel price index reveals fuel prices reached an 18 month high in January 2018(5), and the gap between the cost of diesel and petrol has widened significantly. Diesel is now a substantial 2.8p/l more expensive than petrol, compared to a 0.8p/l difference eight months ago in July 2017. In January, the average cost of diesel per litre peaked at an eye watering 124.8p/l, while petrol cost drivers a 122.0p/l. And, coupled with increased tax penalties, it is likely the cost of owning and running a diesel vehicle will continue to go up and sales will decline even further.

And even though registrations of diesel vehicles are down, the number of pure electric vehicles being registered has dropped by more than a third (34%) in the past year too. Despite this, electric seems to have gone up in drivers' estimations with almost half (48%) saying they would consider buying an electric vehicle as their next car. However, for those who remain unconvinced, almost a third (30%) blame the lack of electric charge points, while one in five (21%) say they are too expensive to buy and one in seven (15%) do not feel confident in their range.

And although many drivers are seemingly open to considering an electric vehicle, the research suggests it will be some time before they are ready to take the leap. When asked which fuel-type they were most likely buy as their next car, petrol was by far the most popular (49%), while one in five (18%) will opt for a hybrid.
Amanda Stretton, motoring editor at Confused.com, says: "Drivers are clearly confused about the messaging around diesel vehicles. It's no wonder motorists are not up to speed with the latest laws.
"As we head towards 2040, when the sale of new diesel and petrol vehicles will be banned, we expect drivers will see numerous incentives and penalties being introduced. Whether such measures will encourage take up of more environmentally friendly car-types remains to be seen. Our fuel barometer will track these over time, and measure against the trends, registrations and driver opinion on petrol, diesel and alternative fuel vehicles, and start to paint a picture for the future of electric vehicles.
"Fuel is a complex issue, and one that matters to drivers as filling up at the pumps is an ever-present cost. Drivers looking to save on the cost of their fuel should find the cheapest petrol and diesel in their area at Confused.com. "
-Ends-
Notes to editors
Unless otherwise stated all statistics were obtained from a survey to 2,000 UK motorists. The survey ran between 22nd February and 26th February 2018.
1. http://www.autoexpress.co.uk/car-news/consumer-news/88361/tax-disc-changes-everything-you-need-to-know-about-uk-road-tax
2. Law on vehicle tax April 2018: http://www.autoexpress.co.uk/car-news/consumer-news/88361/tax-disc-changes-everything-you-need-to-know-about-uk-road-tax
3. Diesel registrations SMMT data: https://www.smmt.co.uk/vehicle-data/car-registrations/
4. Electric and hybrid SMMT data: https://www.smmt.co.uk/vehicle-data/evs-and-afvs-registrations/
5. January recorded the highest ever price on record since July 2016 – where Confused.com records began.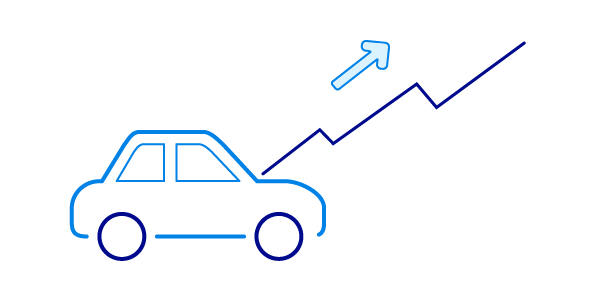 The most comprehensive analysis of car insurance premiums in the UK – compiled by motoring experts just for you! How much will you be paying?
SEE TRENDS