Car insurance accelerates by 52% in 10 years
10-year anniversary car insurance price index shows how prices have fared against beer and new potatoes

• Premiums continue to rise, hiking to £767 on average
• Car insurance has risen more over the last decade than beer (7%) and new cars (15%), but less than rail transport (54%) and new potatoes (86%)1
• West Midlands drivers faced the biggest 10-year increase, up 74%
• 17 year olds had the most expensive premiums on average over the past 10 years while 66 year olds had the cheapest
Car insurance prices have risen to £767 on average, as new research reveals premiums have shot up by over half (52%) in the last 10 years.

As the no.1 for car savings site Confused.com celebrates the 10-year anniversary of its car insurance price index, we look back how premiums have fared against other living essentials in the last decade.

Historical price index data shows drivers were enjoying the most bang for their buck in Q2 2008, when the average car insurance policy was just £499. Yet with the latest premiums hiking to £767, it seems prices are on track to pass the levels of Q2 2011 when motorists were paying a whopping £858 on average.

And it is not only car insurance which appears to be on the up. The cost of many living essentials seems to have jumped over the past 10 years1.

Car insurance has hiked more than booze with alcoholic spirits and beer only up by a third (33%) and 7%, respectively. Spud lovers will be dismayed at the price of new potatoes, which have rocketed 86%. Comparatively, sandwich fans will take note that car insurance has seen a percentage increase of more than three times that of white bread, which rose 16%.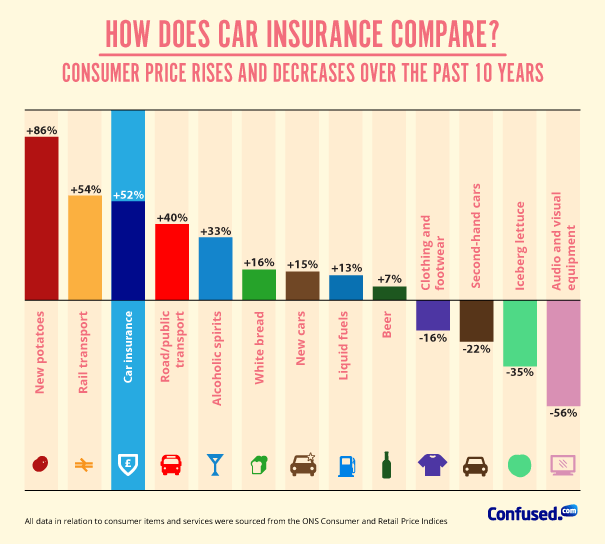 Given the increasing cost of fares2, rail commuters may be unsurprised that rail transport has actually seen a higher percentage increase than car insurance, up by over half (54%) during the 10-year period. Those who rely on catching the bus may have also noticed the cost of their tickets going up with passenger road transport jumping significantly by two fifths (40%). Together with the cost of liquid fuels rising 13%, the index data suggests the cost of travelling in general is going up for consumers.

For drivers it is clear the cost of motoring can be linked to their choice of car. Those considering purchasing a new car now might start to feel the pinch compared to 10 years ago as the average price of a new motor has risen by 15%. Drivers looking to cut down on car costs could make savings by buying second-hand instead. Second-hand cars are one of the few products to become comparatively cheaper over the decade, down by over a fifth (-22%). Other items which have come down in price include audio visual equipment (-56%), such as cameras and electronic tablets, iceberg lettuce (-35%) and clothing and footwear (-16%).

With the cost of living and motoring seemingly on the up, the 10-year car insurance price index shows a number of trends which show some drivers are worse off than others when it comes to rising car insurance prices.

Car insurance costs have varied greatly by driver age in the last decade, with 17 year olds ranking as the most expensive age overall, now paying £2,112 for their premiums. Even so, this age group has received some respite as they saw the smallest percentage increase, equivalent to a 9% increase overall and a rise of less than 1% per year. Contrastingly, 66 year olds have escaped with the lowest car insurance on average over the 10-year period, with the average premium now sitting at £451 for this age group.

Young people also appear to have carried the brunt of financial increases, with 21 year olds seeing their premiums rise £461 over the decade. In fact, drivers aged between 19 and 22 faced the top four financial increases of any other age group.

When looking closer at the difference between specific demographics over the last decade, there are clear winners and losers. The data pinpoints that male drivers aged between 66 and 70 living in Leeds and Sheffield have seen the cost of car insurance more than double. They have seen a whopping 127% increase – the highest of any other demographic - equivalent to a £422 rise. Yet when looking at actual monetary increases, female drivers aged between 17 and 20 living in Inner London saw the biggest rise in their premiums, up £842 over the decade (up 45%). In fact, the top four biggest increases fall at the wheel of female drivers of this age across the UK.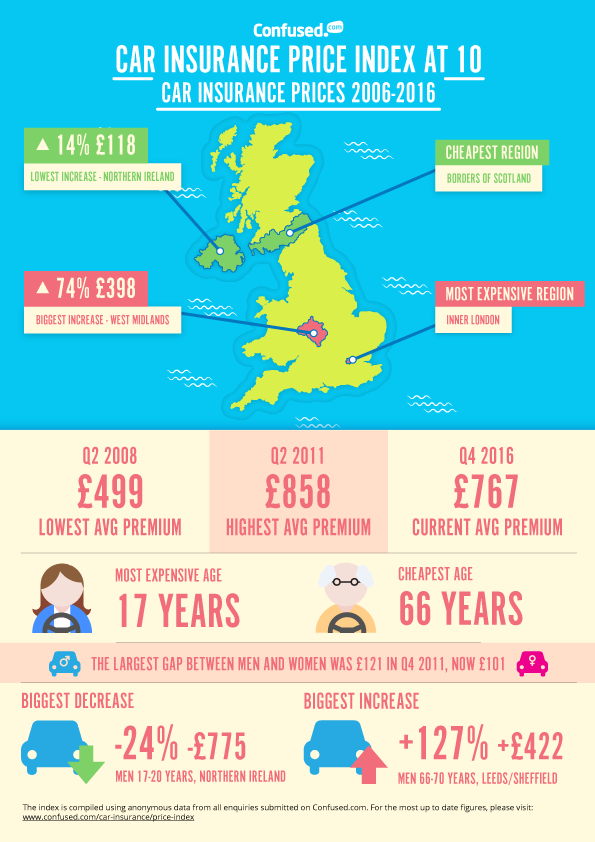 Young male drivers aged between 17 and 20 living in Northern Ireland can be credited as 'winners' of the last 10 years, after having seen an impressive -24% drop in their premiums equivalent to a huge decrease of £775. Female drivers of the same age within this region have also seen a drop of -12% equivalent to £260.

There are staggering regional variations, too, with the average driver living in the West Midlands facing the biggest percentage hike of any region. Motorists in this region saw their prices jump by almost three quarters (74%) equivalent to a hike of £398. Yet, Inner London was faced with the biggest financial increase of £481. Looking more closely at specific postcodes, drivers in Bradford have suffered the biggest pinch, with car insurance going up an eye-watering 96% for drivers in this region.

Even though it seems none of the regions have escaped with a reduction in car insurance prices, drivers in Northern Ireland have seen the smallest rise of just 14%, an increase of £118 on average.

Perhaps unsurprisingly, Inner London has maintained its position as the most expensive region for car insurance over the 10-year period, with drivers paying an average of £1,237. Motorists wanting to lower their premiums should consider moving to the Scottish Borders where prices have been consistently the lowest in the UK, averaging £531.

Amanda Stretton, motoring editor at Confused.com, said: "Car insurance prices have gone up dramatically over the past 10 years adding to the rising cost of motoring and living. Coupled with increases across a wide range of other staple items and services, it is fair to say that drivers are becoming more and more strapped for cash.

"If car insurance prices continue to rise, drivers will be on course to pay more than they were in Q2 2011 when premiums were at their highest of the last decade.

"For motorists to save money and minimise the ever-increasing cost of living, shopping around for the best deal on essential items, such as car insurance, is crucial. Using the no.1 site for car savings, Confused.com, drivers can compare car insurance and use a range of handy tools to help slash their running costs."

-Ends-

Notes to Editors
More than 4 million quotes are used in the construction of each quarter's insurance price index - this makes it the most comprehensive insurance index in the UK. Unless otherwise stated all prices referred to are for comprehensive cover.

The following web pages will be updated to reflect the new figures and can be linked to: https://www.confused.com/car-insurance/price-index

1 All data in relation to consumer items and services were sourced from the ONS Consumer and Retail Price Indices: https://www.ons.gov.uk/
2 Rail fare increases: http://www.standard.co.uk/news/transport/furious-passengers-hit-out-at-rail-fare-rises-after-hellish-week-on-london-transport-a3410911.html
Media information
For more information, contact our media team - pressoffice@confused.com
If your enquiry is time-critical, please write 'URGENT' in your email subject line.
If you would like a ring-back, please remember to include your telephone number.
Confused.com media team
About Confused.com
Launched in 2002, Confused.com was the UK's first price comparison site for car insurance and is one of the UK's biggest and most popular price comparison services, generating over one million quotes per month. It has expanded its range of comparison products over the last couple of years to include small van insurance, motorcycle insurance, car buying and selling, and car finance, as well as a number of tools designed to save drivers money on motoring.
Confused.com is not a supplier, insurance company or broker. It provides an objective and unbiased comparison service. By using cutting-edge technology, it has developed a series of intelligent web-based solutions that evaluate a number of risk factors to help customers with their decision-making, subsequently finding them great deals on a wide-range of insurance products, financial services, utilities and more. Confused.com's service is based on the most up-to-date information provided by UK suppliers and industry regulators.
Confused.com is owned by the Admiral Group plc. Admiral listed on the London Stock Exchange in September 2004. Confused.com is regulated by the Financial Conduct Authority.
Press team contacts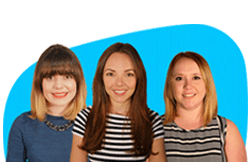 For more information, please contact our press team.
Email: pressoffice@confused.com
If your enquiry is time-critical, please write "URGENT" in your email subject line. If you would like a ring-back, please include your telephone number.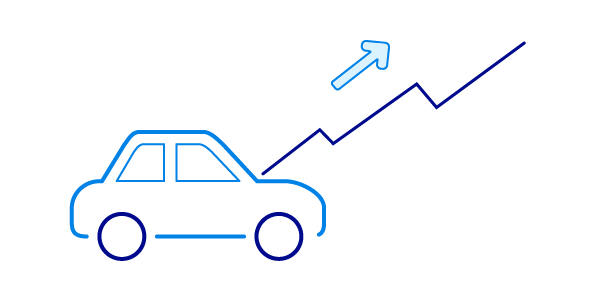 The most comprehensive analysis of car insurance premiums in the UK – compiled by motoring experts just for you! How much will you be paying?
SEE TRENDS