Made in Chelsea leaves Brits barking mad
New research from Confused.com reveals that dogs are no longer seen as just man's best friend, but also as a fashionable accessory.
Made in Chelsea's canine companions are true stars of the show – returning to our screens this Monday (7th April)
Nearly half (47%) of UK dog owners admit to owning breeds of dogs that feature in the show
Popular breeds owned by cast members include a Pomeranian, Dachshund, Cavalier King Charles Spaniel and French Bulldog
One in 14 (7%) dog owners admit to buying their dog because their favourite celebrity inspired them
Forget the designer handbags… A well-groomed dog complete with fashion accessories is the latest trend that seems to be rocking the UK, perhaps inspired by the four-legged stars of hit TV shows such as Made in Chelsea.

New research released1 today from Confused.com reveals that dogs are no longer seen as just man's best friend, but also as a fashionable accessory. The findings from the leading price-comparison site reveal that nearly one in 10 (8%) Brits chose their dog because they deemed it a fashionable purchase. A further one in 14 (7%) dog owners admitted that their favourite celebrity inspired them to purchase their pet of choice.

And with E4's popular series returning to our screens this Monday 7 April, dog owners up and down the country are getting ready to watch the doggy debuts and this season's fashion must-haves that they may be sporting.

In fact, Made in Chelsea may be helping to fuel this new celebrity dog trend, as nearly half (47%) of UK dog owners admit to owning breeds of dogs2 that feature in the show. The show's popular dog owners include Lucy Watson, who has a German Spitz called 'Digby'. Cheska Hull's dog that has frequented our TV screens is a Pomeranian called 'Evie', she also has a Yorkshire Terrier called 'Nellie'. Rosie Fortescue has a Dachshund called 'Noodle'. Binky Felstead has a Cavalier King Charles Spaniel called 'Scrumble'. And former cast member Millie Mackintosh had a French Bulldog called 'Herby.'

It appears that humans aren't the only stars on Made in Chelsea, with the dogs also becoming personalities in their own right. Cheska posts regular pictures on Twitter of Evie her fluffy Pomeranian. However, Evie doesn't really need any help, as she has her own Twitter profile with over 1,700 followers3. Lucy Watson also updates Twitter with the antics of her German Spitz, Digby; as do Binky and Rosie, along with a few Instagram pictures.

The focus has drifted from the designer handbags to the fashionable pooch, and cost seems no object when it comes to buying the ideal dog. On average, the types of dogs shown in the hit programme can range from just over £350 to £1,1504. And UK dog owners don't seem to have a problem paying extravagant amounts, as a third (33%) have admitted to paying between £251- £1,000 for their dog.

On average, UK dog owners pay £70 a month on feeding their dogs. However, this is only slightly more than how much they spend on grooming and buying accessories for their dogs, which is on average £57 a month. Looking good seems to play an important part in a dog's life.
As well as paying for grooming, many owners are buying their dogs the ultimate accessories to enhance their looks. The findings reveal that nearly a quarter (23%) of owners have bought their dog a fashion collar. More than one in six (17%) have bought their dog a customised coat; 7% have bought them shoes and 4% have bought them sunglasses for strolls in the park on those sunny days. A further 3% have even purchased doggy jewellery for their pets. It's anything but a dog's life for these pampered pooches!

And to ensure this fashionable dog attire isn't ruined, it appears that when taking their dog for a walk, many owners would rather carry them in their arms (11%) or carry them in their own little pooch bag (11%). Shockingly, 2% of dog owners have admitted to putting their dog in a pram. Something strange is definitely happening in the dog world.

Sammy-Lea Samways, head of pet insurance at Confused.com, says: "Over the past few years the popularity of reality TV programmes such as Made in Chelsea has grown, which seems to have fuelled the desire for 'designer dogs' similar to those which feature in shows such as these.

"Purchasing a fashionable breed of dog to keep up with this celebrity trend could set people back as much as £1,1585, and this doesn't account for extra costs such as grooming or fashion accessories that some dog owners seem to love.

"When thinking about how expensive these dogs can be, and with on-going reports of dog theft, we want to make sure owners have adequate pet insurance in place. As well as cover for vet fees, some pet insurance policies will also offer cover for theft, or money towards advertising and reward costs for a lost pet. Therefore getting the right pet insurance policy can ensure you and your dog are protected if the worst was to happen."
To find out what pet suits you Confused.com have created a widget that can match you to your ideal pet. Click here to have a go, as you never know –this could be a start of something special.

-ENDS -

Notes to Editors:
1 Unless otherwise stated, all figures taken from omnibus research carried out by One Poll Research on behalf of Confused.com. An online poll of 2,000 nationally representative sample of UK dog owners, aged 18+, conducted in March 2014.

2 Below are the breeds of dogs that are owned by the key characters of the programme and 47% of dog owners:

Pomeranian 7.75%

Dachshund 8.85%

Cavalier King Charles Spaniel 11.35%

Yorkshire Terrier 13.55%

French Bulldog 3.65%

German Spitz 1.60%


3 @Evie_TheDog https://twitter.com/Evie_TheDog

4 Average price paid for breeds featured in the programme based on genuine pet insurance quotes from Confused.com between 01/03/2013 and 26/03/2014.

5 Average price paid for a French Bulldog based on genuine pet insurance quotes from Confused.com between 01/03/2013 and 26/03/2014.



Media information
For more information, contact our media team - pressoffice@confused.com
If your enquiry is time-critical, please write 'URGENT' in your email subject line.
If you would like a ring-back, please remember to include your telephone number.
Confused.com media team
About Confused.com
Launched in 2002, Confused.com was the UK's first digital marketplace for car insurance and is one of the leading brands in the sector, generating over one million quotes per month. It has expanded its range of comparison products over the years to include home insurance, van insurance, motorcycle insurance, and car finance comparison, as well as a number of tools designed to save consumers money.
Confused.com is not a supplier, insurance company or broker. It provides an objective and unbiased service. By using cutting-edge technology, it has developed a series of intelligent web-based solutions that evaluate a number of risk factors to help customers with their decision-making, subsequently finding them great deals on a wide-range of insurance products, financial services, utilities and more. Confused.com's service is based on the most up-to-date information provided by UK suppliers and industry regulators.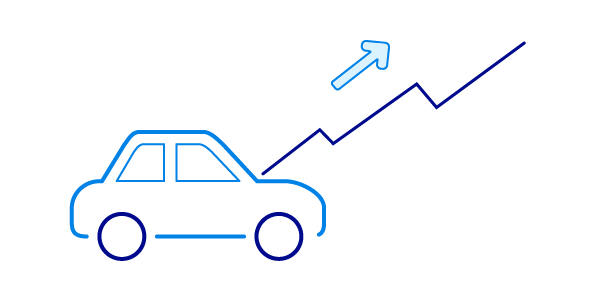 The most comprehensive analysis of car insurance premiums in the UK – compiled by motoring experts just for you! How much will you be paying?
SEE TRENDS