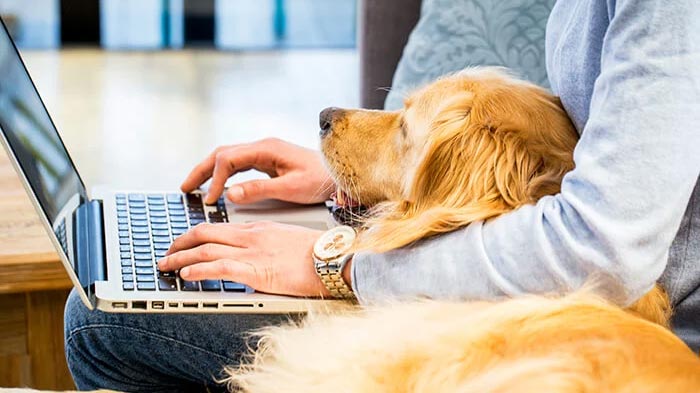 Here's how you keep your pets safe during the coronavirus pandemic.
The UK is a nation of pet lovers. According to the RSPCA, 17% of UK households share their home with 7.5 million cats and 25% with 12 million dogs.
Their positive impact on our wellbeing is important now more than ever. But some have concerns about their pets in relation to coronavirus.
Here's how you can enjoy spending time safely with your pet during the pandemic.
Can my pet carry coronavirus?
There are recorded cases of animals testing positive for Covid-19. But there's no evidence to suggest that animals can give it to humans.
Dr Samantha Gaines, head of the companion animals' department at the RSPCA says:
"A very small number of animals have been reported to have tested positive for, or shown symptoms of, Covid-19. Some of these animals were deliberately exposed to the disease in an artificial setting which did not represent real life.
"The others were cases where the virus has reportedly been passed from a person to an animal. Importantly, to date, there is no known evidence of the virus passing from pets to humans."
But, just like we can carry the virus on our skin, dogs and cats can carry it on their fur.
The best advice is to be vigilant. Wash your hands before and after you stroke your pet. Avoid kissing or sharing food with your pet too.
How can I protect my cat from coronavirus?
One of the most difficult pets to manage during the coronavirus pandemic are cats.
As we said earlier, like human skin, the virus can be carried on their fur.
if you've got an indoor cat then there's no need to worry. But for any outdoor cats that are particularly friendly, it could be tricky.
There are ways you can manage this, though. If they can stand it, try keeping them indoors with a litter tray. But this is easier said than done, especially for active cats.
If your cat goes outside make sure you wash your hands before and after touching them. This'll reduce the spread of the virus from you to anyone else your cat might encounter and vice versa. Don't share any food with them either.
If you really want to be thorough, you could try regulating the time that the cat spends outside the house, for example between say 10 and four.
Once they're back in, give them a wipe over with a damp detergent-free cloth.
Plenty of treats will encourage them to come back in and make the wipe-downs a bit more bearable. Keep a litter tray out too in case they need to go to the loo at night.
Dr Gaines goes on to say:
"We're advising cat owners not to worry and to take sensible precautions, as we would advise at any time, such as washing your hands before and after stroking your cat, as advised by Defra, and avoid being kissed, licked or sharing food with them."
How can I walk my dog safely during lockdown?
It's essential to take your dog out for exercise.
While you're out, you should always keep to the social distancing guidelines and remain two metres apart from other people.
There are going to be times during the day where your local park could have more people in it.
As irresistible as the local pups might be in your park, you should avoid touching other people's dogs and vice versa.
To minimise contact between others even further, you should keep your dog on a lead.
Read more: Deep cleaning your home: Preventing the spread of germs
I have symptoms of coronavirus; can I take my dog for a walk?
If you have symptoms of coronavirus, you shouldn't go out for 10 days.
Someone outside your household can walk your dog for you. To avoid transmission to this person, remember to stay two metres apart from them.
Can I take my pet to the vet?
Avoid the vet for anything non-essential.
If your pet needs urgent treatment, you should call the vet. They'll discuss with you the best course of action for your pet.
If you have to go into the surgery, be sure to stick to the social distancing guidelines.
How do I keep safe walking someone else's dog?
You can offer to walk someone's dog if they aren't able to do it themselves.
The people you can walk dogs for are:
Key workers (NHS staff or similar)
People who are shielding (at risk of coronavirus)
Vulnerable people and the over 70s
People who are self-isolating.
If you have offered to walk someone's dog, there are ways you can keep safe.
Firstly, call the person you're walking for. Set up a time that works to walk the dog and agree on how long the walk should be. Also agree on a process that keeps you both safe.
Picking up the dog
Find a way to collect the dog securely, while always maintaining the two-metre distance between you and the owner. Try and minimise time spent in the owner's home too.
If you have to go inside, ask the owner to open and close any doors for you.
While you're walking
Wear gloves while you're in contact with the dog and throw them away after you've used them.
Try not to touch the dog too much.
Don't touch anything while you're handling the dog, this includes your phone.
Use your own lead and wash it after you've finished walking.
Maintain social distance while walking and aim for quiet areas.
Don't allow other people or pets to make contact with the dog.
Never walk different dogs from different households at the same time.
Walk in the vicinity of the owner's home, you shouldn't drive somewhere for a walk.
Who will look after my pet if I go into hospital?
If someone is helping you look after your pet, you can nominate them as your emergency pet carer. You'll find a form on the RSPCA website.
Display the form in your home and someone can get in contact with them.
What about my pet food?
Make sure you have enough pet food to last you for at least 14 days and try and make essential trips only to the pet shop or supermarket.
Can I go and look after my horses?
If you have symptoms of coronavirus you must not go to your yard. Try and organise someone to look after your horse for you.
You could try calling your yard manager, a vet or a friend if they're symptom free.
If you haven't got symptoms you should combine looking after your horse. And, as always, stick to the social distancing guidelines.