How to teach young children about road safety
Good habits start early, so here's a few pointers on how to teach your kids to stay safe near traffic.
Britain has one of the best road safety records in the world.
However, in 2017, there were 48 child deaths on UK roads and overall child casualties reached 15,721, according to the government website.
Your child may learn about road safety at his or her school, but as a parent you can also help your child stay safe too.

Below are a couple of fundamental lessons you can give about road safety, and links to some excellent teaching resources for parents.
The Green Cross Code - Stop, look, listen
Teaching your child to cross the road is one of the most vital lessons you can give when it comes to road safety.

Since the 1970s, the Green Cross Code has been the go-to method of teaching kids how to safely navigate traffic.

There are a few different variations of the original code, but the basic elements have pretty much remained the same:
Stop – Find the safest place to cross and stop just before you get to the curb.

Look – Look around to see if any traffic is coming and check drivers can see you.

Listen – Listen carefully for traffic because sometimes you can hear traffic before you see it.
The government-run website Think! has some great resources to help children learn these basics.
Read more: Choosing and fitting a child car seat
Walking school buses
Walking to school can have a number of health and social benefits for kids, but it's also a great time for them to learn about road safety.

The website Nidirect.gov.uk explains the benefits of starting a walking bus, which has an adult "driver" at the front and a "conductor" at the back.

The children walk to school in a group along a set route, picking up additional passengers at specific bus stops along the way.

You can find out about the ins and outs of a walking bus, including practical information about setting one up and choosing a safe route, with this handy walking bus "how to" guide.
Be bright and be seen
In addition to teaching children the basics of road safety, it can be a good idea for your child to wear bright clothes if you know they're going to be near traffic.

This will help drivers more easily spot them and may also serve as a reminder for your child to take extra care.

On dull days especially, you may want to make sure your child is wearing bright or fluorescent colours, while bags and rucksacks are also available in bright colours or with high-visibility strips.

If walking near traffic at night then you may want to consider reflective armbands and clothing, as fluorescent colours don't show up in the dark.
Read more: How to wear a seatbelt when you're pregnant
Setting a good example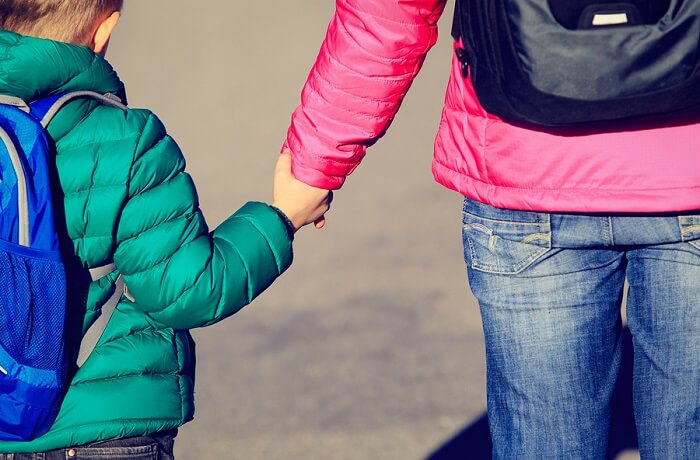 Think! is a government campaign aimed at improving road safety.

One of its main pieces of advice for parents is to set an example by not taking risks near the road, as your children may copy your behaviour.

For example, it recommends parents don't use their mobile phone while crossing the road.

The Think! website has some great advice for parents, with road safety lessons nicely split out for children of different age groups.
Ways to talk to children about road safety
Remember, good habits start early, so talking to your child about road safety at an early age will help him or her understand the dangers of traffic.

Here are three great ways Think! says parents can engage their young children in this topic:
Play "spotting" games where you ask your child where's a lorry or can you find a bus?

Talk about the vehicles you see. For example, you can ask your child which is biggest or fastest and what colours are they? Building up your child's language will help him or her to understand traffic.

Discuss how we can tell when traffic is near or when it is coming towards us, asking your child when cars are safe and when they can be dangerous.
Road safety resources
The above offers just a few ways to get your children engaged in the topic of road safety, and the internet has tonnes of resources to help you keep your little ones safe.

For more tips, games and general safety inspiration, the Children's Traffic Club might be good places to start too.
First published on the 2nd of March 2016