Motorbike insurance could cover you for damaged leathers and personal accident to pillion and liability.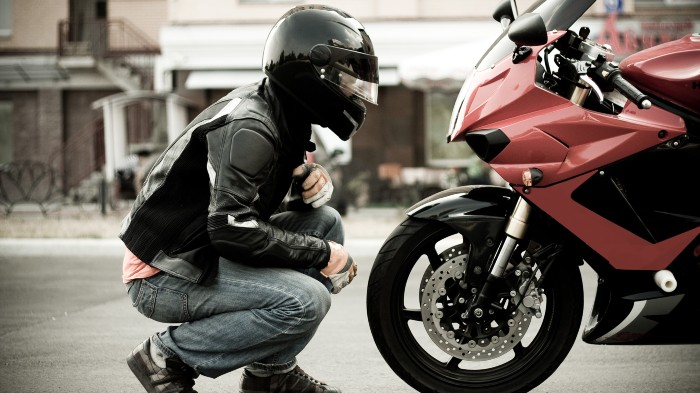 To be protected, you need to make sure you have the right policy which means checking terms and conditions carefully. Here are six common extras you might want to consider.
Whether you're relatively new to the motorcycle game, or a seasoned rider, it's always worth making sure you have the right level of motorbike insurance.
Depending on the bike you own and how often you ride, you might have different requirements.
Typical things that you might like to have covered include:
Pillion cover for passengers

Legal expenses cover
Personal accident insurance
Insurance for riding abroad
Some of these might be legal requirements in certain situations, so it's important that you check whether you need them.
For instance, if you carry a passenger then you'd need to have pillion cover.
For each of these add-ons you might find that you have to pay extra to include them in your policy.
However, some insurers could offer to provide you with complimentary extras when you take out a policy with them, so it's well worth shopping around.
Here we explain each of the six most popular optional add-on policies including what they cover you for and typical limits.
Check with your terms and conditions before paying for your chosen extras just in case they're already covered as standard by your motorbike insurance.
Pillion cover for passengers
If you regularly carry a passenger on your motorcycle, then it's important to have pillion cover in place for them.
Without it, your cover could be void and you could be held personally liable if your passenger is injured.
Pillion cover is offered by most motorbike insurers, and means your passengers effectively have a similar level of cover to you.
The passenger can't make a claim on any damage to the bike, but they could make a claim against an injury received in an accident.
Pillion passengers usually have the same right to claim as the main policyholder and could claim up to the policy limits for damage and injuries.
Pillion cover might be included as standard under your motorbike insurance, but if it isn't, most insurers might offer it for an extra cost.
If you want to make sure your pillion cover is valid, there are specific steps to take.
Before you head out on a ride with your passenger, ensure they have appropriate clothing and protection. This includes a helmet that meets UK safety standards.
The bike needs to be designed for passengers with a seat and footrests, and they have to sit facing forwards at all times.
Remember, you need a full motorbike licence to legally carry a passenger.
Provisional licence holders aren't allowed to carry passengers under any circumstances.
Pillion passengers are treated differently to car passengers because they could have a significant impact on how the bike is handled.
Passengers on a motorbike could contribute to driver distraction, longer breaking distances, as well as a greater risk of injuries or accidents.
Motorcycle leathers and helmet insurance
Motorcycle equipment including leathers and helmets could cost a lot, so you might want to make sure they're covered on your policy in case they get damaged in an accident.
Motorbike insurance doesn't always include helmets and leather cover as standard, but you might be able to buy it as an optional extra.
If you buy helmets and leathers cover, it should also cover your boots, gloves and any other protective gear that you use when riding.
If you're involved in an accident, you should be covered for replacement gear up to the value agreed when you took out your policy.
The cost of the policy might depend on how much you're willing to pay and what level of cover you have.
You need to add up the cost of all of your protective clothing, including your helmet to decide what limits work for you.
Whatever you decide, you should shop around to get the best price.
While damaged riding equipment should be easily replaced with this kind of cover, clothing that's stolen might not necessarily be covered.
It's important to check if this is the case before you take out additional cover.
It's also worth noting that theft of motorbike gear might be covered with your home contents insurance policy, which could give you an additional safety net.
However, there's usually a home insuance excess to pay and making a claim could affect any no-claims bonus you have on your home insurance.
Compare motorbike insurance quotes
Motorcycle breakdown cover
Lots of car owners have breakdown cover to rescue them if they're stranded at the roadside.
Unsurprisingly it makes sense to have a similar service if you ride a motorcycle.
In fact, breaking down on a motorbike could be much worse than when in car, because you get none of the advantages of shelter from the weather. Or a spare tyre, for that matter.
There are typically five levels of motorcycle breakdown cover, which range from entry-level roadside assistance to onward journey cover.
The latter helps with transport or accommodation while your bike is being repaired.
When choosing your cover, make sure you look out for any exclusions.
Common ones include:
Road accidents - if your bike is damaged because of a traffic accident, your breakdown assistance might not be able to reach you.

Private land – if you breakdown on private land your assistance might not be allowed onto the property.

Poor maintenance – your breakdown cover provider might expect you to take care of your bike and keep it in good shape. If you fail to do this, you might not be covered.
Breakdown cover isn't usually included in your bike insurance as standard, but most providers tend to offer it as a paid extra.
Motorcycle legal expenses cover
While motorcycle insurance should cover you for third-party liability, you might not be covered for your legal costs. Legal expenses cover (also known as motor legal protection or motorbike liability insurance) could help with this.
Examples of where this can be used include:
If you're involved in an accident that wasn't your fault

Losses from an accident where the other party is found to be uninsured
Compensation if you're injured
Excess you might have paid for your motorbike insurance policy
Any other legal advice you require.
Legal protection insurance offers you an added level of protection. But some policies might include a clause that says the insurer can refuse funding.
This would be if the cost of the legal proceedings is disproportionate to the amount of money you'd recover.
Generally, legal expenses cover isn't included as standard in motorbike insurance policies, but you might be able to buy it as an add-on. If not, there are specialised policies available.
Motorcycle personal accident insurance
Personal accident insurance is an optional add-on that should cover you for injuries that occur when you're involved in a motorbike accident.
Insurers usually put a maximum limit on the amount that you can be paid, which is typically between £15,000 and £20,000.

If you have a comprehensive motorbike insurance policy, then you should be covered for some personal injury.
Check with your insurance provider or read through your terms and conditions carefully before you consider paying for this kind of add-on.
If you only have third-party insurance, you won't normally be covered against personal injury.
So you might want to consider adding personal accident cover, or upgrading your policy.
Usually you'll pay one annual fee, rather than a monthly charge.
The types of injuries that are covered vary from provider to provider, but you can check for exclusions.
Most policies tend to cover fatalities. Not all insurers offer personal accident cover, so you might have to shop around to find a policy that works for you.
Motorcycle insurance for riding abroad
Whether you're riding through Europe or taking your bike even further afield, it's important to make sure you're protected in case something happens when you're overseas.
Basic EU cover tends to be included in UK policies, but you might not be insured to the same level that you are here in the UK.
For instance, you might have comprehensive cover here, but you'd only get third-party insurance on the same policy in Europe.
If you want to have the same level of cover that you enjoy in the UK, you might need to buy abroad cover as an optional extra.
Costs for this might vary, and it depends on how often you're travelling, where you're going and how long you plan to be overseas.
You might be able to get cover for riding abroad from your current insurer.
Otherwise, you could go to a specialised provider depending on what you're planning to do and where you want to go.
You'll also need to organise transporting your bike using a freighting service.
You might a Carnet de Passage – an internationally recognised document that allows your bike to be imported duty free.
Depending on the country, you might also need to put a UK sticker on your bike. With all of these factors it could end up becoming expensive and time-consuming.

Potentially a more cost-effective solution could be to hire a motorbike in the country you're visiting.
You could then take out a travel insurance policy that covers you for riding abroad.
Of course, this means riding a bike that isn't yours, which might not be your cup of tea.
But it's worth weighing up your options to see what works for you.