If you want a cheap and practical way to get around town, look no further.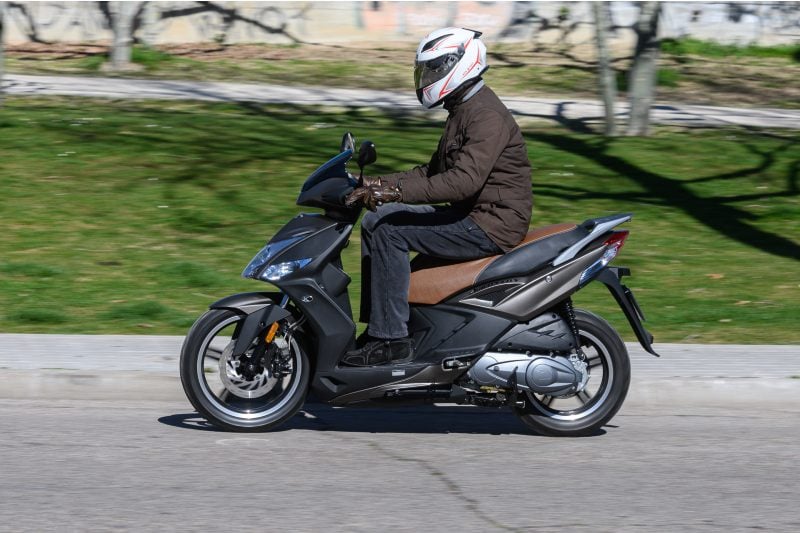 50cc motorcycles and scooters could be among the cheapest vehicles on the road to buy, tax, service and insure.
Here's everything you need to know:
What is a 50cc?
Motorcycles and scooters are usually classified in two ways. The first is by their style (for instance sports, touring and off-road).
The second is by their engine size (for instance 50cc or 125cc). The CC stands for 'cubic centimetres' and tells you how big the engine is.
It also relates to the total power output of the scooter – a 50cc bike is usually capable of a top speed of 30 mph.
50cc scooters and bikes have some of the smallest engines available and are usually built with a CVT (continuously variable transmission) system. This is better known as twist-and-go, meaning no gear-changes are needed.
They also generally have their top-speeds limited to 30 mph. Their safety and simplicity mean they tend to be cheaper to buy and insure and make a great choice for younger and inner-city riders. You can find more information in our guide to the different

types of motorbikes

.
What age can you ride a moped?
One of the most appealing aspects of 50cc bikes in the UK, is that they can usually be ridden from the age of 16.
Even better, while you do need insurance to ride a moped, you don't need a full driving licence.
You can find a detailed breakdown of the regulations and restrictions around riding motorbikes on the GOV.UK website, but in short:
Most 50cc bikes and mopeds are legal for road use by riders aged 16 and up in the UK.

The minimum legal requirement is completion of the CBT (Compulsory Basic Training), theory and practical tests.

If you're aged 16, you'll need to display L plates on your bike at all times, until you reach 17 and

complete the practical and theory riding tests

.
It's important to remember that it's a legal requirement to pay tax and get motorbike insurance. You also need to register the bike with the DVLA.
While car tax is decided by CO2 emissions, moped tax is determined by the size of the bike's engine.
You can find a full breakdown of the tax bands applicable to motorcycles on the GOV.UK website.
But for a 50cc bike you can expect to pay £21 a year if you pay in a lump sum, and £22.05 if you pay monthly.
Can you ride a 50cc motorbike on a car licence?
If you have a full driving licence you might be able to ride a moped up to 50cc without using L plates and without taking the moped test.
The precise rules depend on when you passed your driving test.
You can read the regulations in full on the GOV.UK website, but in short:
If you passed your driving test before 1 February 2001 you can drive a moped up to 50cc without L plates.

You don't need to pass the CBT compulsory basic training course or take a moped test.
If you passed your driving test on or after 1 February 2001 it gets more complicated. You can get a full moped licence if you either:
Pass your car driving test and then complete a CBT course
Complete the CBT course and then do your car driving test within two years.
How much is tax for a 50cc moped?
Vehicle excise duty (VED) for mopes tends to be more affordable, particularly when compared to car tax.
The smaller engine of the bike, the less you'll usually have to pay.
This year, the cost for any mope with an engine smaller than 150cc is £21 a year if you pay in a lump sum.
If you choose the pay monthly, the cost rises slightly to £22.05.
For faster mopeds and motorbikes, the cost rises. For instance, for a bike with an engine size between 151 and 400cc the annual cost is £45.
For a motorcycle with an engine over 600cc the cost is £96 annually.
Finding the best 50cc motorbike for you
The main selling point for 50cc bikes is that they can be ridden from 16 years of age.
Since they're designed to be cheap, low-maintenance vehicles, there tends to be a rather limited range to choose from.
Most 50ccs are in the scooter style, or small sports-type bikes.
When choosing your bike, your main concern should be that you meet all the legal requirements to ride it. Other than that, you may also want to check:
With friends and family who've ridden 50cc bikes before, and what they recommend. Ask about ease of riding and speed

That your chosen bike can be easily serviced, and replacement parts are readily available

The price differences between new and second-hand models. In some cases, the additional expense of a new model might be worth the peace of mind and reliability that comes with it.
When purchasing any vehicle, it's important to consider the full costs before you buy:
You should make sure to look into yearly tax costs, though these are generally quite cheap on small-engine bikes.

You should do some research to find out how much the scooter insurance might be, and whether you'll need to pay a fee to complete the tests.
You'll also want to check the prices of any bike riding gear

you need, such as a helmet, which must be worn as a legal requirement.
Compare motorbike insurance quotes
50cc moped insurance
Often, one of the biggest expenses associated with motoring is the yearly insurance premiums.
The cost of moped insurance makes it useful to shop around and compare prices to make sure you're getting a good deal.
One of the biggest decisions you'll have to make will be the level of cover to opt for.
Remember, cheapest isn't always best and you need cover that's appropriate for your needs.
The level of cover you opt for will be one of the many factors that could impact your premium.
You'll usually have the following three options to choose from:
Third party only
This covers the costs payable to the other person/vehicle involved in an accident, but none of your own. This means any damage to your bike might have to come out of your own pocket.
Third party fire and theft
This offers the same level of cover as third party only, but with additional peace of mind if your vehicle is damaged by fire or stolen.
Fully comprehensive
This is usually the highest level of cover available, and should pay out the cost of any damage to your vehicle. It also covers third-party claims made against you following an accident.