Get your motorbike ready for spring
Tap the image below to enlarge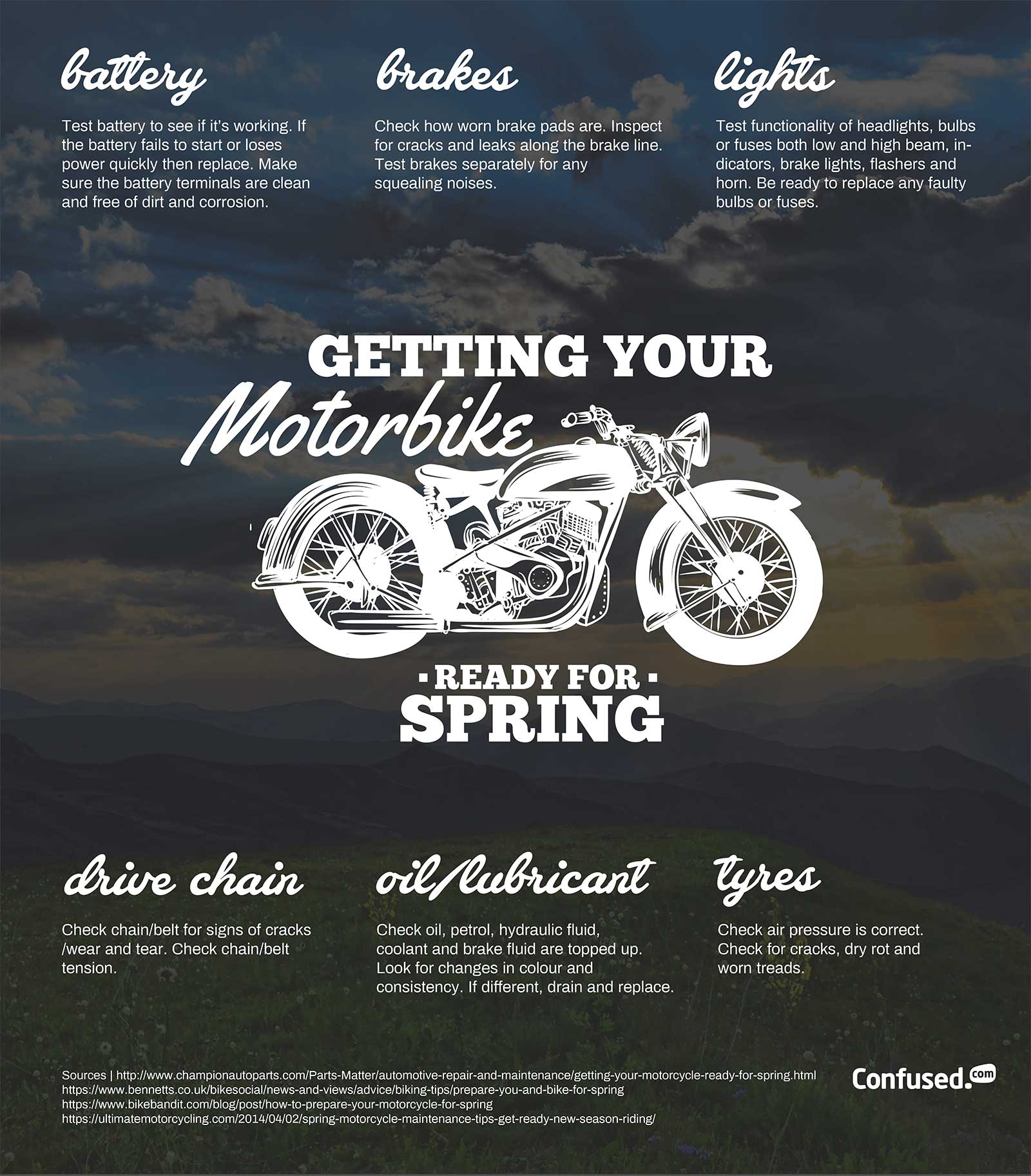 When preparing your bike for the new season, it's not as easy as brushing the winter dust off, starting the engine and hitting the road. For self-confessed bike lovers, you may already have a list to hand to get you started, but just in case you don't - here's our list of checks you should do before you start donning your gear.
Tyres
Start by checking the air pressure in both tyres. Tyres lose pressure over time so it's always worth checking them for lost air.
Low pressure can make your motorbike harder to handle on the road, which is a cause for concern for both yourself and other drivers.
Check for cracks along the sidewall and if found, replace the tyre.
Check for dry rot and the general condition of the tread; worn tread affects the handling of the motorbike.
Brakes
Check how worn the brake pads are. Just like tyres, spring tends to be the perfect time to replace them ready for the next biking season.
Inspect for cracks and leaks along the brake lines and check that your motorbike brake fluid is topped up.
Finally, test both sets of brakes separately and listen for any worrying sounds, such as squeaks.
Battery
Check that the battery is in good working order by testing it. If the battery fails to start the engine or loses power quickly, it's a good indicator that it will need replacing.
Make sure the battery terminals are clean and free of dirt or corrosion and that all cables are secure.
Fluids/oil
Oil, petrol, hydraulic fluid, coolant and brake fluid will all have to be looked at after a long winter, but this doesn't just involve topping them up for spring.
Look for changes in the colour and consistency. If something doesn't look right, drain and replace with fresh fluid
Keep an eye out for dirt in any of the fluids. Any dirty oil should be drained and replaced.
If you didn't change your oil and oil filter at the end of last year, it's recommended to change them before you head out. Refer to your manufacturer's manual for further recommendations.
Drive chain
If your motorbike has a drive belt or drive chain, check that it's free from cracks or general signs of wear and tear.
Don't forget to check the tension of the belt/chain as well to make sure your vehicle is running at peak performance.
Lights/electrics
It's extremely important that road users, and pedestrians, are aware of your presence.
Test that your headlamp, both low and high beam, indicators, brake lights and horn are all in working order. Be ready to replace any bulbs or fuses if necessary.
Gear
Anything with general wear and tear you should consider replacing, such as your helmet, leathers, gloves and boots.
Cracks can be a strong indication that your gear won't protect you as well as it should - and needs upgrading.
It's also worth making sure your breakdown kit is complete and up to date with the latest laws.