Age gap calculator
How much of an age gap snob are you?
Women may prefer an older man, but are less financially prepared in the event of being left on their own, according to new research by Confused.com.
More than 2,000 adults were asked what makes the ideal age gap for a couple – and while just under half don't feel there is such a thing, the most popular answer was the man being 52 months older (four years, four months).
Over half of the women surveyed said they couldn't pay the rent or mortgage if they were left on their own, compared to less than a quarter of men.
TV relationship commentator and counsellor, Julia Cole said: "Age gap relationships are becoming more and more common because of the greater acceptance of the diversity of couples and families. But they can bring with them issues that are not often considered when the couple first start seeing each other."
Take our quiz to discover what you think about age gap relationships, and how you might handle the important issues if you have one. This quiz is only for adults.
Ready to get a quote?
Compare quotes from up to 9 life insurance providers to find the best deal.
Or call now on 0800 652 9754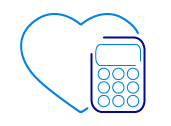 Life insurance calculator
Don't know how much life cover you need? This handy tool can point you in the right direction.