Safety regulations for landlords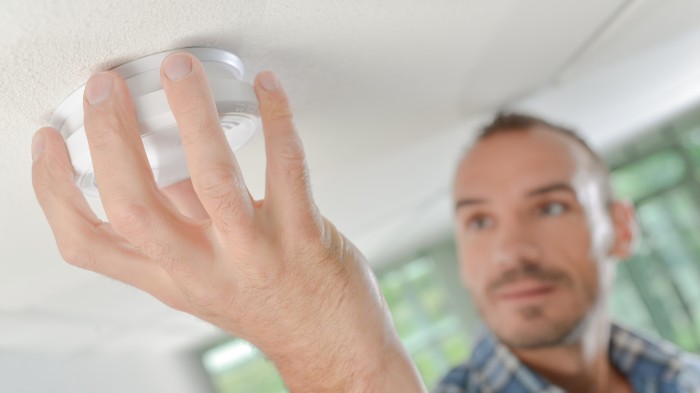 We're giving you the low-down on safety regulations for landlords.

You're ready to let out your property and want to make sure you're doing everything you can to keep your tenants and yourself safe.
Let's look at what you need to know to get started, including some recent changes in the regulations.
What are the latest regulations in the UK for landlords?
In 2020, there were some changes to landlord regulations in the UK.
The biggest change was to the Electrical Safety Standards in the Private Rented Sector (England) Regulations 2020. It made it mandatory to conduct electrical safety checks every five years by a qualified person.
The regulations came into force on 1 June (2020) and apply to all new tenancies from 1 July 2020, and existing tenancies from 1 April 2021.
For an electrician to perform these checks they need to meet the standards set out in the 18th edition of the regulations.
The electrical safety industry has set out a competent persons scheme. This helps landlords to find a qualifying electrician more easily.
The other big change is that all new and existing tenancies must have an energy efficiency rating of at least an E.
This change came into effect from 1 April 2020. GOV.UK have explained all the changes on their website.
What are the furniture and furnishings fire safety regulations?
This is mostly relevant if you're letting a furnished property. It's to cover furniture such as sofas and beds, basically all furniture and upholstery. The furniture also needs to meet the minimum fire standards.
To check whether it's safe, you'll need to arrange a fire risk assessment. This should be done by a professional, especially if your property will be an HMO (house of multiple occupations).
Any furniture and upholstery you're leaving in your property should have the original fire safety tags still remaining on them.
For more detail, Firesafe explains the legislation on their website.
What are the electrical safety regulations for landlords?
As a landlord, you have a duty to ensure the electrical components in your property are safe.
To do this, you need to have them checked by a competent electrician every five years. The electrician will give you a certificate.
You'll need to share a copy with your tenant (within 28 days of the assessment) as well as the local authority.
If the inspection highlights that some work needs doing, it must be done within 28 days.
Both the tenant and local authority must have written confirmation that the work has been done within… you've guessed it, 28 days.
What about gas? The gas safety regulations 1998 outline the requirements. They say you need to ensure gas appliances, flues, chimneys and fittings are all working correctly and efficiently. As a landlord you need to ensure that:
A Gas Safe-registered engineer performs annual checks on the property (boiler, pipes, appliance etc)

A copy of the landlord gas safety record must be given to the tenant within… correct again, 28 days

You must maintain all the gas appliances and pipework etc, keeping it safe for your tenants
What do I need to know about smoke alarms and carbon monoxide detectors?
When someone new moves in, you must test all the alarms. This ensures they're in good working order and must be done on the first day of tenancy.
The alarms can either be mains or battery operated. But if they're battery operated, they need to be regularly checked.
From then on, it's the tenant's responsibility to test the alarms and make sure they're working. Ideally on a monthly basis.
If any alarms need new batteries, or the alarms need to be replaced, the tenant should contact the landlord to replace them.
If your property is going to be an HMO (house of multiple occupations), you'll also need to have a fire extinguisher on each floor. And a fire blanket in the kitchen.
It's also a good idea to have the property assessed by a fire safety professional. This ensures it's compliant and safe for your tenants.
To check your responsibilities in full, GOV.UK have explained it in a booklet.
What do I need to know about fire extinguishers as a landlord?
Fire extinguishers need to be checked every year.
The checks need to be carried out by a fire extinguisher service engineer. You can buy 'service-free' extinguishers. But even then, you as a landlord need to carry out the checks in line with the manufacturer's guidance.
If your property is going to be an HMO (house of multiple occupations), you'll need to have a fire extinguisher on each floor. And a fire blanket in the kitchen.
You also need to take the time to properly assess fire hazards in the property, keeping an eye out for:
No fuse boxes hidden under coats

Ideally paint on walls instead of wall paper

Clear exits

Exterior doors that can be opened from the inside, without a key
You can see a list of your responsibilities in a booklet provided by GOV.UK.
How do I carry out landlord safety checks?
Despite Covid-19, you're still allowed to check your properties. Just remember to wear a mask, and encourage your tenant to wear one too for both your safety.
You'll need to give 24 hours' written notice, and arrange the visit for a reasonable time of day – not too early or late.
During your safety check, you'll want to keep an eye on:
Wiring – checking that it all looks in good condition

Smoke detectors – they may be your tenant's responsibility to check, but it doesn't do any harm for you to check too

Any fire extinguishers, making a note of when they need to be checked again
What are the rules around locks and security?
Realistically, there are going to be three parties with access to the property. You, the landlord. Your tenant. And, if you use an agency to manage the property, they'll have a key too.
If you have an HMO, then each of the tenants will also have a key.
If you need to visit the property, you need to give your tenant 24 hours' written notice and arrange the visit for a reasonable time of day.
When a tenant moves out, there's a chance they could keep a copy of the key. So the best way to improve home security is to change the locks for each new tenant.
Not only will this help protect your home, but it also gives peace of mind to your new tenant.
READ MORE: Lock types explained
Sorted your insurance yet?
If you haven't got your insurance in place yet, it's worth looking into landlord insurance. Typically, its a combination of both buildings and contents insurance.
If you have a buy-to-let mortgage, some lenders will ask you to get landlords insurance specifically.
There's also lots of optional extras you can tailor your policy with to make sure it meets your needs, like loss of rent cover or home emergency cover for landlords.
Make sure you shop around and compare quotes to get the best price.
Article first published 30 September 2020.