Deep cleaning your home: Preventing the spread of germs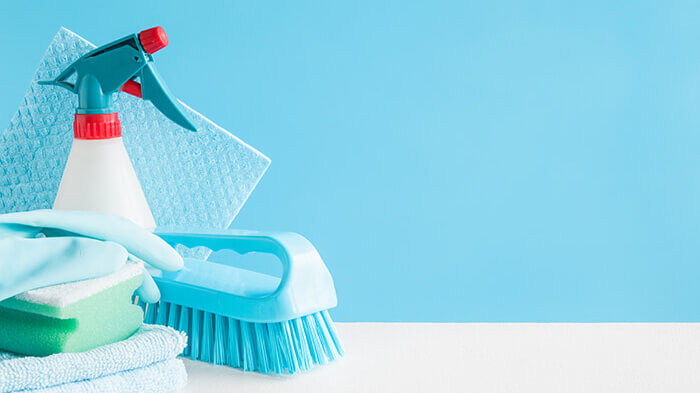 Many of us are looking into the best ways to keep our home clean, take a look at our top tips.
This article contains affiliate links. If you buy any products via these links, we may earn a small commission at no cost to you.
It's safe to say that a lot of us don't like housework. But now more than ever it's important to keep our homes germ free.
With all the information out there, it can be confusing to know which products to use and how often we should be using them. Here's what you need to know.
Which areas should I prioritise?
Focus on high traffic areas, for example:
Handles to doors, fridges and other well-used appliances
Buttons and dials on appliances
Deep cleaning kit list
Here are some products you can use to get your home ship-shape and shiny:
How often should I clean?
How long coronavirus lives on surfaces varies between 24 and 72 hours, depending on the surface.
To gauge how often to clean, the London School of Hygiene & Tropical Medicine recommends monitoring a well-used room in your house.
Note how often the room's door handles, surfaces or appliances get touched in an hour. If you notice they get touched or used a lot, it might be worth cleaning them more than once a day.
This is especially important if you have someone vulnerable living with you.
Do I need special products?
Usual household products like soap and/or disinfectants will work a treat when getting rid of germs.
But how do soaps and detergents kill the virus? Without getting into the science too much, the weakest part of the virus cell is made up of a fatty part, known as a lipid.
Soap or detergents destroys the lipid and the cell breaks down, killing the virus.
So really, no special cleaning product is required. But the London School of Hygiene & Tropical Medicine follow these guidelines for cleaning products:
If you're using alcoholic solutions, they should be at least 70% alcohol. You can use diluted bleach or household disinfectants too.
Follow the manufacturer's advice on what dilutions to use and make sure the product is still in date.
Other ways to reduce the spread of germs
Laundry
Wash your laundry on the hottest setting possible – check the labels on your clothes, as they might shrink if it's too hot.
Don't shake dirty laundry either, as shaking them could spread germs through the air.
Once the cycle is complete, hang out your clothes – outside if possible – until they're completely dry.
Detergent-wise, try and use a powder rather than a liquid. Laundry powder contains oxygenated bleach which kills any unwanted germs.
Biological powders tend to have more of this than non-biological powders.
Soft surfaces
Remove any visible dirt. Then vacuum, steam clean or wash with the correct detergent.
If you're washing things like chair covers, make sure they're fully dry before you put them back onto the soft furnishings.
Again, leaving them outside to dry in the sun is the best option.
Hygiene for cleaning utensils
Germs can be carried on cleaning utensils, so it's important to keep them clean as well.
Use different sponges or cloths in each area, as they can carry germs.
Using disposable wipes or paper towels will minimise the spread of the virus, but look for the biodegradable option if possible.
If you can't get hold of disposable wipes, you can wash your sponges and cloths at 60ºC or 140ºF after every use. This is easily done by putting them in the dishwasher with your washing up brush.
Waste disposal
As we said earlier, no one yet really knows how long the virus lives on a surface.
If you're throwing away cleaning wipes or old tissues, the government advises that you put the waste into one bin bag, tie it, then put that into a second bin bag.
You should keep this separate from your regular household waste for 72 hours.
Do anti-bacterial products work against coronavirus?
Anti-bacterial products are precisely that – anti-bacterial. COVID-19 is a virus, which means anti-bacterial products won't be as successful.
To have any effect on the coronavirus, anti-bacterial products should contain at least 70% alcohol.
But everyday soaps, bleach and the normal detergent should do the job just as well.
I'm living with someone who has symptoms of coronavirus, what should I clean?
In this case it's a good idea to clean as much as you can to prevent the virus from spreading.
Again, focus on the high traffic areas and clean these as much as you feel is necessary. This can be every few hours.
Pay attention to the bathroom too. If the person you are living with has used the bath or shower, clean it with disinfectant.
Use separate towels and wash them on a high heat using laundry detergent. For more advice on self-isolation, take a look at the government website.