A selection of the gas and electricity suppliers we compare
Your 4-step guide to switching energy supplier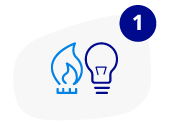 Pick your energy deal
Run an energy comparison and pick the deal that's best for you - cheapest price, green tariff, a big six company or small energy supplier, the choice is yours.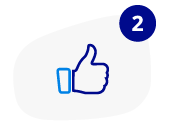 We do all the work
Your selected supplier sets up your new energy account and contacts your existing provider. All you need to do is take a meter reading when instructed.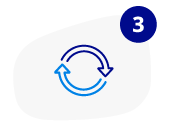 Switch takes place
You automatically get 14 days to change your mind. If your new supplier is signed up to the energy switch guarantee, your switch takes a maximum of 21 days.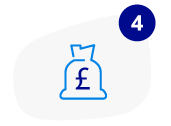 Spend your savings
You could save hundreds of pounds each year by switching your energy supplier. Put it towards a holiday, a new tv or a set of smart lightbulbs - what will you spend yours on?
The different types of energy tariff can be confusing - dual fuel, online, offline, green, renewable, variable-rate, fixed-rate, second-rate, cheap-skate…
Okay we made those last two up, but you get the picture. At Confused.com we want to make it easy for you to switch energy supplier, so we'll do our best to explain:
Your first choice is normally whether you want a single-fuel or dual fuel tariff.
On a dual fuel tariff, you get your gas and electricity from the same company. The energy supplier might give you a discount for doing this, especially if you pay by Direct Debit. Read more about dual fuel tariffs.
Alternatively, you can get a gas-only tariff, or an electricity-only tariff or combine the two – you might find that the combined price saves you money – or you might only need one of them in your property.
Read more about switching gas suppliers or switching electricity suppliers.
Your gas/electricity or dual fuel tariff might be variable-rate or fixed-rate.
Variable-rate tariffs will go up or down depending on the price of oil and other factors. They may or may not have an exit fee.
Fixed-rate tariffs tell you the price at the start, and how long the price will last for. If you leave a fixed-rate tariff early, you may have to pay an exit fee.
For details on other types of tariff, read our useful guide to tariffs.
Whichever tariff you move to, Confused.com make it easy to switch your energy provider.
Click the COMPARE ENERGY PRICES button at the top of the page and switch today.
As well as comparing energy prices and the best energy deals, changing the type of tariff you have or the way in which you pay for your energy could also save you money.
Suppliers will often provide additional discounts to tariffs for the following reasons:
Opting for paperless billing and managing your account online.
Paying monthly by Direct Debit.
Switching both gas and electricity to the same supplier.
But there are other reasons you may wish to switch, apart from the savings which a new energy tariff might offer, such as:
Environmental awareness

Green energy tariffs are now offered by all of the 'Bix Six' energy companies, as well as several smaller energy providers. Some providers only offer 100% green energy deals, where 100% of the electricity supplied comes from renewable energy sources, helping you to reduce your carbon footprint.

Protection against future price rises

Picking a fixed-price tariff will ensure that even if prices rise, the rates you pay for your gas and electricity remain the same until the end of the fixed period.

Customer service

If you've been unhappy with the service you received from your current supplier, you may wish to switch to one with higher customer service standards.
Energy bills are a large part of your monthly household expenditure, so after you switch follow these handy tips to continue to stay in control of your bills.
Remember to regularly provide your supplier with accurate meter readings. This will ensure you are only paying for the electricity and gas you are using and avoid any surprises further down the line.
If you are on a fixed price energy tariff, keep a note of the end date. Companies often transfer customers to their more expensive standard variable tariff when a fixed price energy deal comes to an end. We recommend comparing deals a few weeks before your fixed price tariff ends.
Keep an eye on how much electricity you use. It sounds simple but remembering to turn off lights or electrical items when they are not in use can really help keep your bills down.
Learn to use the timer on your boiler - only heating water and using the central heating when you're in the house can save a significant amount on your bills.
For more useful energy saving tips, see our energy efficiency guide.
Looking for business gas or electricity deals? Take a look at our commercial energy page.
Explore some of our guides
Why switching energy supplier could be the best decision you make today.
If you smell gas you need to act quickly - here's what you should do...
We clear up the confusion about your energy supplier switch.
Can you believe how simple it is to save with our energy efficiency tips?
We show you the different types of meter and explain how to read them.
Read our frequently asked questions and understand your energy switch.
Confused.com gas & electricity comparison service provided by Decision Technologies Limited, a registered company in England & Wales. Company Reg No: 05341159. Registered address: First Floor, High Holborn House 52-54 High Holborn London WC1V 6R.