If you need temporary cover for a car or van for anything up to 84 days, Confused.com could get you an instant quote that covers you within minutes. Whether you need to drive an additional vehicle or add another driver to yours, temporary car insurance from Confused.com offers the peace of mind that you need.
With our partners at Safely Insured, a quote can be processed and accepted by you in minutes. We think you'll be surprised at how quick and easy it is to get the temporary car insurance cover you need.
If being safely covered on the road is important to you, you'll want to make sure you're fully protected when driving someone else's vehicle or lending your own. Temporary car insurance ensures that you'll be comprehensively covered in the car you are borrowing, and that your no-claims discount is protected when lending your vehicle.
You might need temporary insurance to add a family member or friend as a driver, to get covered on someone else's car or van, to be covered for a test drive or vehicle demonstration, or to drive away in your new car or van and give yourself some time to shop around for the perfect annual policy. Either way, it takes minutes to get a quote and you could be covered in no time.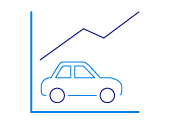 Car insurance price index
How much should you be paying for your insurance? Check the average price for your age and region
You might also be interested in other insurance types